Yes ! I made it, I collected the needed 1 million starbits in Risingstar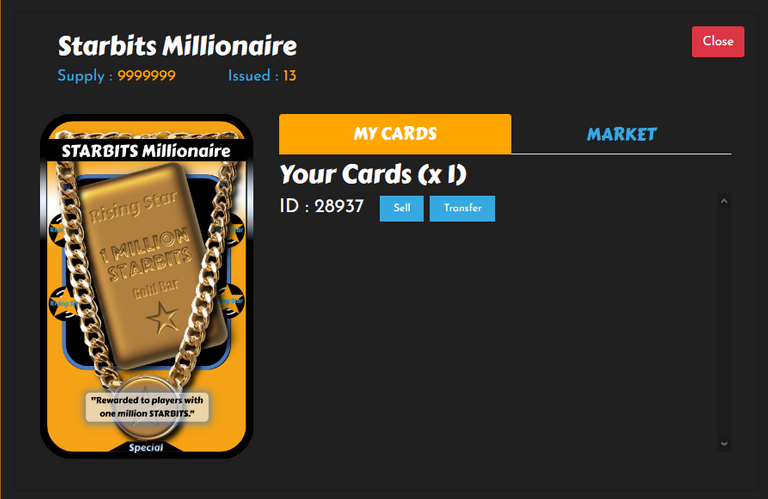 And I received the Collector card after sending a DM to the game team on their discord
As you can see starbit is now my first investment in tokens


As a bonus I can now do the daily mission, it resets at midnight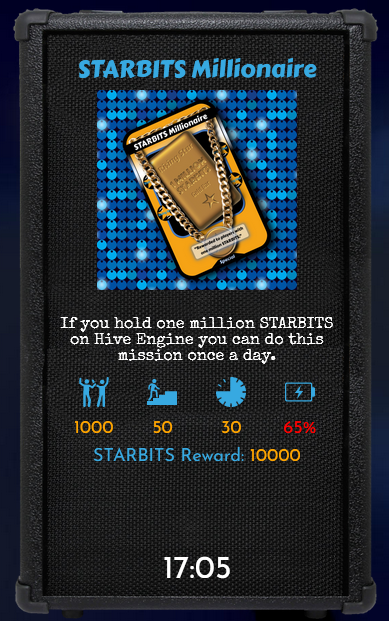 It took a while, but I finally jumped, I wanted to reach that goal before the beta version.
If you join Risingstar now, you still have the rights to get one of the 4 Founder cards.
Then you can chose to play F2P or invest like me to support independant musicians and have fun collecting those cards, playing missions, and yeah, collecting starbits.
My jet is still on the market for EGO reasons, but as soon as I have enough skills, be sure I will use it as main vehicle.
Become my referal, you will have fun, and I will help you becoming a star
---
A bientôt,
≋𝕴𝖙𝖍𝖆𝖗𝖆 𝕲𝖆ï𝖆𝖓≋
@itharagaian
≋≋≋≋≋≋≋≋≋≋≋≋≋≋≋≋≋≋≋≋≋≋≋≋≋≋≋≋≋≋≋≋≋≋≋≋≋≋≋≋
Helping my projects / Tipping :-) ???
Helping the author : https://www.paypal.me/Lordolivier
We of course accept cryptos:
All the ones on Steem-engine & Hive-engine
Steem / SBD /Hive / HBD
LTC : LdiCR25BQSQYSzTUcpD3sJQayscvjXvDyy
BTC : 37fJek6HN9zeJQTvhfZmpEcmsTM8Lx4spr
All donations are appreciated and welcomed,
thank you.
≋≋≋≋≋≋≋≋≋≋≋≋≋≋≋≋≋≋≋≋≋≋≋≋≋≋≋≋≋≋≋≋≋≋≋≋≋≋≋≋