Hola, hoy quería compartir con toda la Comunidad Rising Star lo siguiente:
Hi, today I wanted to share the following with the entire Rising Star Community:
Tenía ganas de completar mi colección de célebres compositores de la historia, y hoy lo he conseguido comprando la carta de Edición Limitada S10 de Tchaikovsky. Compositor Ruso del siglo XIX.
I wanted to complete my collection of famous composers in history, and today I got it by buying Tchaikovsky's Limited Edition S10 card. Russian composer of the 19th century.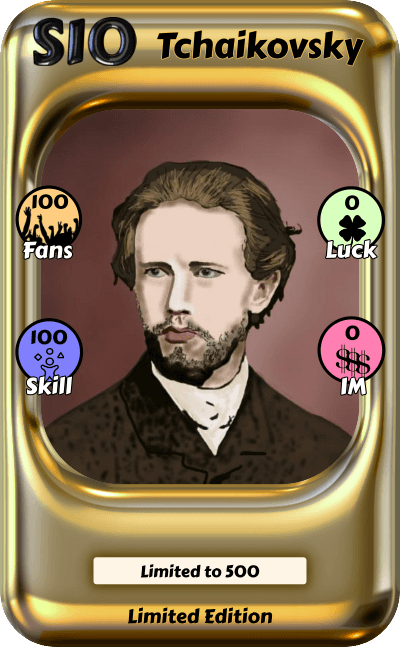 Para conseguirla, he invertido 23.275 SWAP.HIVE
To achieve it, I have invested 23,275 SWAP.HIVE

Me he decidido a comprarla ya antes de que me saliera mas cara. El precio aumenta en 0,5 SWAP.HIVE por cada una que se vende.
Esta carta solo está disponible en el mercado y se han emitido un máximo de 500 cartas.
De momento, sólo se han vendido 30, pero cada vez costará un poco mas conseguirla..
I have decided to buy it before it became more expensive. The price increases by 0.5 SWAP.HIVE for each one sold.
This card is only available in the market and a maximum of 500 cards have been issued.
At the moment, only 30 have been sold, but each time it will cost a little more to get it.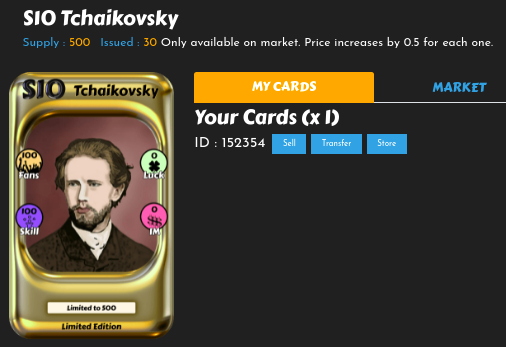 Deseo que tengáis un buen dia!!
I wish you have a good day !!
Saludoss
Greetings