Repository
https://github.com/holgern/steemrewarding
steemrewarding.com is a feature-rich automatic voting tool. It can be used to create voting rules at https://steemrewarding.com, using several parameters. It is possible to automatically optimize vote delay times in order to increase curation rewards.
Posting authority needs to be given to the @rewarding account. I created a discord server for all topics regarding steemrewarding.com: discord invitation.
steemrewarding is currently used by 686 (+43 %) users which created 4481 (+9.1 %) rules for posts, 341 ( + 23.5%) rules for comments and 550 (+ 63%) trail vote rules. In the last 7 days, 20917 (-37%) time based votes and 17890 (+368% )vp based votes were broadcasted through steemrewarding. The percentage number are the change from the last report.
Vote delay optimizations
The vote delay could be improved by reducing the number of steem api calls. Vote power, Steem power and RC are now stored in the database to reduce the number necessary api calls. These values are updated every minute.
It is checked if a voter has sufficient RC before casting the vote. This reduces the vote delay for other users, when a user tries to broadcast many votes but has not the RC to do it.
Vote power check in the vote loop for vote based votes
The vote power is now checked before broadcasting a vote in the vote loop. Before it could happen when the vote loop was delayed, that to many pending votes were added and then broadcasted. Resulting in a vote power which would then be below the specified minimum vote power. This should be fixed now.
Did you know that you can add a single vote to steemrewarding without creating any rule?
Go to https://steemrewarding.com/delayed_vote
and fill the following form: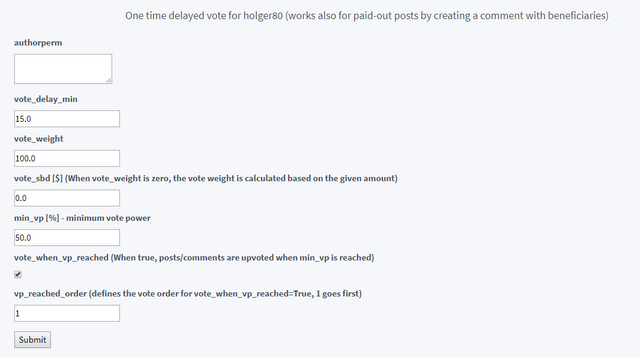 authorperm is the link to the post, e.g. @holger80/update-for-distribubot-it-is-possible-to-count-only-staked-tokens-now, consisting of author name and permlink.
When you enter a higher min_vp value, the vote will be casted when your vote power is restored.