Today, we are thrilled to introduce our second DApp for HUNT Platform - Reviewhunt, a gateway to tech early-adopters.
Meet Reviewhunt - https://review.hunt.town/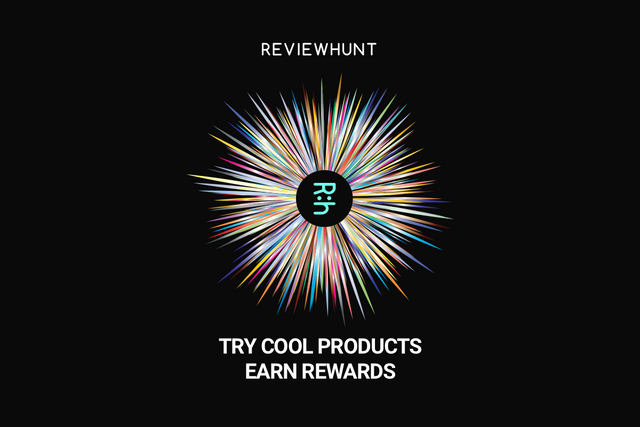 Early-adopters! Get Rewards for Trying Cool Products.
If you love trying out cool new products and enjoy being an early-user of products that have the potential to be world famous, Reviewhunt is the right place for you. You can try out cool new tech products such as a mobile apps, games, web apps, gadgets, and so much more before they have gained mainstream attention and you'll also earn rewards!
Reviewhunt is not just a plain review site. Reviewhunt enables tech makers to run review campaigns for their new products with unique quests and mission bounties, so that they can easily build a strong early user base and community exposure.
Reviewhunt turns your passion about new products and buzz creation into a financial reward by running fun quest missions.
How it Works
1. Join the Campaign
Reviewhunt initially targets newly launching (or coming soon) products. You can see the products under four main categories - mobile apps, games, websites, and gadgets. If you're interested in knowing more about the product, join the Campaign. Each campaign has three different types of quests - general quest ("Quest"), app review quest ("Review"), and buzz content quest ("Buzz"). These serial missions lead you to experience the product, and create a quality review and buzz content.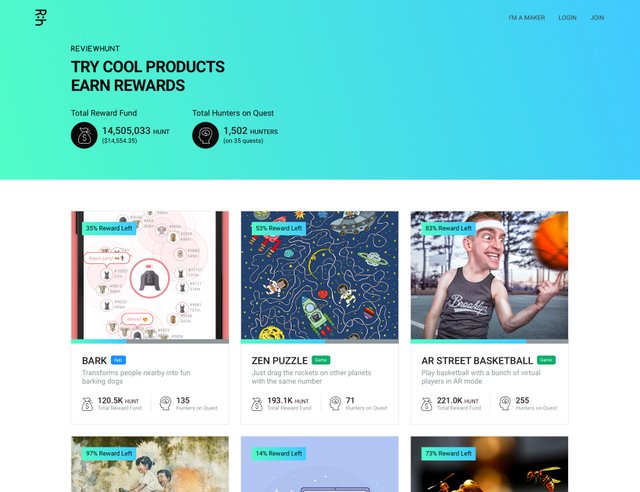 2. Rewards on each Quest
Each quest has a different set reward. Most campaigns may have 4-5 quest journeys: Quest 1 -> Quest 2 -> Quest 3 (bonus quest) -> Review -> Buzz. The quest reward may increase as you continue on the journey. Quest 1 and 2 are mandatory missions that you need to complete to move to the Quest 3 or Review/Buzz quests.
Quest 3 is an optional bonus quest. In general, the makers create a more challenging mission for this quest with higher rewards. You can choose to skip quest 3, or challenge yourself to taste the core of the product.
3. App Review Quest
If the product type is a mobile app, the campaign may have an app review quest. In that case, you can write-up a quality review on the App Store or Play Store. You don't need to fake it, you just need to share detailed experiences so that other users can learn about the product.
4. Buzz Quest
Most campaigns have a buzz quest as a final stage, and you can create your own content about the product and share it with the maker. You need to connect the following social accounts in advance (on your Profile page):
Youtube
Twitter
Instagram
Steemit
Medium
Twitch
Other Channels
Each Maker has different channels to accept your buzz content, and your connected channels will automatically appear on the buzz quest page. The fun part is that you can find out how much a single post is worth on your channel - this is calculated by our specially designed channel value monitoring algorithm.
Buzz rewards have a set range of rewards, and your content will be rewarded based on the Maker's decision (but we will provide your expected earning suggestion).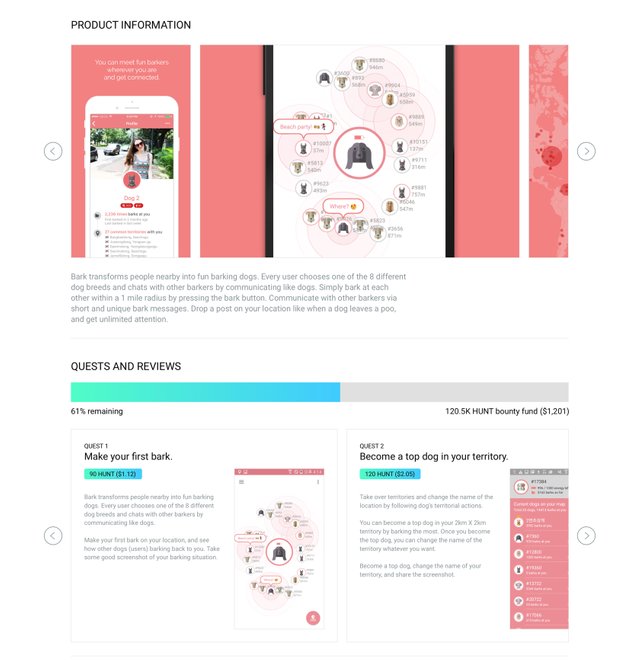 Closed Beta Round 1
Reviewhunt will run as a closed beta for a while in order to test our algorithms and collect data to run a stable review campaign. We have a total of 117 companies interested in joining Reviewhunt, and we will select 3 - 4 makers for each round in the following categories:
Mobile apps
Games
Websites
Once we run all necessary tests, we will finally make a public launch that enables Makers to run campaigns with their own interface.
Meet the Round 1 Makers with $10,500 Campaign Budget
We're proud to announce our Round 1 Initial Onboarding Makers!
tata by TTC Protocol (will be live on August 8th, 2019)
Reviewhunt (Onboarding Quest) - https://review.hunt.town/
They are all newly launched products that have huge potential to become mainstream products very soon. We're so happy to have this opportunity to build the strong early-user base together.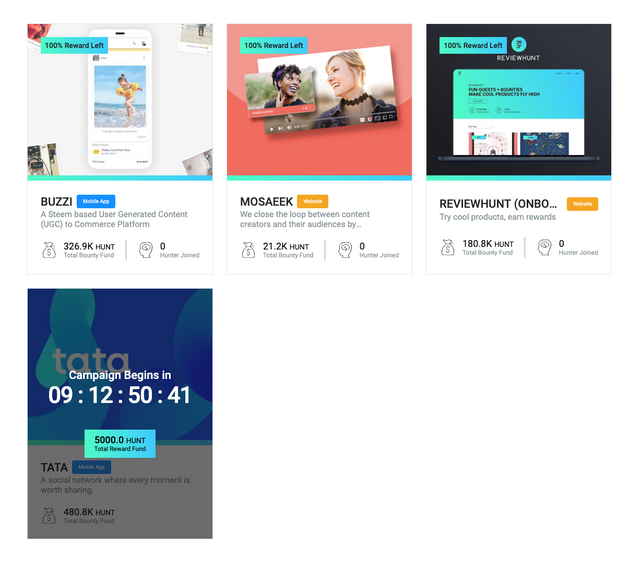 Upcoming Referral Program - Get Stable HUNT Benefits
There are many staking-based token interests nowadays, but we don't feel that the general staking model can help HUNT Platform have stable growth. It's highly important for Reviewhunt to attract both Hunters and Makers, and drive the token economy.
So, we will initiate a unique referral program for both sides - Hunter Referral and Maker Referral.
1) Hunter Referral
When you attract new users, and they mention your ID when they join Reviewhunt, both you and the referred friend will constantly get x% of the earned HUNT rewards that your referred friend has earned. For example, your friend has joined Reviewhunt by mentioning your ID, and received a total of 1,000 HUNT this week. Let's suppose that the referral rate is 1%. Then, both you and your friend will get 10 HUNT each as a referral benefit that week.
The x% will be decided after we finish the beta test.
2) Maker Referral
When you introduce Reviewhunt to some potential product makers and the maker joins Reviewhunt by mentioning your ID, you will get y% HUNT rewards of the maker's campaign budget. For example, the maker you referred has decided to run a campaign with a total of 500,000 HUNT budget. Let's suppose that the referral rate is 5%. Then you will get 25,000 HUNT as a referral bonus.
The y% will be decided after we finish the beta test.
The details of the referral program may change due to our beta test result.
Real Token Demands
Reviewhunt is a one of a kind DApp that connects real product demand to token buying demand. Companies purchase review credit to utilise the influential power of strong hunters, and this demand directly connects to the buying order via our partner exchanges. This can create a highly stable and nurturing token economy among all counterparts.
We've already set up the buying bot at Daybit Exchange, and our bot will purchase HUNT tokens whenever a maker runs a new campaign. Of course it may not be impactful in the closed beta period because we limit the number of makers in each round. But this new token demand can become huge when there are many campaigns running after the public launch.
Turn your Passion into Rewards
We know that you love trying out new products, and you often use your knowledge to help early products. Why not get rewards for your dedication? There're a ton of tech makers out there who are waiting for some quality early users like you. Reviewhunt will reinvent the tech influencer market!
Join Reviewhunt Now
https://review.hunt.town/
(You may found many bugs because it's the first beta version. Please let us know if you find any bug!)
...
Connect with Steemhunt:
Discord | Telegram | Twitter
Delegate Steem Power and Get HUNT Tokens:
500 SP |1000 SP |5000 SP |10K SP |20K SP |50K SP |100K SP
Please vote for Steemhunt - a witness which will take Steem blockchain to the next level in company-wide value stream and scalable user experience (learn more).