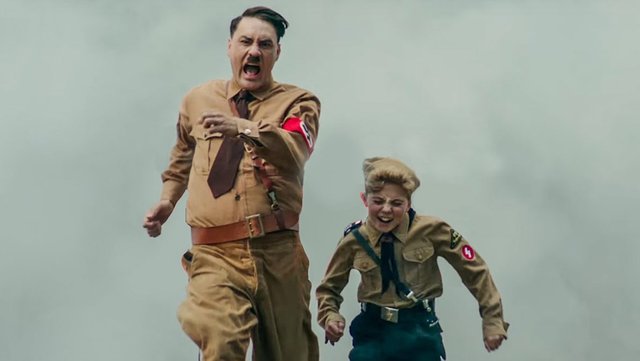 You know that feeling when someone seems to reach their fingers into your ribcage and mess about with your lungs and beating heart? That feeling of trying your best to cram that emotional reaction back into your guts but you're bleeding out all over the place? That's how I feel after seeing Taika Waiteti's 'Jo Jo Rabbit'.
I have to admit I'm a huge fan of Waiteti, especially after the comic genius of 'What we Do In the Shadows'. Don't believe the hype - it's so terrible being a vampire in New Zealand, especially because you can't eat chips without projectile vomiting blood.
The thing about Waiteti is that he has that dry, almost British but very New Zealand sense of humour himself. He's not a director asking comics to write - he's a director and an actor who is just funny in a wonderfully satirical way. Wiateti playing the imaginary Hitler friend of a ten year old boy is just lovely - he's not actually Hitler, but the Hitler that comes out of a ten year old boy who's obsessed with Hitler and indoctrinated to believe that Jews hang from the ceiling like bats at night and grow horns after puberty. Whether you're in 1939 or 2019 the fake news is the same. Those that believe playing Hitler in a comic way is poor taste misses the point of comedy, which does have a role to push us to darkly uncomfortable edges to reflect on problems in our society and travesties in our histories. It helps us explore tensions and invites us to tackle that which unsettles us.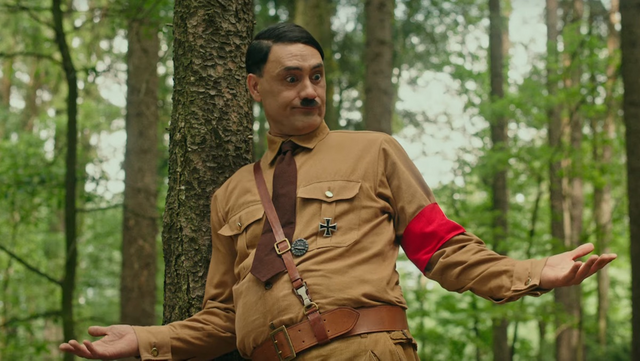 Taika Wetiti as Hitler in Jo Jo Rabbit
Jo jo is a kid in need of a role model and in need of an identity in an age of trauma and fear, not unlike many of the youth - and indeed the adults - of today. His father is off fighting with the resistance. Jo Jo is protected from the details from his mother, who is hiding a Jewish girl in the attic, a replacement for her own girl who is missing, presumed dead and he needs to be brave. Like any young kid, the pomp and theatrical circus of the Hitler regime has him hooked. What kid wouldn't want to carry a dagger for his country? Yet upon discovery of the hidden Jew in the attic, Jo Jo's beliefs - ludicrous and unfounded - are challenged. It is of course only be knowing that which we fear that hate can be diffused into love for our fellow human being, especially as we realise they too suffer as we do.
Of course, the bildungsroman form of this film has the young Jo Jo moving from naivete to the awful truth of which mankind is capable. Hitler eats unicorns, after all. Whilst his mother knows that her boy has a heart of wonder and love, she fears what it is enshrouded in - yet she need not worry. Without giving away plot spoilers, Jo Jo's 'Yoohoo Jews' book about the monster Juden rests uncomfortably with not only the viewer, but eventually the boy himself. Rabbis, he postulates, wear the foreskins of penises as ear plugs, and in another scene, the coming English fuck dogs. There is a larger lesson here about how we see the 'other', one worth taking teenage children to see to discuss long after the credits role.
The film also asks us to look at the secrets beneath the surface of what, and who, we know. Jo Jo takes 3 weeks to accept his Grandfather wasn't Aryan blonde - how could he accept his Nazi youth camp leader (played by Sam Rockwell, who I adore) might be harbouring his own secrets too, or indeed his mother? If we can still love the ones we love, despite the secrets that betray our own beliefs, can we all love our enemies, who surely must have the same foibles and complex human emotions as we do. I have not read a review that mentions Jo Jo's sister whose photograph shows her to be strikingly Jewish in appearance. Coupled with the dark haired grandfather and the resistance fighting parents it is clear Jo Jo and his mother are not the perfect Aryan they seem, suggesting that if we dare scratch the surface of our superficial assessments we begin to see how difficult it is to class people along arbitary lines. Waititi's own heritage is Maori and Jewish Russian, making him perhaps more authoritative than many directors to create such complex subtleties in a film that may be criticised for it's hilarious treatment of historical ideologues that led to the slaughter of millions in death camps. But this is not the subject of the film - Jo Jo and his mother are.
In one scene, Waititi Hitler rages that Jo Jo should not allow the Jews to mess with the German brain. Whatever they think, he shouts, Jo Jo should think the opposite. It's a familiar story, especially as the left and right sit on the opposite end at a very long table, eating the unicorns from each others razed forests. A little boy telling Hitler to fuck off is much needed relief, and it's funny because we all long to shake loose the voices that scream at us in ridiculous parodies of politicians, asking us to hate and kill. Much better we trust our moral compasses and stare in the faces of tigers.
Ending on a German language version of 'Heroes' broke me up into a million tiny pieces. I cried my way out of the cinema.
Ich
Ich bin dann König
Und Du
Du Königin
Obwohl sie
Unschlagbar scheinen
Werden wir Helden
Für einen Tag
Wir sind dann wir
An diesem Tag
I, I will be king
And you, you will be queen
Though nothing will drive them away
We can be Heroes, just for one day
We can be us, just for one day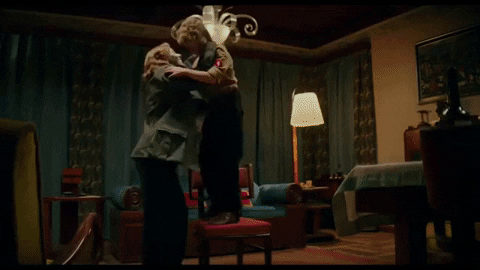 The comparisions to 'Life is Beautiful' are apt, of course - Jo Jo is as tragic and unsettling as Benigni's film. This shouldn't be cause for criticism - life is both beautiful and terrible. Art imitates life, and life art, ad infinitum, through the tragi-comic days of human existence. We laugh and cry during the worst of what we do - it's what makes us painfully, poignantly human.
"Let everything happen to you
Beauty and terror
Just keep going
No feeling is final"
― Rainer Maria Rilke