This character was one cool dude. Walked around with this Jamaican cane he made. Once of the coolest dudes with the coolest canes I ever saw traversing the 7-mile beach. Would have bought one but this was his only one and it "wasn't for sale."
I said,
"You should make some canes and sell them. The tourists (and even the locals I thought) would love em."
"Yea mon, dis here. A very special piece," he replied.
This thing was rare. I had never seen anything like it in all my times to Negril. The top part was made from the Blue Mahoe (Hibiscus Elatus) and was carved very intricately. About a fifth the way down was a handle. He's holding onto it in the photo you see here but you can't really make it out.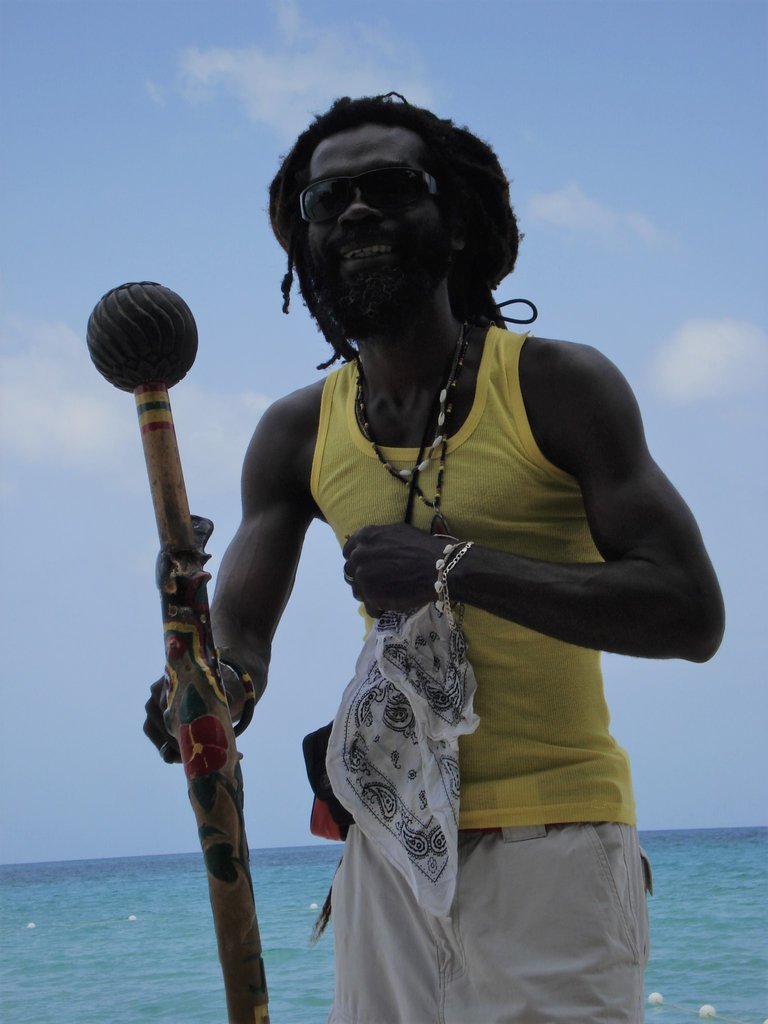 The entire cane was painted artfully with the colors and depicted a story as you made your way down the cane. I swear this thing could make this guy some money if he were to craft some and sell them on the beach. People would be flocking. Well, if there were 100 super-irie's you'd better bet I'd be flocking 100 times over.
He strutted down the beach, stopping every so often to talk and chat it up with people. He was just doing his thing. Not trying to sell you anything. Just being cool and sporting it Jamaican style.
This picture really is pretty cool if you look at it. You can see everything I just described but you can also see the soulfulness which this guy carries. It appears as though he just performed at the Bourban Beach, pouring his heart and soul into the performance of a lifetime. The picture is just filled with so much life it seems.
It's the Rasta Vibrations, mon
Respect,
S-irie
---
Posted via ReggaeSteem | Reggae Culture Rewarded