Hi radanians, princess, warriors, gamers and other disreputable dudes!
There are few harder things than waiting for the release of a game. Especially if we have invested time and / or money in it. I understand your anxiety, which is no less than mine, I can assure you. Coding a game is a very complex and long task. Fortunately, I can count with more people in the team to help me thanks to the investments made with the advance purchase of the TARUK token. @arkmy and @wiriwiri are helping me on the Discord server and @xerllig and @axeman with the creation of new cards for the game.
The Rada Quest Discord server is boosted by Discord Nitro so that fans of this saga can be informed and enjoy the atmosphere of epic fantasy thanks to streaming music with 128 kbts quality and 24/7 availability (and more advantages) .
However, I also think about the impatience that you follow the game's development status. And so, let's explain a little about the mechanics of the game cards!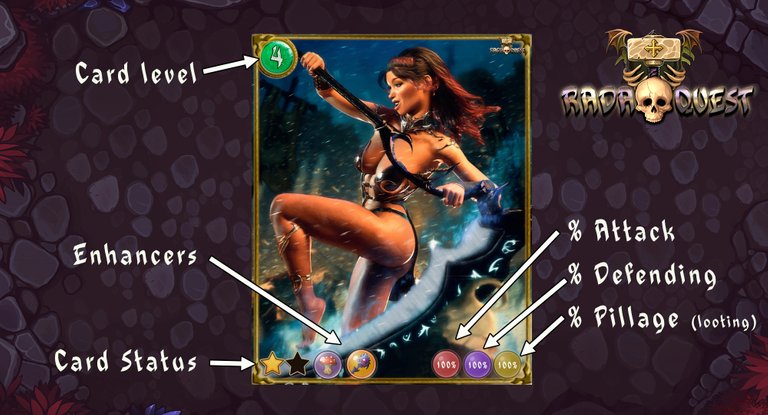 Card Level
Each card will have a level. At a higher level, the better the card (more attack, more defense, more pillage ...). The level of a card is permanent. Over time, new cards with higher levels will be appear to face more difficult challenges.
Card Status
The cards that we can handle have two states: Normal and extended. The extended status is obtained by merging 2 cards in normal status. That's when the card can get its maximum power.
Enhancers
We may use certain enhancers that temporarily increase the performance of our card.
Maybe we can increase their fierceness in combat thanks to the magic effect of some mushrooms...
Or maybe we get more rewards if we have some magic key to open chests...
And more enhancers to discover...
% Attack
Each card is accompanied by a troop of warriors whose number varies depending on the level of the card. The more warriors, the more attack power.
% Defense
Our card is also accompanied by the power of magic. In Rada, the elven armies were accompanied by the priestesses of the Order of Dawn. Her mission was to protect the soldiers and heal their wounds with their healing power. In the game, the number of wizards/healers that accompany our card will serve as a shield against enemy attacks.
% Pillage
Taruk, the servant, and all the stinking creatures of his kind, will not want to miss a single confrontation. Especially for the opportunity to loot the fallen enemies in battle. These thieves will look for coins, resources and, above all, dying souls that can be transformed into Soul Crystals.

Epilogue...
Warriors, priests and thieves are resources that we must generate in our buildings. I take this opportunity to remind you that Rada Quest TCG is not just a card game, it is also a strategy and resource generation game.
When we fall defeated in war we will lose part of our troops and will have to be rebuilt.
☣️ The game will have a system of player levels that will prevent less powerful players will be farmed without mercy (that sucks!😖)
To generate the troops more quickly we can use the Soul Crystals. These crystals can be achieved by defeating enemies (as I explained above), as event rewards or by trading in the token market.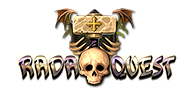 Collaborate with the project 💰
You can collaborate as an investor to help this project move forward faster. With the purchase of the TARUK token you will not only be helping to finance the development of the game, you will also be participating as an investor and you will be able to receive benefits from the income generated. Check the Whitepaper for more information:
https://steemit.com/radaquest/@radaquest/rada-quest-game-white-paper-for-investors
You can also find out in the following links:
Guide: What is RadaQuest TCG and How to Invest in Taruk
https://steemit.com/radaquest/@arkmy/guide-what-is-radaquest-tcg-and-how-to-invest-in-taruk
TARUK - Steem-Engine's BEST Dividend Token!
https://steemit.com/radaquest/@battlegames/taruk-steem-engine-s-best-dividend-token