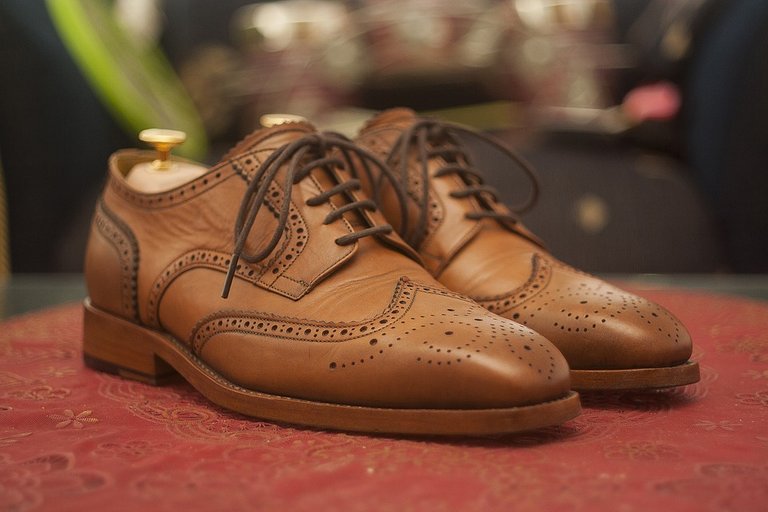 source
This is my 2nd freewrite and I would be lying if I said I have not been waiting for this 2nd one. I did realize though that with the timer involved my head goes dark and heavy pretty fast. Not sure why I feel like I am too serious. The complete opposite of what I am in real life. Not saying it is a good or bad thing. Just something I observed. The next 5 minute freewrite I will try and lighten it up a bit.
5 Minute Freewrite is hosted by @mariannewest and more details can be found by clicking HERE.
---
Leather Shoes
It all starts with leather shoes. The first time you put on a real pair of leather shoes you know you are a man. Not the kind of fake leather shoes you would normally wear to school. We all know the kind, the over the top glossy thick-soled trotters.
The first time I put mine on I was amazed at how they smelled. Not like the footy Cheeze smell I was expecting but rather a matured out of the box smell. Like a new car smell that has been aged in a way. That would make it an old car, no? Unless you take a new care and keep it sealed and fresh for a few years... ain't nobody got time for that. It made me think of the meme and lifted my lip a little bit higher than it reached in the last last week.
I finally got them on. I admired them, form a first-person view and then from a third-person perspective using the old mirror that was always there. It seemed much smaller now.
It was finally time to go and I went downstairs. I heard every footstep and every echo of the much louder shoe than I was ever used too. Not that they were big, but they kind of felt deeper than any other sole I was used to. Filling them was not something I was used to.
The last and first thing to point me into manhood as I walk out the door.
---
I wanted to add some more but as I looked at the clock and saw half a minute I rushed to finish. This was way more fun than I thought it would be.
---
Did you hear about the Qurator witness? Qurator is my main project here on Steemit and it has grown to over 1700 members. If you like what we do here on Steemit consider voting for Qurator as a witness. =)

Via steemit.com.

Thank you for reading! Steem on Steemians!