One thing about being in a multi cultural & multi racial country is that we get to enjoy food from all walks of life. And this is something that I have taken for granted my entire life until now.
Here I have is a fusion savory dish from the Indian community. It's called Aloo Tikki, a very popular street food snack. It's made with mashed potatoes, some mixed spices and dipped into an egg wash before being fried. If you googled this dish, you would probably find the recipe but because its so easily available back home, I never did consider searching for its recipe.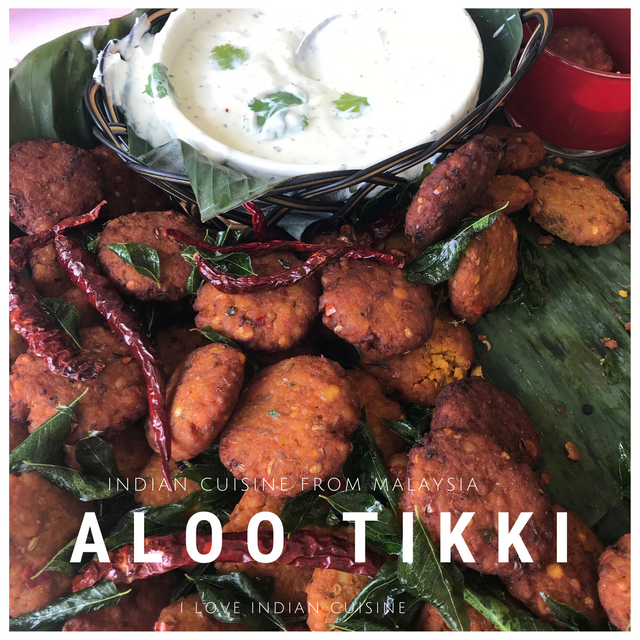 For the dipping, it varies depending on the host. Some used dhall, chili sauce or to make it more western, some use mayonnaise. Whichever it is, it's the aloo tikka that is the best.
I can't wait to go home in a few weeks time to enjoy the Malaysian taste of Aloo Tikki.. the best is South East Asia !
Well, hope you like this week's choice of food for Tasty Tuesday! Until next time.
This is my entry for @qurator's Tasty Tuesday. Check out the details below for more of this amazing contest.

Come join in on the fun and TAG a friend.
We all love food! There are hundreds if not thousands of foodies on Steemit. We all love to take our taste buds on a wild ride and share our food experiences. Come share your most recent food fighter moment and let us indulge and enjoy it with you. We hope to spark some more interest within the food community with this competition. Come take part!
RULES
Only food-related posts.
Use the #qurator tag as your first tag.
Mention the Tasty Tuesday competition in your post title or somewhere in your post.
All entries will be reviewed by the Qurator team.
Competition open to all Steemians, not just Qurator members.
One entry per account
I hope you enjoy my photo as it's taken from my Huawei .