In a period of just 3 days HIVE went from around 1600 stats to a 10000 sats. This is around 6 fold increase in terms of Bitcoin price. In terms of dollar price things are even more dramatic and the increase is more than 7 fold.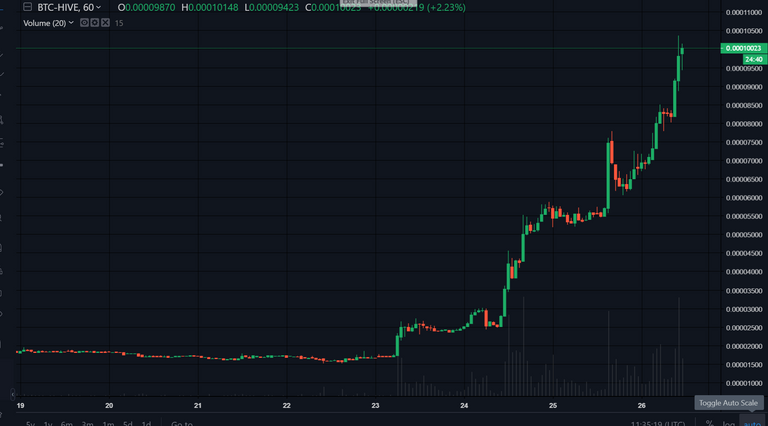 What cause this crazy bull run?
Truth to be told I don't know, and most people don't know as well.
Usually things like this are not a result of a one single event but a culmination of a multiple factors to create this perfect storm.
Basic economy says: Price is driven from the demand and supply
Demand and supply you say. Let's take a look at these two things.
Supply
The total supply of HIVE at the moment is around 351 million. Out of the 351 million around 162 million are powered up, locked for a 13 weeks period of power down. Another 83 million are in the DAO fund also locked. This leaves us with around 106 million liquid hive.
But this doesn't stop there. There is another almost 30 million tokens locked up, so to speak, from Binance. They have been powering down and they have around 12 million liquid now, but deposits and withdrawals are not enabled yet from their side at the moment of writing this post. This cuts of another 30 million from the liquid supply, meaning a total of 76 million liquid tokens.
Here is a table for the supply
| HIVE Tokens allocation April 26, 2020 | |
| --- | --- |
| Total supply | 351M |
| Powered UP | 162M |
| Hive DAO | 83M |
| Binance | 30M |
| | |
| Reaming liquid | 76M |
Only 76 millions liquid hive available. Probably a share of this liquid hive is not for sale either. There is a lot of sleeping accounts, and some of the active ones are not willing to sell either. This is reducing the liquid supply further.
How did me get here with less than a 76M liquid hive?
Well as most of the active hive users are aware there was quite a turbulent period leading to this.
Here are few bullets that cause this:
Governance war that lead to users powering up and voting for witnesses
Exchanges powering up and voting for witnesses
Binance still not allowing access to the HIVE tokens
A fork that removed the Steemit Inc tokens and locked the into a DAO fund
There you go. A series of events that super constrained the liquid hive to a less than 21% liquidity from the total supply at this moment. Less then 21% of the hive supply is actually available now, and I will go on and speculated due to the sleeping accounts and users that just don't want to sell its less then 15% at this point. A 15%, or around 50 million HIVE.
Demand
Hive and Steem have been in the news for more than a month now. Cointelgraph, Coindesk, CCN and a lot more. All of them have been reporting on Hive. Twitter has been buzzing with hive as well and the top crypto acters have been mentioning hive like Vitali, Andreas and McAfee. In most of these news hive has been showed in positive light, decentralization vs centralization.
Hive was and it is still all over the news, getting a massive exposure. Exposure matters. Hive has been exposed to millions of crypto users in a positive way all over again. And then the fuse came in. The Huobi listing with a massive 100k HIVE rewards for the once that deposit the most. There was an AMA prior to this listing giving hive further exposure to the large number of crypto users. Huobi is a third largest exchanges, meaning it has a lot of users with crypto right there that can move around tokens instantly. Imagen some big player with a nice amount of BTC siting there. He may want to put 1 or 2 BTC in this promising project.
Combine this great exposure, a listing to a large exchange with a lot of big investors ready to go instantly, and the super constrained liquidity on hive. Also, not to forget, hive was a below 50 rank coin. Its overall market cap is small compared to the top ones. When you put such a great exposure and large listing to a small marketcap coin it can easily go up a lot. In our case, even that it was a below 50 coin, it had a super low liquidity on top of that.
Whales
Here I just want to put some emphasis on whales. In most of the cases, moves like this are caused from some large players. I bet there is some big players out there that want to buy some HIVE. Maybe there was a few of them. Anyways they might not have expected this huge jump in the price, as FOMO has been kicking in and a lot of other players may have come on board in the process. Things may have got out of control a bit. Is our old friend from the other chain one of these players? Can't tell as there are pro and cons for that.
---
I guess this is a most probable scenario. Supply vs Demand. That what drives the market.
All the best
@dalz