The 4th Version of my Stormgain Crypto Futures Trading Strategy!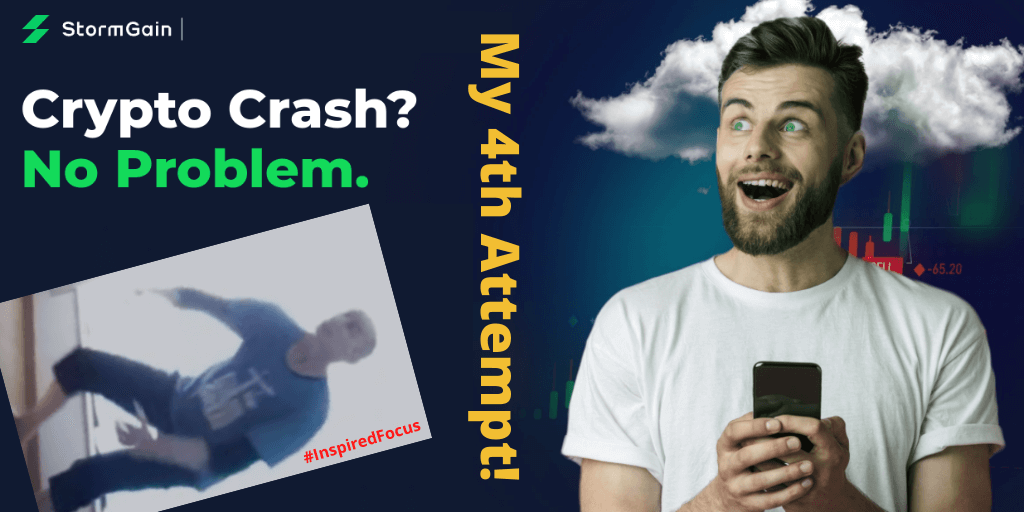 Since the crypto crash in May 2021 that wiped out my position on Stormgain, I have been slowly mining my way back into the game on the crypto futures trading platform.
To recap, I opened an account on the Stormgain trading platform at the beginning of December 2020. I did so because it had a "cryptominer" that let you mine satoshi on the site.
When the value of your satoshi hits $10 (Tether) you can transfer it to your trading account and trade crypto futures with it.
In short, Stormgain offers a way to start trading crypto futures without risking any of your own hard-earned cash!
I had no idea what I was doing back then, but made a bunch of small profits before a large loss wiped the slate clean!
Demo Trading
Then I began to study some trading techniques, and practised with their demo-account during January of this year. I blogged about my progress here on CTPTalk.
The results were encouraging, though I should point out that I was trading in a bull market.
Next, I applied what I'd learnt to my own account, using crypto that I'd mined with Stormgain.
Once again, things went well at first, but then a big reversal wiped out most of my gains.
Back to the drawing board for the third attempt!
Then Elon Musk tweeted that Tesla would not accept Bitcoin payments, causing the big crash of May 2021, and wiping out my $140 worth of profits that were tied up in an exposed trade!
Back to square one yet again!
By now I was busy with my teaching commitments and didn't have so much time to mine regularly, so it has taken a while for me to mine enough crypto to get back into crypto futures trading.
So here is the 4th iteration of my zero-out-of-pocket crypto-futures trading strategy!
Only trade with mined crypto, not with profits!
The key difference is that in versions 1-3, I was using all my profits to increase the size of my trades.
Actually, for version 3, I had set very clear guidlines for profit taking and ratcheting up the leverage. The problem was that although it was robust under "normal" levels of volatility, it could not withstand the Musk-induced panic sell off that saw Bitcoin drop by around 60%.
So, before I had hit my first "take profits" target of $200, the Musk-effect had already wiped out the position.
The 4th Iteration: My Progress So Far...
With $10 worth of mined crypto assets, I started trading again on 25th July and doubled my money in 4 trades over the next five days: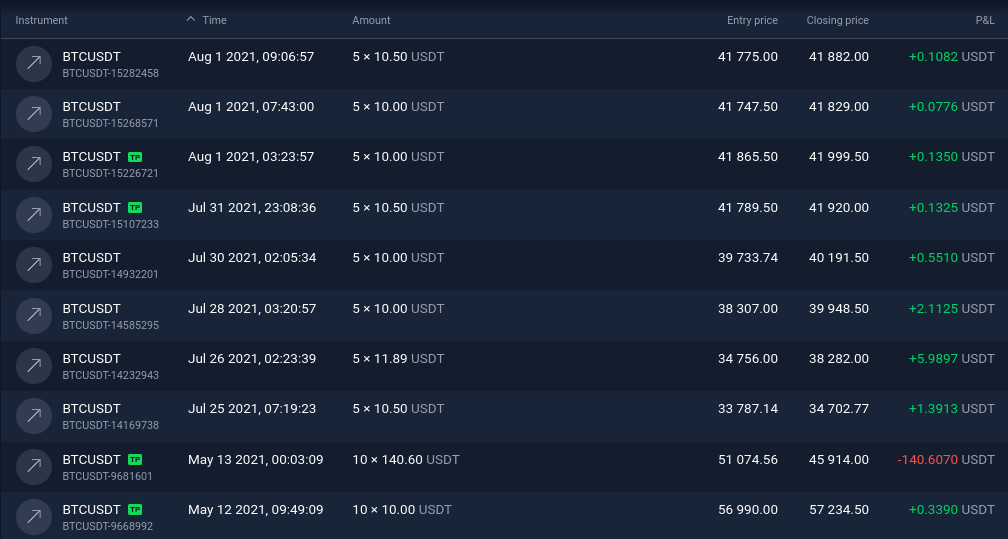 Now, instead of adding my profits to the trading pool, I send them across to my Bitcoin wallet on Stormgain, effectively separating my profits from my mined assets that I use to open futures trades: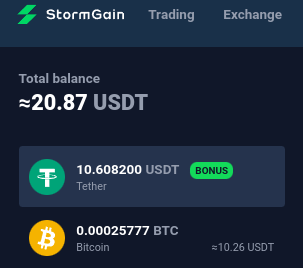 Withdraw Profits To... FreeBitcoin!
My next goal is to continue trading and transfering profits to my Bitcoin wallet until I have accumulated 0.0014 BTC, which is the minimum withdrawal amount. At that point, I will transfer the BTC from Stormgain to FreeBitcoin where it will earn 4.28% interest.
At the same time, I will continue mining crypto on Stormgain, and use mined crypto to increase my trading pool.
In this way, even if another panic sell-off wipes out my trading account, I will still have the profits stashed away. It would simply be a matter of mining another $10 worth of satoshi on Stormgain's Cryptominer before trading again.
Now this seems to me to be a much more viable way to benefit from the potential of crypto futures trading, without exposing your own capital to any of the downside risks.
If you'd like to give it a try, here's my referral link: https://app.stormgain.com/friend/BNS17362669
Best wishes,
David Hurley
#InspiredFocus
---
---