Is it merely a buzzword / gimmick or a real concept?
Join us at the SteemFest 4 Roundtable as we discuss the topic.
     Had a discussion with @netuoso once upon a time about this little thing called proof-of-brain hence the meme. To clarify, I am an advocate of proof-of-brain although it does seem quite a nebulous concept.
Let's talk about it
Personally, I don't prefer to call it a debate where one's rhetorical ability may overshadow the soundness of the ideas expressed.
Let's rather call this a interactive discussion, an "unmuddying of the waters" if you will. I will work to broadcast this discussion and will have voice up on the Steemflagrewards Discord
This time I have my Bluetooth mic / speaker so I should not be acoustically challenged like yesterday. See my last reblog from @slobberchops if you wanna get a laugh. @roelandp's and I attempted to jury rig a tea kettle amp.
It didn't work. Surprise surprise!
The Rountable Will Commence in 25 minutes. Be there or B²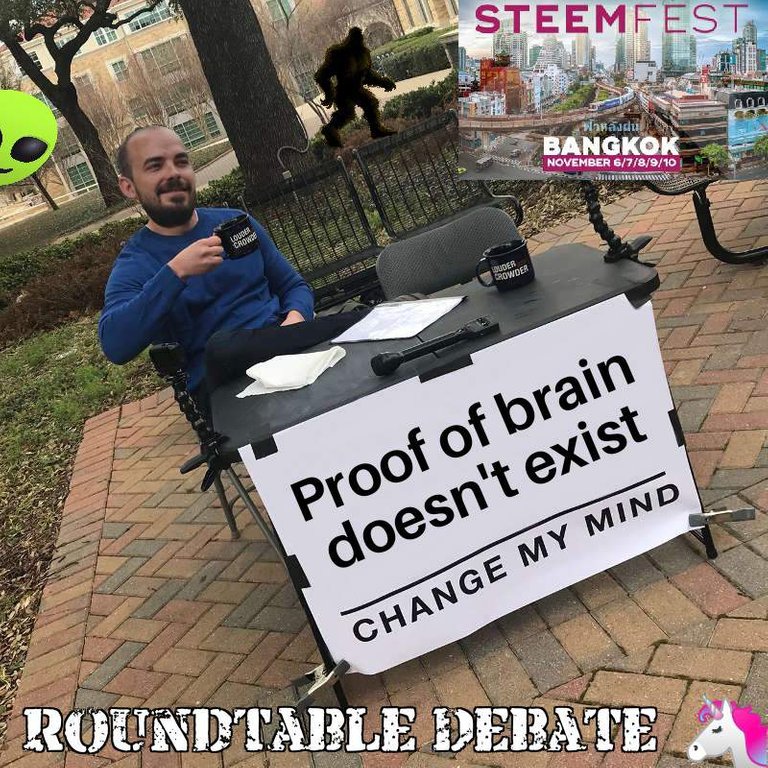 Should have added the Easter bunny. Missed opportunity. :(

Posted using Partiko Android
Also, join the SteemFest Telegram to be aware of the remaining events.
Glad to be a part of this event and meet some great peeps.
Source
Wait. Wrong Peeps!