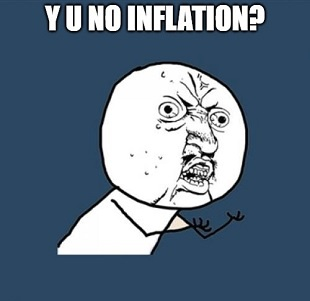 Inflation, bad?
I have heard the idea of reducing inflation down to 1-2% on Steem - by eliminating the reward pool for Proof of Brain and leaving just inflation for witnesses & Steem Power hodlers. And moving token rewards over to Smart Media Tokens, strictly.
I believe the inflation in place is good + sustainable, with 8%ish and lowering every block.
I always figured Steem as The Upvote of The Internet.
Of course, every good faucet needs a sink to go along with it. A few ideas I had for sinks would be an Instant Power Down + 5% burn fee & Burn to Promote (buy Steem, burn it to get more exposure for your post) which popular front end @SteemPeak have already implemented.
Creating thoughtful sinks will allow you to get the utility of Steem with upvotes while balancing with burns.
I look at Steem token being the visa of the Steem blockchain, excepted everywhere (under each "house rules" if you will) retaining its amazing utility.
Steem is a Delegated Proof of Stake (DPOS) blockchain, which is a stake based democratic chain meaning we need to Steem in as many hands as possible for decentralized voting.
To do anything on Steem you need resource credits, which is another reason we need Steem in as many hands as possible. Giving Steem "samples" out for free is a great way for people to see how deliciously useful it is!
Try fried rice?
No ty.
Try fried rice!
Erm, no ty.
TRY FRIED RICE!!!
Ok, Ok... Mmmm! That is delicious!
Follow me, 6lb bags are this way.
Issues that arises with locking Steem up so that holders and witnesses are the only ones getting inflation.
First, the rich get richer.
Secondly, witnesses are a tiny group. The DPOS can become centralized to early adopters & witnesses only if that setup.
Steem can one day be in a billion hands, where hordes of minnows can make or break a witness being in the top 20.
Power corrupts all, and we need checks & balances. By giving the bulk of inflation away to new users, I believe that is the key to winning. You get people to use your currency by giving it away. Fried rice anyone?
BUIDLing into the future, I believe we should buidl with Steem powered upvotes in mind.
Why Price Bad?
People think inflation is the reason the price is down. No, one the reasons the prices are down is that Steem has a working product and it's an altcoin in a bear market. I know you're saying we are dropping in rankings, but when we are getting passed by the likes of "Japan Content Token" listed on sketchexchange dot com… much wow!
Steem is a victim of being a good blockchain. It's not listed on sketchy exchanges that have market makers pumping fake volume. ICOs do that to appease ICO investors, Steem didn't have an ICO; therefore, there are no market makers faking volume.
Key to Top 50 Shitcoin Market Cap Success:
ICO token is key to success!
Get big social media following, Check!
Have ico and raise millions. Check!
Pay a big exchange listing fee with a market maker to pump coin price and volume. Check!
DON'T HAVE A WORKING PRODUCT! This is key, check!
Dump on hodlers and vanish into the darkness, check!
Look, I'm saying Steem isn't the only great project getting slaughtered in value. Look at coins like Civic and NLC, low alts with working products, slaughtered. What's still standing? Fcking hype coins, stuff with no real products. Because they are being manipulated in price.
In the NFL, they have a term called "getting frazzled." It means, when you get down by a few scores, you start deviating from your original game plan.
For instance, a team with a great running attack but an average passing offense, might abandon the run and start throwing out the deep balls to try and catch up. In reality, what is best is to buckle down and stick to the game plan.
With mass adoption, Steem will tear through inflation like a knife to hot butter. If anything the inflation will be needed to keep supply up & help with sell liquidity, remember, people actually need Steem to use the platform, chocking supply to nill isn't a great sales strategy. Tons of Steem will be locked up by apps/dapps as it is, cutting inflation will severely cut supply, in a bad way, in my opinion.
Combining a great Faucet like Steem has for onboarding (proven very effective in making Steem go viral) + creative value adding sinks. the burning of Steem takes Steem from hodlers hands and destroys it. That means these people where already onboarded. New Steem inflation can be used to onboard new people.
I am a fan of the current PoB setup with the new improved Economic Improvement Proposal (EIP.)
This answer is a promotional effort to raise awareness about Steem on Quora. Earn upvotes for your Steem Quora answers! Details here: https://steemit.com/promo-steem/@theycallmedan/quora-onboarding-initiative-updated
Help promote the Steem blockchain on Quora by joining the Steem Cryptocurrency Quora Space (CONGRATS ON 1k SUBSCRIBERS): https://www.quora.com/q/otycmrjbbhahuqae?sort=top
Quora link to this answer: https://www.quora.com/How-viable-is-Steem-as-a-currency-as-the-Steem-network-must-constantly-create-tokens-to-reward-bloggers-and-enable-votes-causing-lots-of-inflation