I'm sure most of you have been following the news.
A lot has been said about the situation, and I'm not here to repeat what has already been said. However, I woud like to emphasize the importance of what @theycallmedan said : Steem is a hornet's nest. Best not to poke it.
Let's use Twitter to let the world know.
I am sure most of you do not approve of those major exchanges' actions lately. This is not why we choose crypto over fiat money. We are not in this because we are looking to swap powerful bankers for powerful exchanges. Binance, Huobi and Poloniex showed their true faces, and now it's up to us to let the world know.
---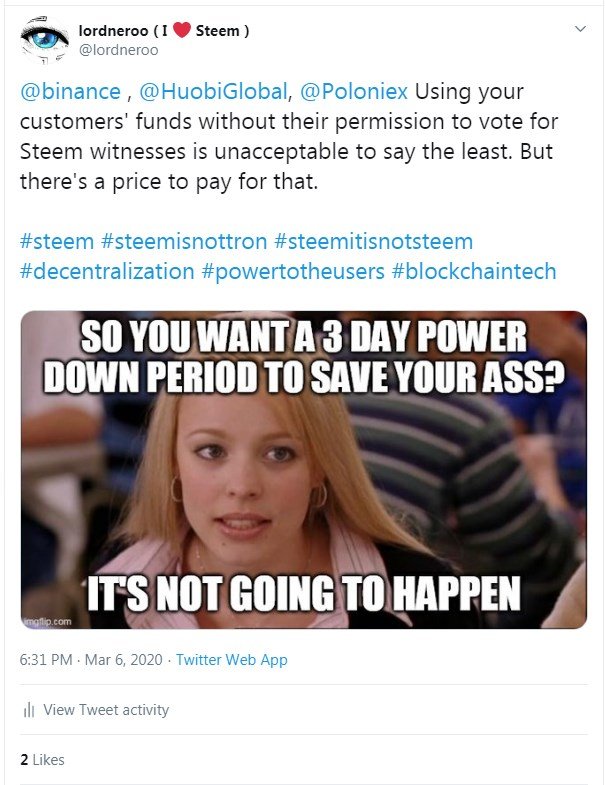 ---
Regardless of what happens in the end, we need to spread the word.
Having to wait for 13 weeks to get their customers' tokens back is not enough in my humble opinion. These exchanges need to suffer the consequences of their actions. They fully deserve this. Let's make an example out of them.
Feel free to retweet this.
Let's make some noise. They don't seem to realize that the power of Steem is the community behind the platform. The whole crypto world is watching us right now, so let's make the best of the situation.
Bombard them with tweets and retweets.
Make some memes and use them in your tweets. A good meme is certainly an eye catcher. If you don't have the time or patience to make some memes about the current situation, feel free to use the ones I made yesterday. They are free to use.
This is bigger than Steem.
Those oligarchs need to be exposed. This is not why we are in crypto. They have to be held accountable for their actions.
---
Teach them some manners.
I appreciate your attention.