Viajar resulta toda una aventura con Steem
Traveling is an adventure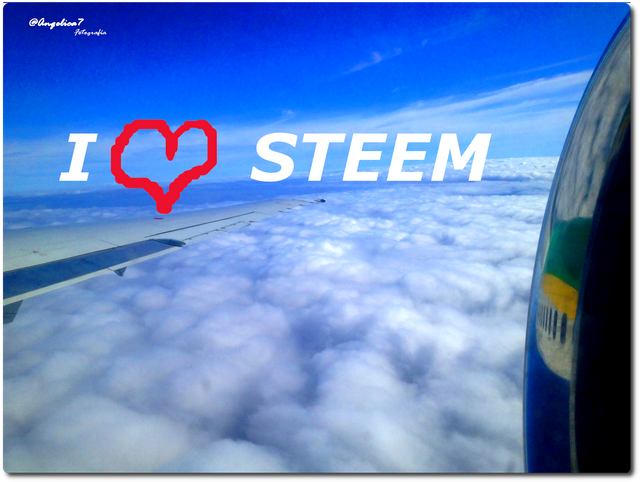 ---
Desde que entre a STEEM mi vida se ha tornado diferente, todo es una oportunidad para publicar y compartir con amigos, por ello continuando con la campaña "Yo❤ a #Steem"-"I ❤ #Steem" comparto lo que un viaje puede significar si lo miras como un usuario de la cadena Blockchain de Steem.
Viajar representa una oportunidad para imaginar cosas nuevas para compartir y soñar con la sorpresa de disfrutar el momento que se avecina, cuando nos preparamos para hacer un viaje organizamos todo lo que debemos llevar y con ello se alimenta la emoción de lo que vamos a vivir; por ello para mi, mirar a través de la ventana me permite adelantarme a pensar en lo que viviré en el viaje y de cómo todo este paseo podré compartirlo para hacer extensiva mi alegría.
La ventana de una avión permite soñar, pero también nos lleva a estar atentos a lo que se aproxima luego de llegar al lugar de destino. Cuando estamos en vuelo, no solo estamos en las nubes sino imaginando desde la mirada de un amante de steem, qué podemos hacer para compartir lo que vemos, además de apreciar lo hermoso del cielo y los paisajes que se observan por la ventanilla, lo que puede resultar una experiencia encantadora.
Si tienes un viaje disfruta de cada momento de él, cada paso conforma un cúmulo de emociones que conformaran el éxito de tu viaje, además los recuerdos quedarán en tu mente como una gran historia que compartir.
Esta historia de 3 fotografías fue de un viaje donde su destino fue la ciudad de Maracaibo Estado Zulia
Con todo mi cariño para ti: @angelica7
---
English
Since entering STEEM my life has become different, everything is an opportunity to publish and share with friends, so continuing with the campaign "Yo❤ a #Steem" - "I ❤ #Steem" I share what a trip can mean if you look at it as a user of the Steem Blockchain chain. Traveling represents an opportunity to imagine new things to share and dream with the surprise of enjoying the coming moment, when we prepare to make a trip we organize everything we have to take and this feeds the emotion of what we are going to live; That is why for me, looking through the window allows me to get ahead to think about what I will live on the trip and how this whole walk I can share it to extend my joy. The window of an airplane allows us to dream, but it also leads us to be attentive to what is coming after arriving at the destination. When we are in flight, we are not only in the clouds but imagining from the gaze of a steem lover, what can we do to share what we see, in addition to appreciating the beauty of the sky and the landscapes that are observed through the window, what It can be a lovely experience. If you have a trip enjoy every moment of it, each step forms a cluster of emotions that will make up the success of your trip, in addition the memories will remain in your mind as a great story to share. This story of 3 photographs was of a trip where his destination was the city of Maracaibo Zulia State. With all my love to you: @ angelica7 .
---
Entre nubes y compartiendo en STEEM
Between clouds and sharing in STEEM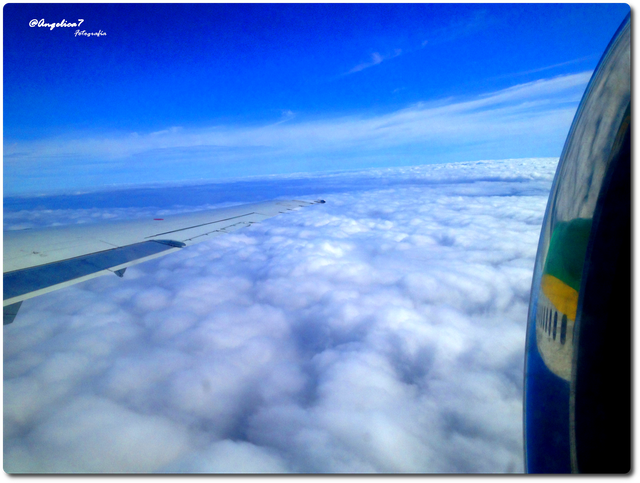 ---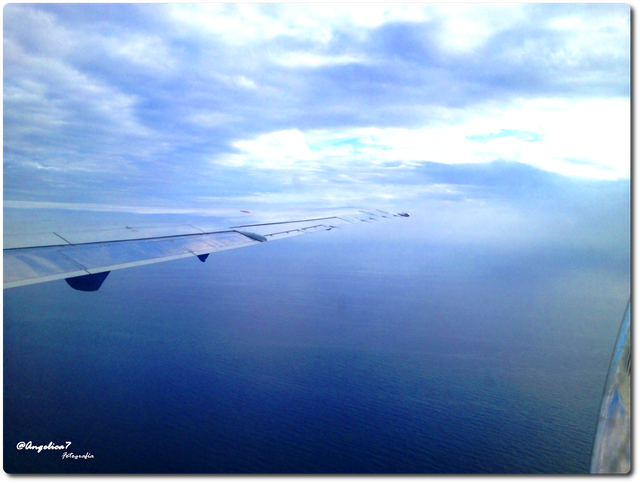 ---
Puedes encontrarme en twitter:
https://twitter.com/lmartinezmdl/status/1215794010545061889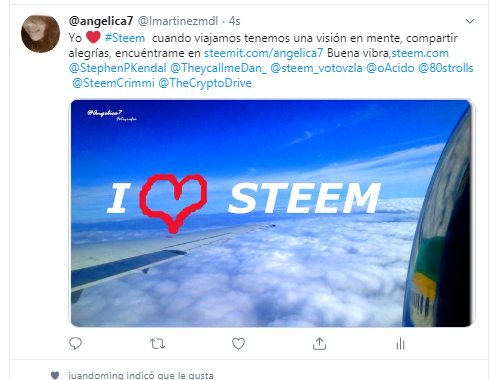 ---
---
Fotografía y edición: @angelica7, Cámara: teléfono Huawei
---
Me encantaría conocer tu opinión y descubrir un poco más de ti, espero tus comentarios.
Que nadie apague tu luz interior

El mejor labial de una mujer, es su bella sonrisa

Te invito a conocer a:
Canales del Discord : @votovzlaPAL-net @rutablochain

---
Con todo mi cariño @angelica7