With every paycheck, a bit into crypto.
Step by step, a few sats every time. This is how you achieve 'long-term' goals.
Sticking into them. Building your ass off among the days and the weeks, the long months of the crypto winter.... Eventually years.
Seemed a lot of time, but as I checked into my historical posts, I was very glad to reach the 'non-negligible' amount of 1000 Steem power in the recent past. Just in may. May 10, exactly.
Now, 4 months after, I'm sitting at 4000 Steem Power after a nice power-up of ~800 Steem: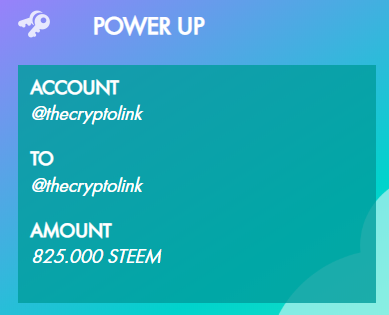 Around ~20.000$* at ATH prices (~5$ for a few months at late '17 early '18).
Not taking into consideration the compounding nature of SP, with a big enough chunk of the SP pool, you might not want to sell ever.
Also not taking into consideration even higher prices (+10$) which are not fully out of the equation but didn't want to think about them yet.
It's incredible. X4 My initial 'long-term' goal. 'Just' because I decided not to conform and asked myself 'How does it feel to be a dolphin?' (in steemian terms, of course hehe).

Well, I'm 'almost' there. And the almost will be destroyed within a 'few' months more, hopefully.
Steem on!
You can follow me on Twitter