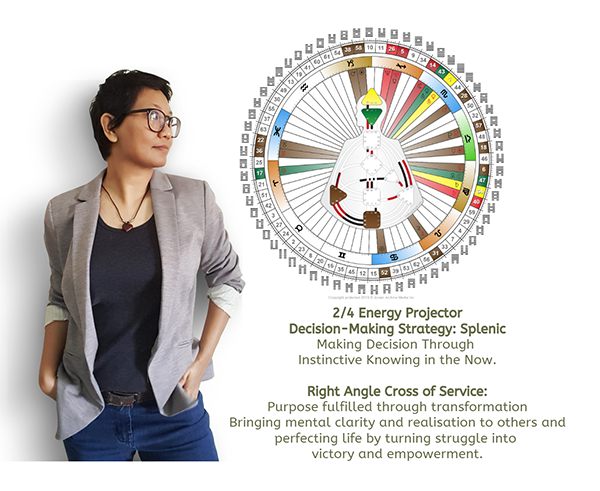 Do you know how much I hate my Human Design?

I was once deeply in denial. "Why do I need to wait for Invitation when I can be a go-getter!" I said that to myself all the time when I discovered that I'm a Projector in 2013. What I did not aware at the time is conditioning and I was deeply conditioned to be a Manifestor and Generator. I Initiated all the time and got bitter because no one hears what I said. I remember back in corporate life, I sent long emails for solutions and the emails either got rejected or no response at all. Being conditioned as Generator makes me work long hours too. Can you believe that I used to work 16 hours a day, running logistics management? I have Undefined Sacral with Gate 14, the workaholic trait in the not-self! I didn't know all this and I was too ignorant to accept that this body is not designed to work like Generator and initiate like Manifestor.
Thank God for my Splenic Authority and its Intuition. Back then I already started to pay attention to my intuition. There was an unsettling feeling bothered me every time I dismissed Human Design (I dislike Ra at the time... Even got angry at him too!). Deep in my core, I know Truth is knocking. One thing about Truth, it doesn't always appear pleasant. So I take the risk and pay USD 100 for an overview session with Lynette Hagins (6/2 Ego Manifestor).
And boy! She impacted my awareness deeply about being a Projector with the Undefined Solar Plexus in the nodes. From there, I slowly pay attention to emotions. Three years later, I began my first Living Your Design Awakening with Laveena Archers (formerly known as Andrea Abay-Abay).
Turning denial into Acceptance
What begins as the denial was what led me to this wonderful journey of self-discovery was my nonacceptance for being a Projector.
Six years later… Every single day I feel grateful to be born as a Projector, specifically with this design. Whatever essence that I'm emitting, it is coming from this design, this body and this aura and I embrace it. Without this body, The "I" not matter anymore. And here I am, educating people, parents, businesses about Human Design! Perhaps until the day my service is no longer require.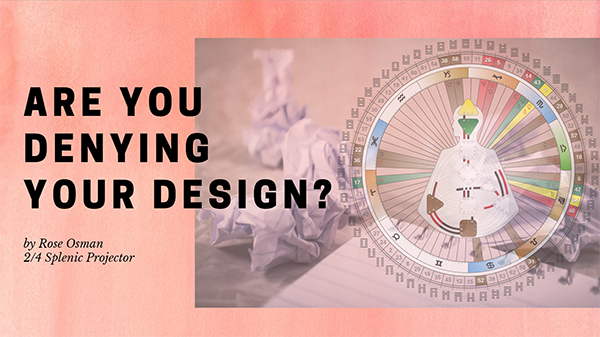 If you are in denial, this is for you.
When you know your design and you dislike it, or rejected it; that could mean these things.
You are deeply conditioned to be somebody else and you didn't know.
Human Design is not for you at this moment. Some folks found out their Human Design years ago and only immerse in it after many years. I begin to immerse in mine after 3 years.
Timing. There's always time for everything.
However, if you fall under the 1st category, I want you to ponder on this.
If you are a Projector and you are longing for recognition and invitation, now is the time to understand your gifts as a natural-born Advisor. It's alright to be in denial but I also encourage you to observe the feeling of nonacceptance towards what's yours. Give yourself sometimes to hear the echo of your own truth,
If you are a Generator or Manifesting Generator, let's build some trust in your gut response. Your Sacral is your power! It is the key to everything you need in this life.
If you are a Manifestor, stop waiting! Pay attention to your aura. Be conscious of the fire in you; a fire that everyone is waiting for you to ignite.
If you are a Reflector, honour your openness and your sampling power. You are rare gems, a mirror to the world. 99% of the population need you to show them the truth in your sampling power!
I hope that shake some truth in you… And if it does, it's time to explore your differentiation and uniqueness.


Love,
Rose Osman.
RAX Cross of Service [58-52, 18-17]

What is Human Design?
Human Design system is Self-Knowledge that shows your unique blueprint through a Rave chart called the Bodygraph. It also explains everything about you in a logical way. It shows the conscious and unconscious side of you, your characteristics, your roles in this life and much more.

Human Design shows your Genetic Code and WHO YOU ARE through Definition. With this knowledge, you are able to tap into your own power and begin to heal through alignment of your soul, mind and body.

More details and the courses here: https://www.roselifecoach.com/human-design
Follow me here:
www.Instagram.com/yourpersonalmotivator
https://www.facebook.com/humandesignmalaysia/

Thank you for reading, I hope this can shed some lights on your journey!
Blessing to you all.
Comment and share your thoughts with me if you like.
#differentkindofmotivation