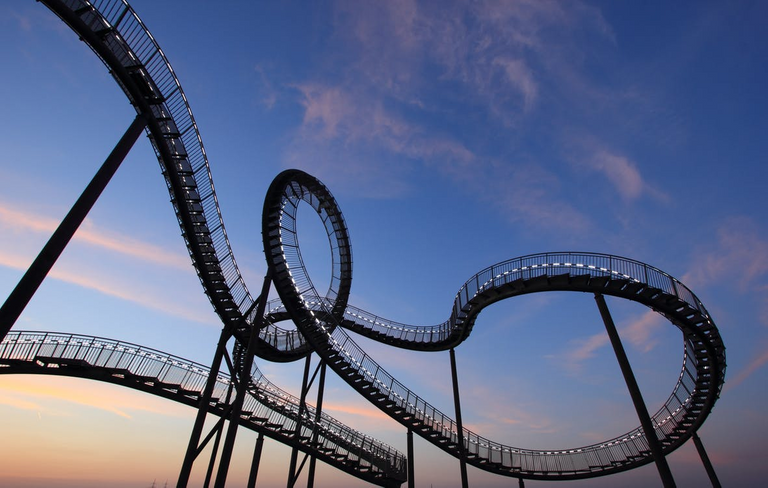 A good friend of mine is currently battling blood cancer. Her talents span far and wide, and she's very legitimately a world-class athlete that I believe could have competed at the highest level in numerous sports if she would have continued pursuing them. She eventually decided on following her other passions to become an elementary art teacher, leading by example in the classroom instead of the racetrack. Life has been much more difficult for her this past year, as her energy fluctuates significantly from day-to-day (although she somehow feels at her best when she's running 7-minute miles).
We were talking the other day about her most recent lab results, and how her improved biomarkers brought her hope that she hadn't felt in some time. Her mood has swung from high to low countless times due to varying prognoses, and it's been tough to watch from the sidelines. However, she left me with this gem when talking about her wild ride:
"A flat roller coaster would f------ suck."
We don't spend our money to go to amusement parks and watch everyone else use the rides (unless you're a wimp like me). We go for the thrill; the literal highs and lows of the experience make it worth every penny we spent and all the moments of terror/lull. We live for the experiences that make our jaws drop, our hearts flutter, and our senses awaken. The times we long for more, even when we know it's all temporary.
My friend's future remains clouded in uncertainty. But she isn't letting that stop her from living. It's worth asking yourself if the boundaries that you live your life by are set by you or something that's out of your control. In her case, even with a disease that's currently inhabiting her body, she's chosen to take the reins of her life. To live on her own terms. To get back on the roller coaster.
"A Single Seed" is my attempt to get out one idea every day that I've learned or accumulated over the years, with the hope that it may stick in someone else's memory bank as well. The idea may be related to fitness, business, life, or philosophy, but I think you'll find that many can change domains if you wish them to. With each seed planted, a new life awaits.
Image credit: https://www.pexels.com/photo/black-and-white-roller-coaster-106155/