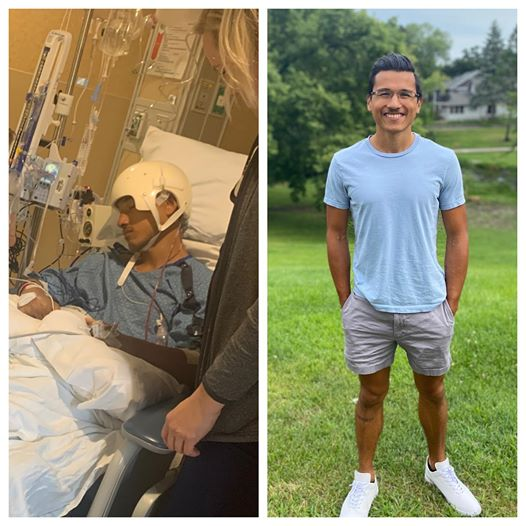 Copy and pasted from a post I put out yesterday. For context, I suffered a subdural hematoma/brain bleed in a Muay Thai kickboxing fight last year, and had life flipped upside down for a while. Extremely lucky to be able to reflect on it nowadays!
Time flies when you can't remember anything! One year ago today, everything changed. The first couple months after the injury were some of the darkest of my life, but with the unwavering support from friends, family, teammates, & medical staff, things slowly brightened back up. It would take far too much text to list all the names of people who played a role in getting me back to where I am, but you know who you are, and from the bottom of my heart, thank you. With the compassion from everyone to help get me back on my feet (along with a lot of luck to just be alive to write this sappiness), I'm somehow able to say I'm the healthiest I've ever been; cognitively (including my memory 🤷🏽‍♂️), mentally, spiritually, & physically. None of it possible without the people around me.
Legitimately not a day goes by where I don't reflect on the fact that I'm the luckiest guy on the face of the planet. My favorite podcast episode of all time is an interview with a man who was on the flight that landed in the Hudson River. Everyone on the plane thought they were going to die, but somehow they were given a second chance. His guiding question (and one that I try and remember everyday): "Did I earn my gift?". Doing what I can now to make sure I can say someday I've done what I can to have earned mine.
One thing this has taught me is that no matter what we're going through, it's all temporary. I've always been a fan of the saying "this too shall pass", but I never thought that it'd be cemented through a lesson like this. The good and the bad are all part of this crazy journey we're all on. The other is that love heals like few medicines can. It's only because of the love shown that I was able to make any recovery whatsoever. So keep spreading it however possible; you never know how much of an impact it might have. And don't let me ever get another haircut like they gave me in there. Much love y'all 🙏🏾