It's Been A Few Weeks ..
So I think this is a perfect time to update everyone on the Orchids. Today's post is a follow up to these two posts:
The First Post (about 35 days ago) - Just as I wonder whether it's going to die, the orchid blossoms
The Last Post (about 20 days ago) - Orchid Update!!

Well On There Way ..
The Orchids both appear to be doing pretty well, other than the fact the one I have had the longest looks terrible. As I stated in another post, it is a bit more stressed this time, and it shows. It's leaves are green, but look like a hundred year old mans skin. They are very wilted and gaunt. It's a stark comparison to the other which is almost in full bloom with lush plump green leaves.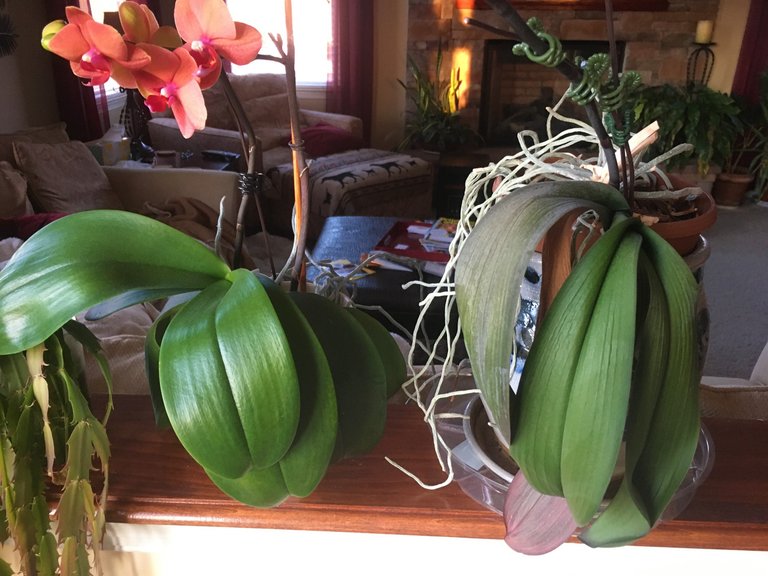 Poor thing.. It's never been quite this bad, for as many times as it has bloomed in the past. I was thinking about cutting off the bloom, in fear that the plant would eventually kill itself trying to put all of its energy into them. I decided to ride it out to see what happens. I was reading that this sometimes happens if it blooms only a short period of time after it previously bloomed.. (I wrote that sentence three times and it still doesn't sound right.. hope you get the point)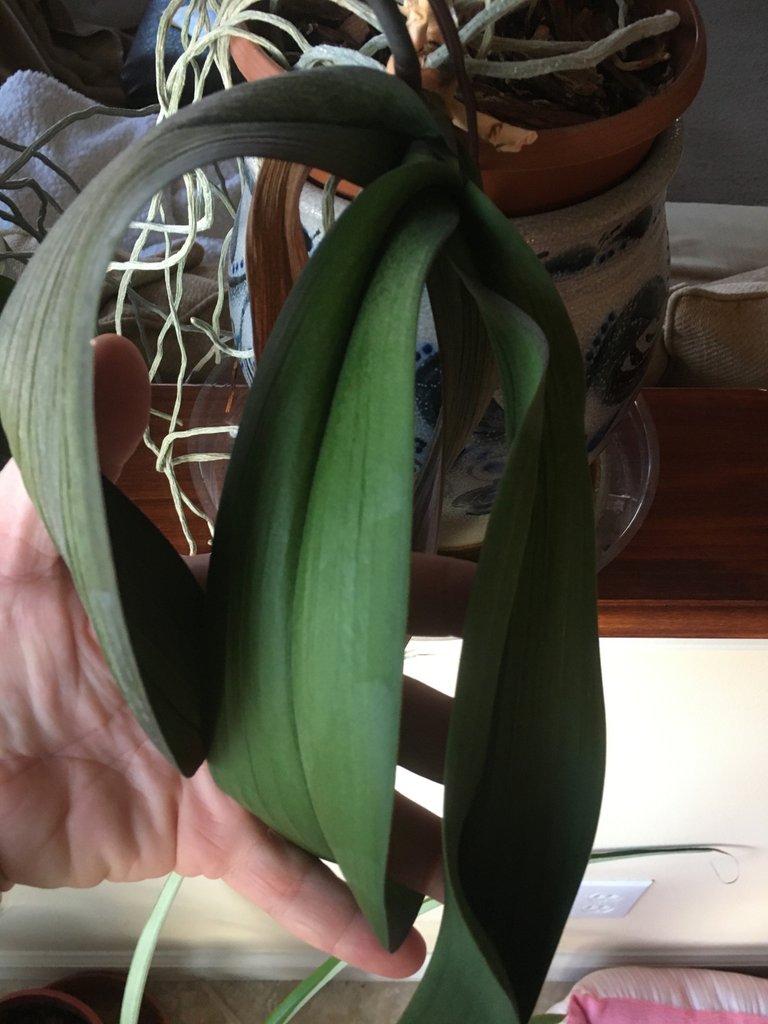 Lets Take A Closer Look ..
At the healthier of the two plants. Here is a good photo depicting the air roots and the stems of the blooms. Both protrude out of the foliage. They begin as a little nub that breaks through the leaves and continues to grow. They grow in opposite directions.. roots away from the light and bloom stems toward the light. Call me weird, but I find it exciting to keep checking or looking at the bases of the leaves for new shoots. Sort of like waiting for eggs in a nest to hatch.. sort of.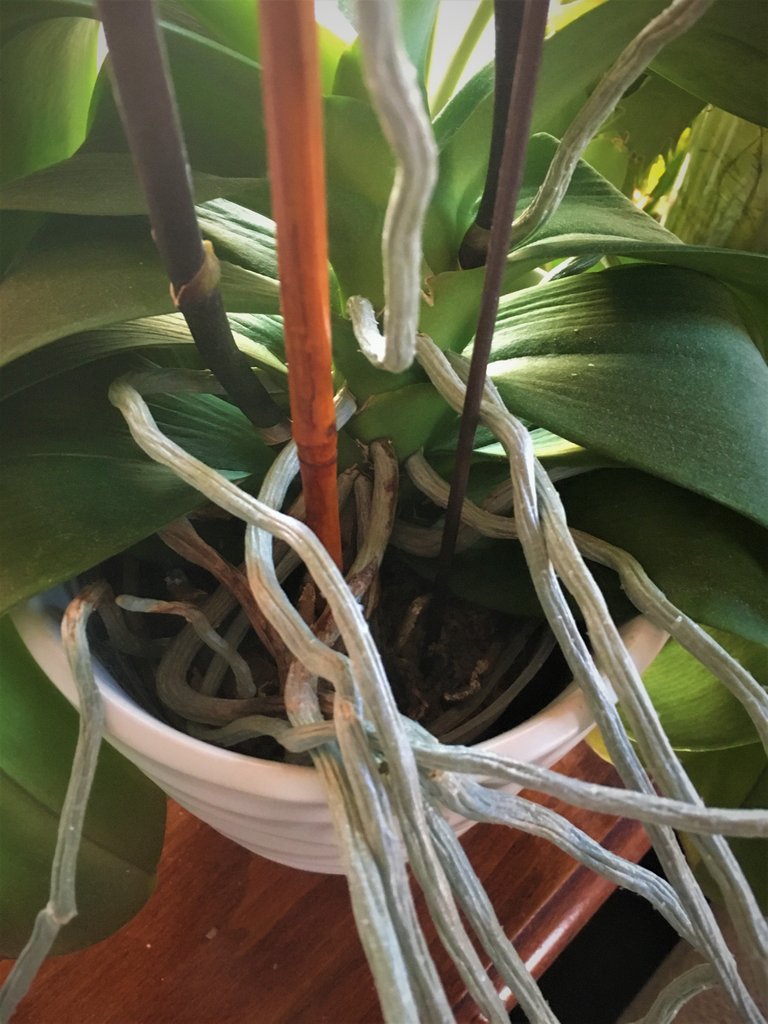 The air roots, when they first break through the green leaves, appear a light grey. The bloom shoots break through and appear glossy dark green. As soon as either breaks through, I can tell if it will be an exciting new bloom or a plain old boring air root.. hehe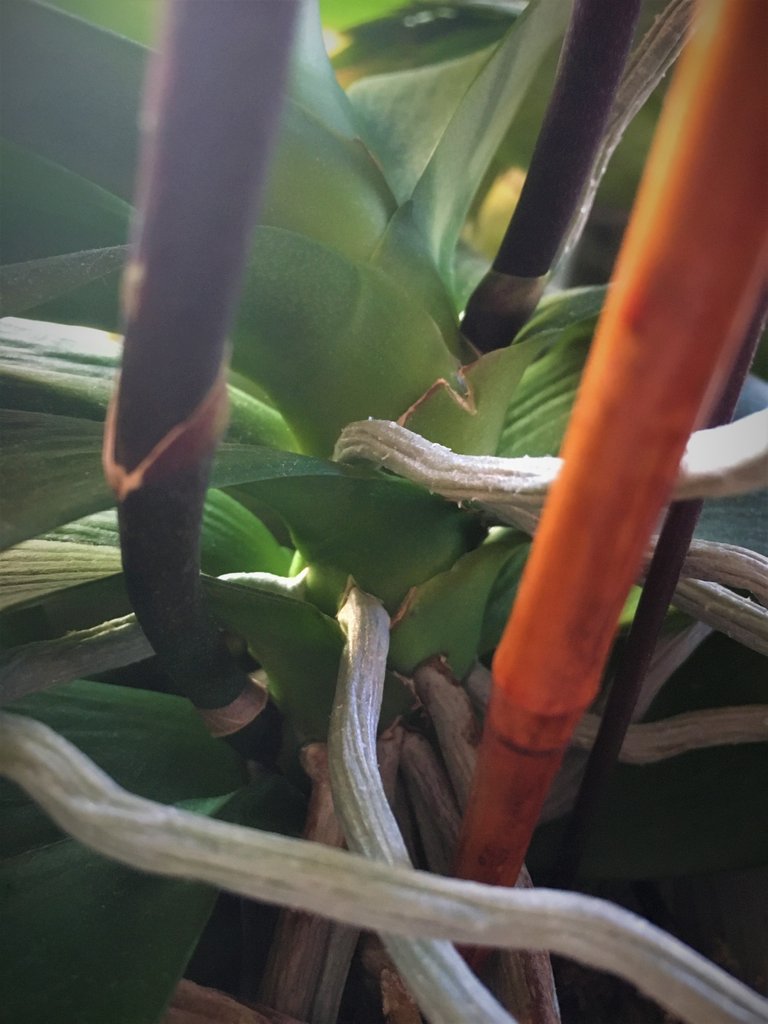 Here in this next photo, you can see where I cut the old bloom stems back just above another node. Not always, but occasionally the stem will push another bloom out from this point. It takes a while, up to 3 months or so, but its really cool when they do. I got lucky this round because all of my cuts produced a new bloom stem!!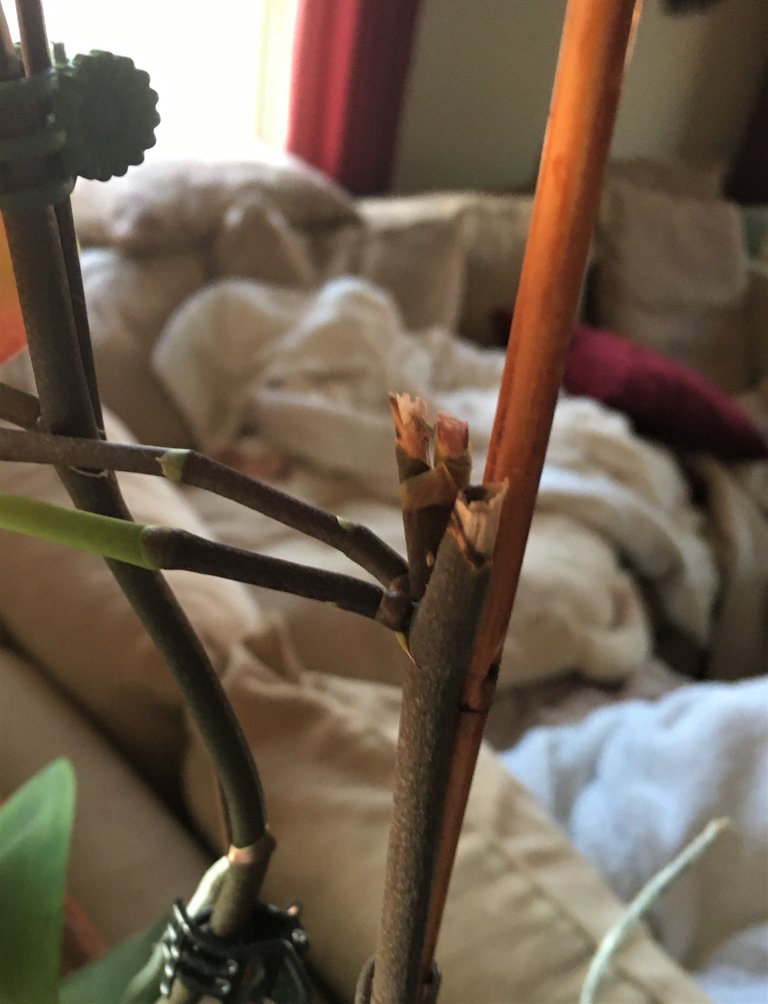 Here is another completely different example of how this particular type of Orchid will bloom. Here it is pushing a new bloom bud out of a node that was not cut. It's branching out you could say. The nub of a shoot is quite small and most likely will not produce any blooms for a long time. If I could make an educated guess, I would say this may flower in roughly 8 months or so. Guess we'll find out.. heck, it may not bloom at all.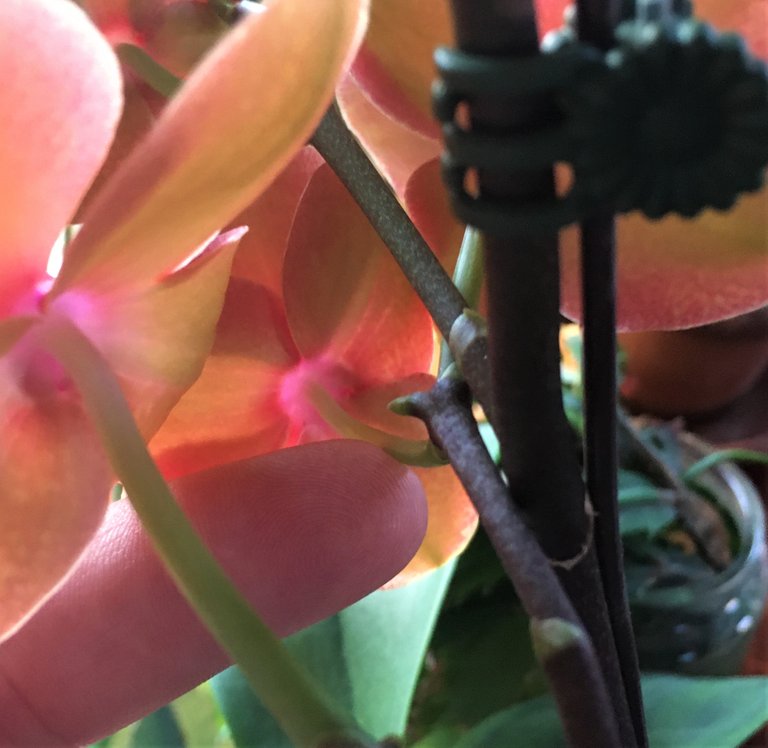 Lets take a peek at the flowers we have blooming! Since the last post, several more have opened up, with only a few remaining closed. if you look toward the top, you will see that anoth is almost ready to pop open. It's starting to split along the light green, back side of the petals. What a stark difference in color .. light green to a rich pink and orange color :-D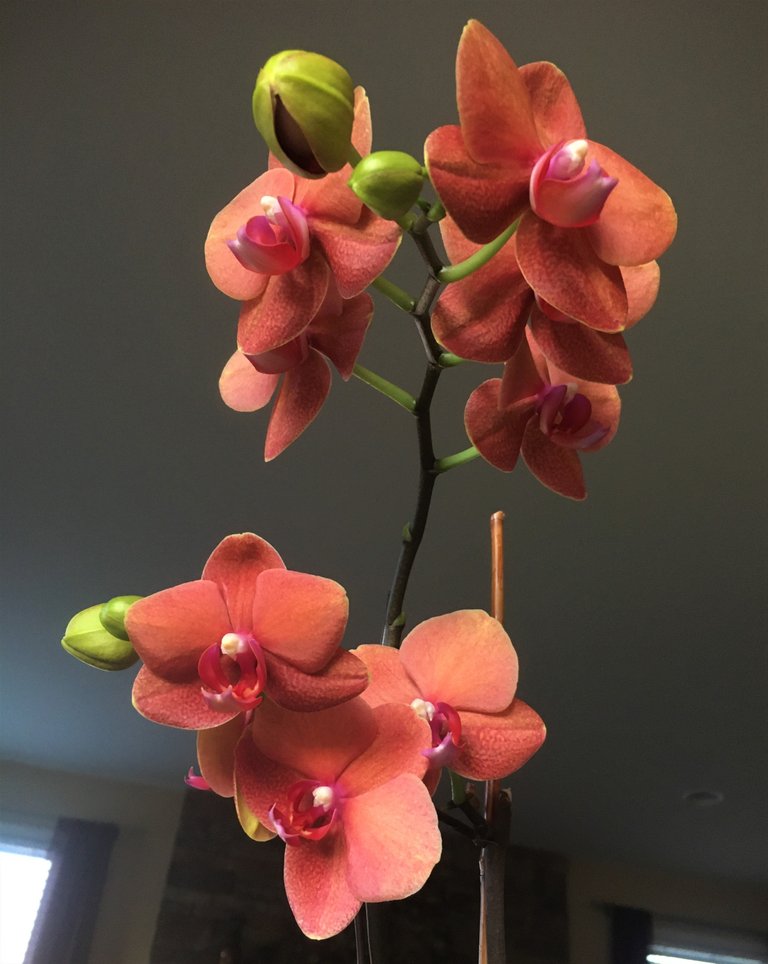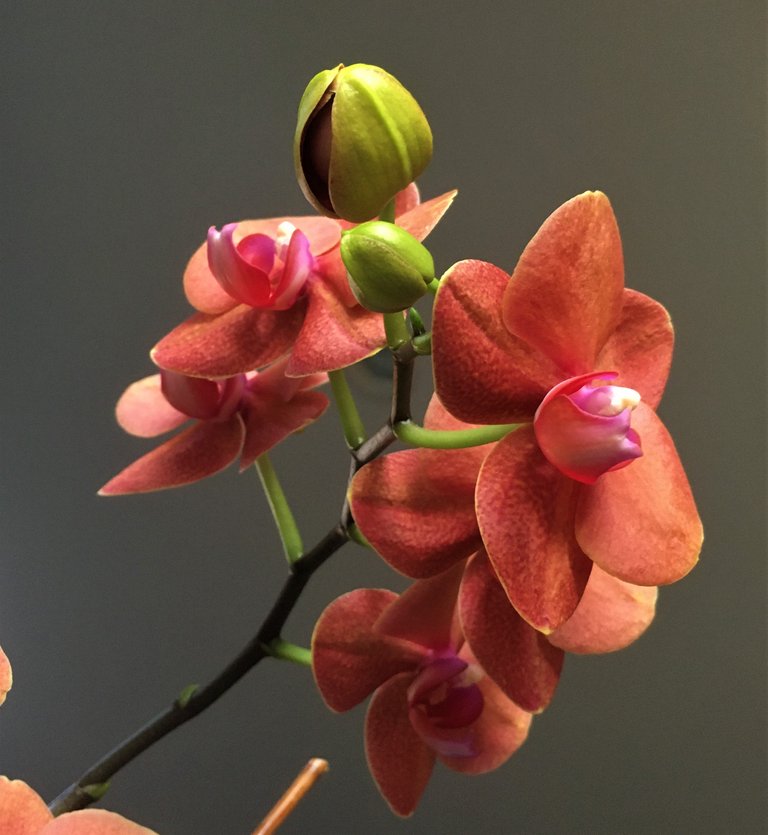 This marco close-up shows the splitting action well. I think it may be fully open my Monday or Tuesday of this up coming week.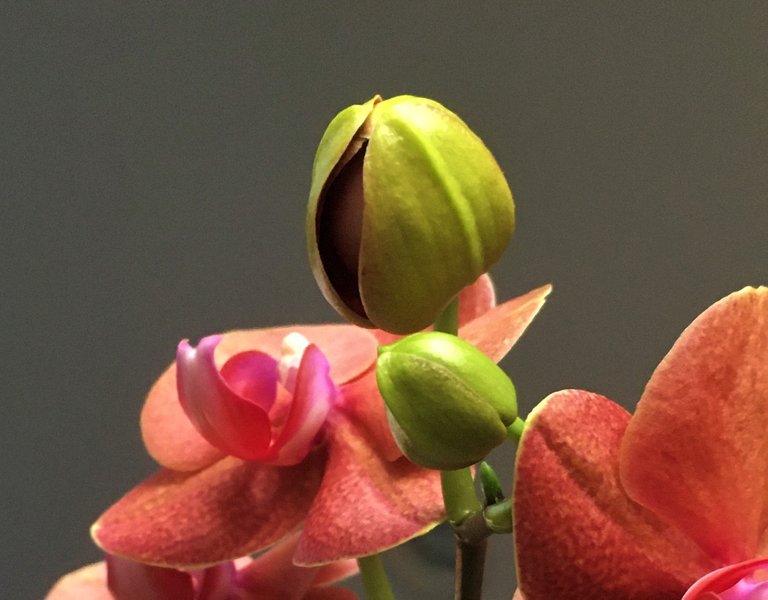 The flower buds on my 'Stressed Orchid' are growing in size, but have not started to bloom open yet. They look a little wilted as well, but healthier than the plant it's self.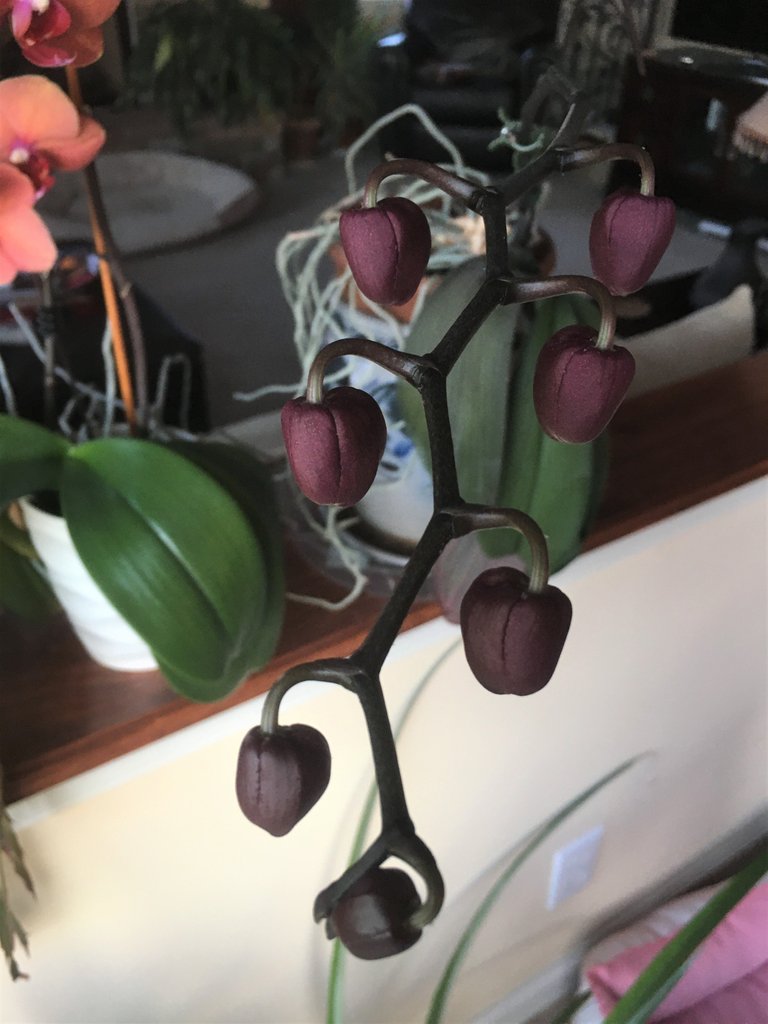 This is a close-up of the tip of the bloom stem. There are about two or three very tiny buds at the end. Sometimes they open after the other buds bloom and sometimes they don't and just dry up. You can barely make them out .. they are hiding there at the very end right next to that last large unopened bloom.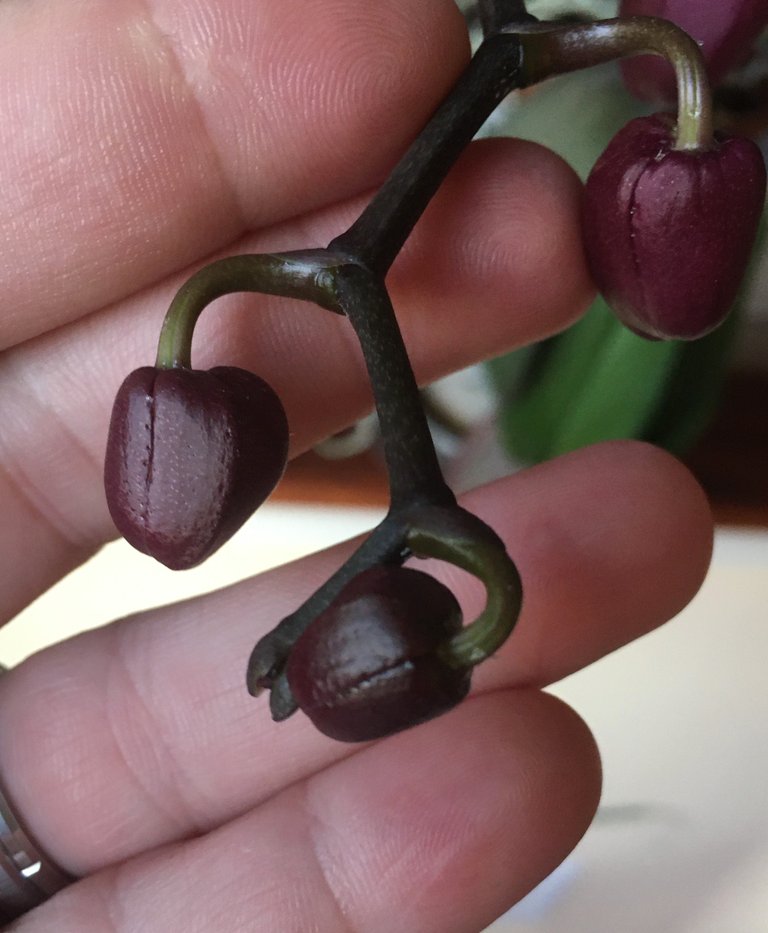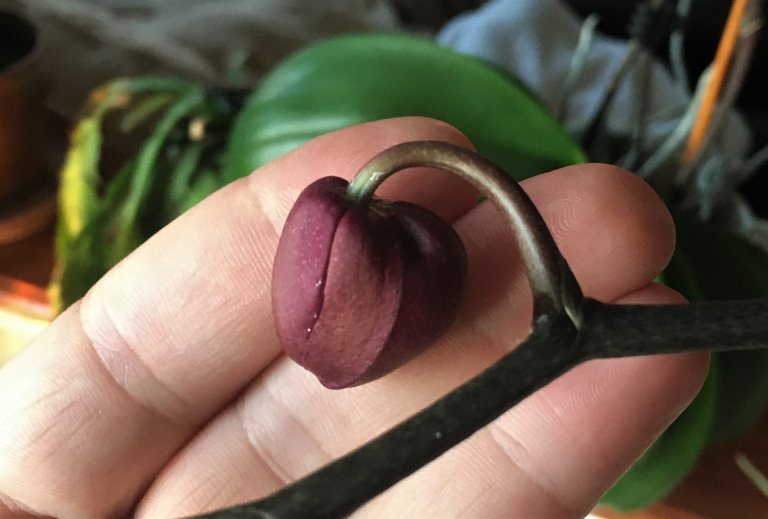 As For The Other Plants ..
Now that I spent more time than I thought on the Orchids. They are doing okay.. all are waiting for more light and some slightly warmer temps. Lets just say they are holding their own and I even see signs of new life emerging.
Our Lemon Tree ..
Our tiny little tree, although at first glance looks half dead, has been recently pruned. I pulled three nice lemons from her branches and since then it is starting to push out new foliage.
Don't mind Pepper.. He has been right next to me all morning! Snoopy!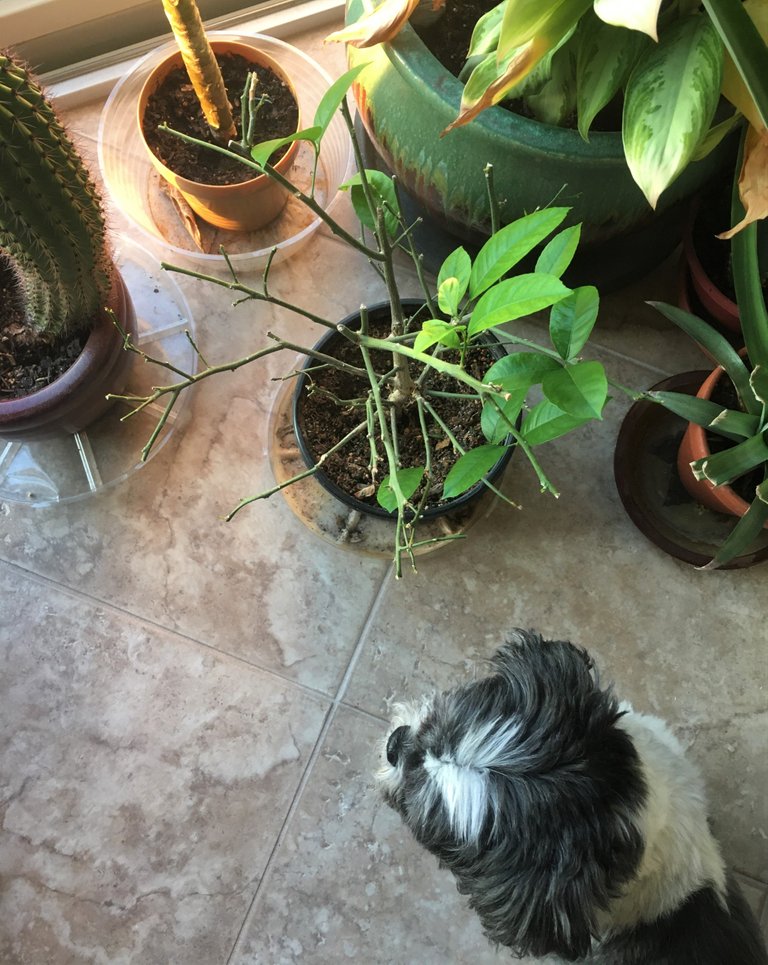 A close-up of the new foliage pushing it's way out of the newly formed buds. I would say in about a month we will have some flowers here too!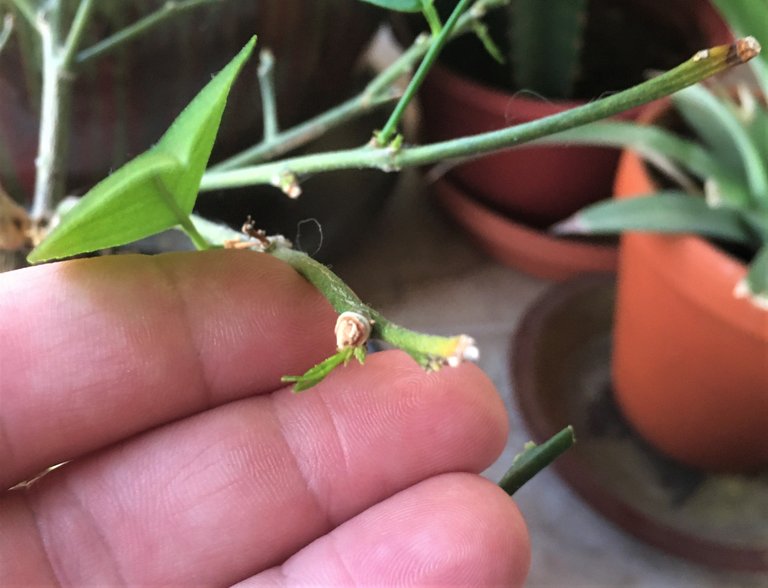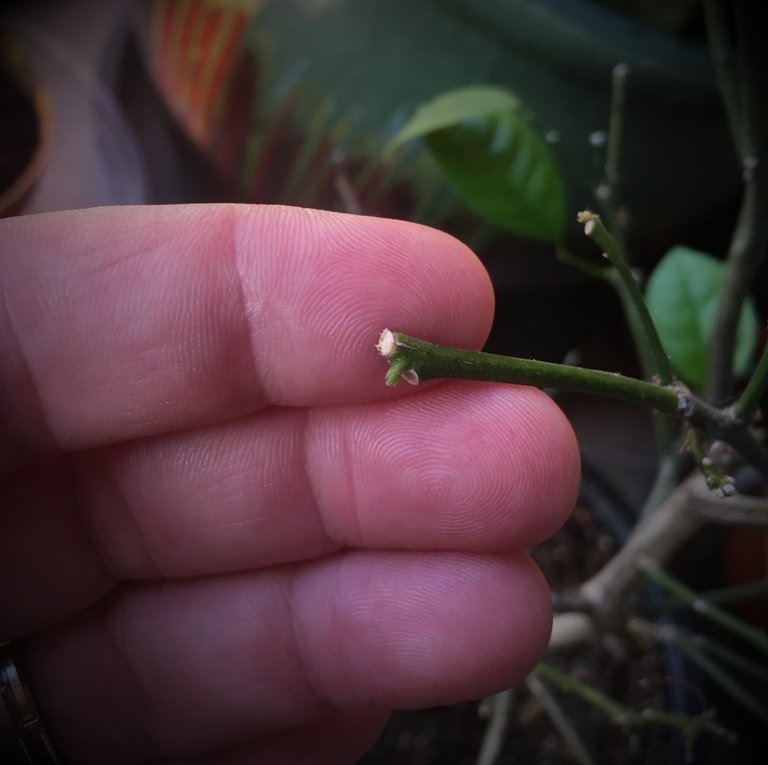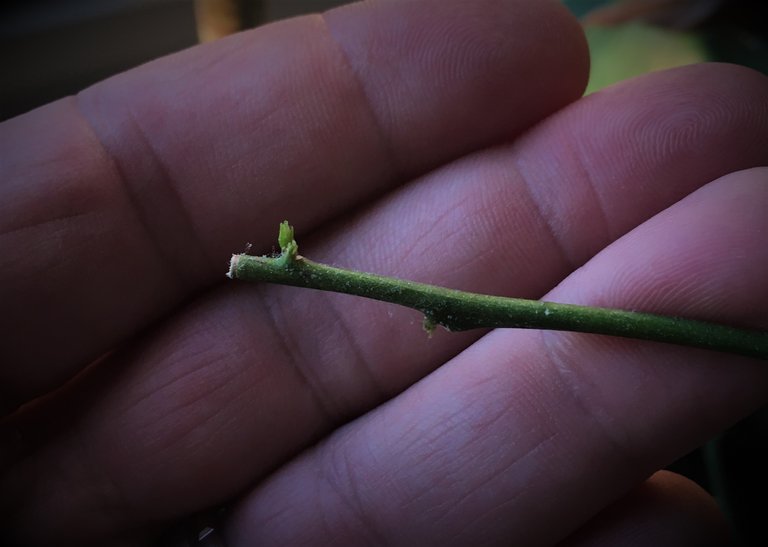 More of Pepper being curious .. I have grown to know it's just his way. I Love it though.. Daddy's Boy for sure!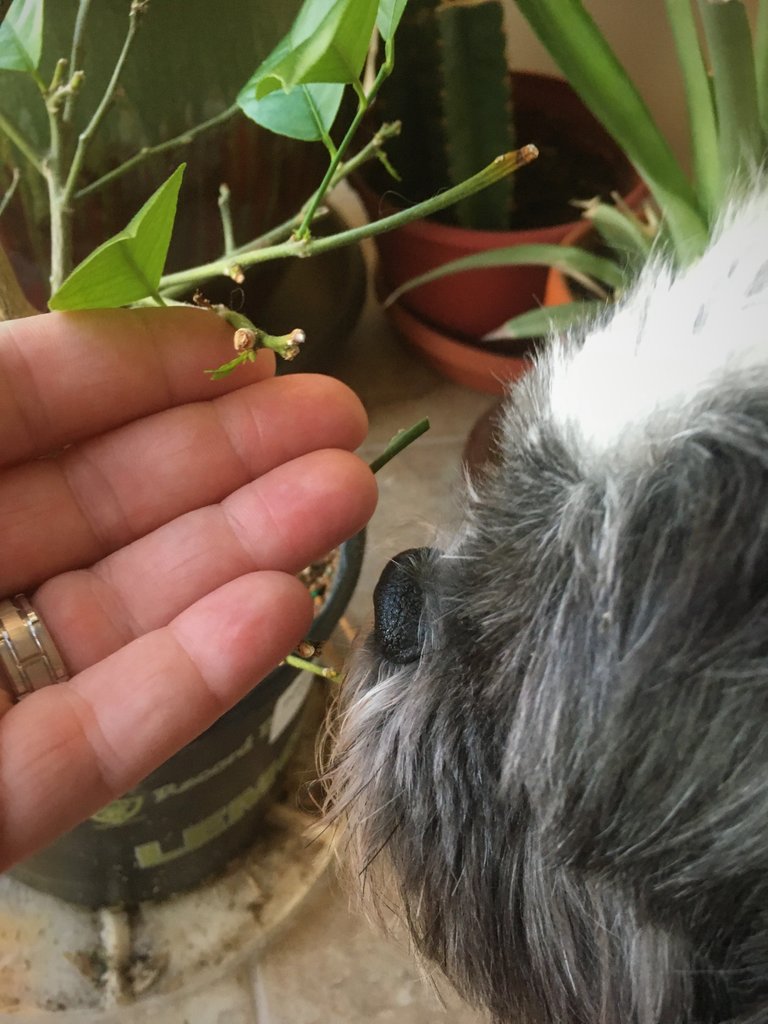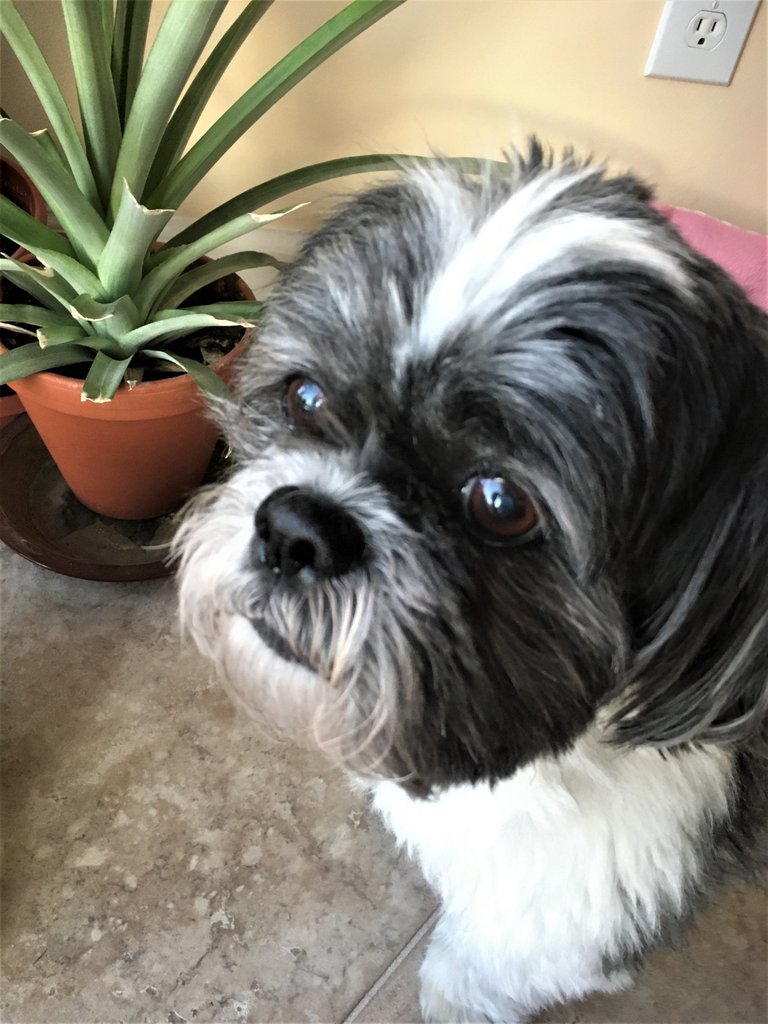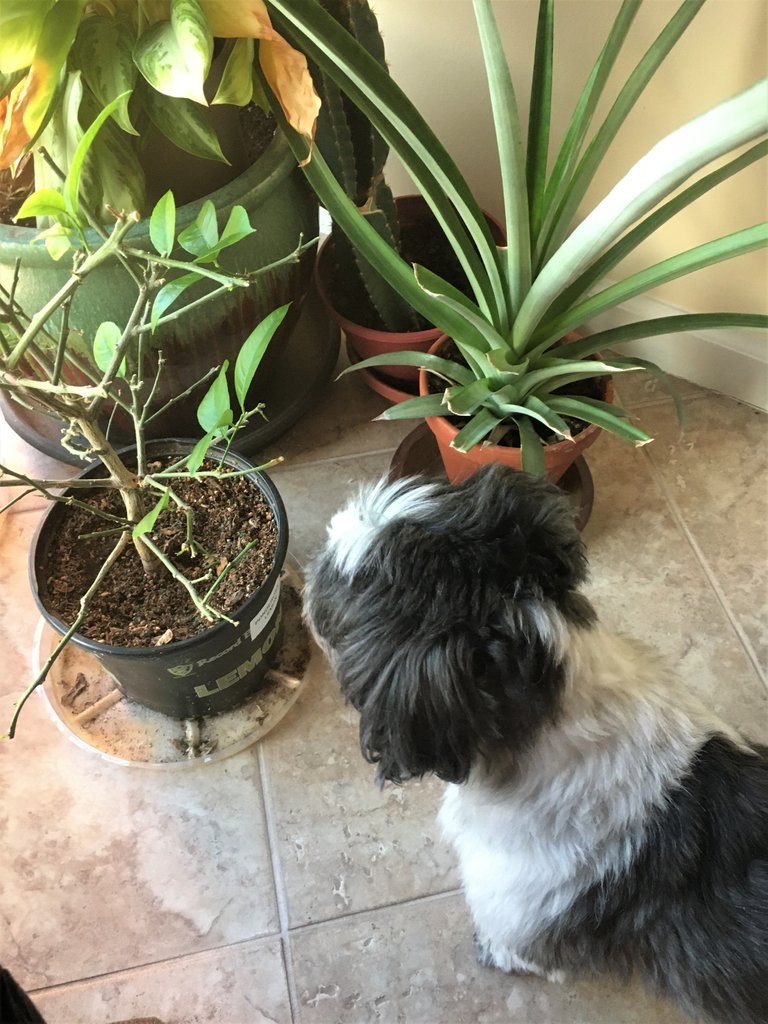 Our Plumeria ..
Is even sprouting a new leaf! Spring is here!!! Maybe it will bloom this year, but I am not holding my breath. Look closely and you can barley see that there are many more leaves beginning to form at the base of the stem.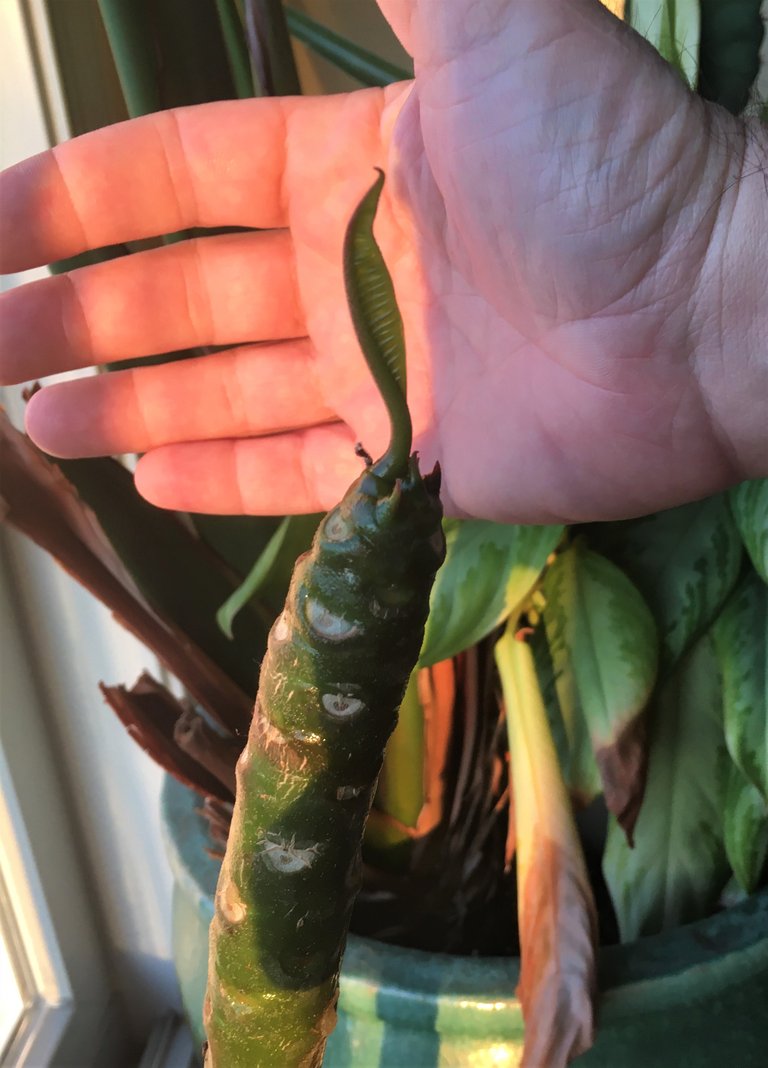 That's It For The Update! ..
And Pepper is wanting a cookie for his time spent watching over all of these plants for Daddy. Good Boy Pepper!! Let's go get that cookie.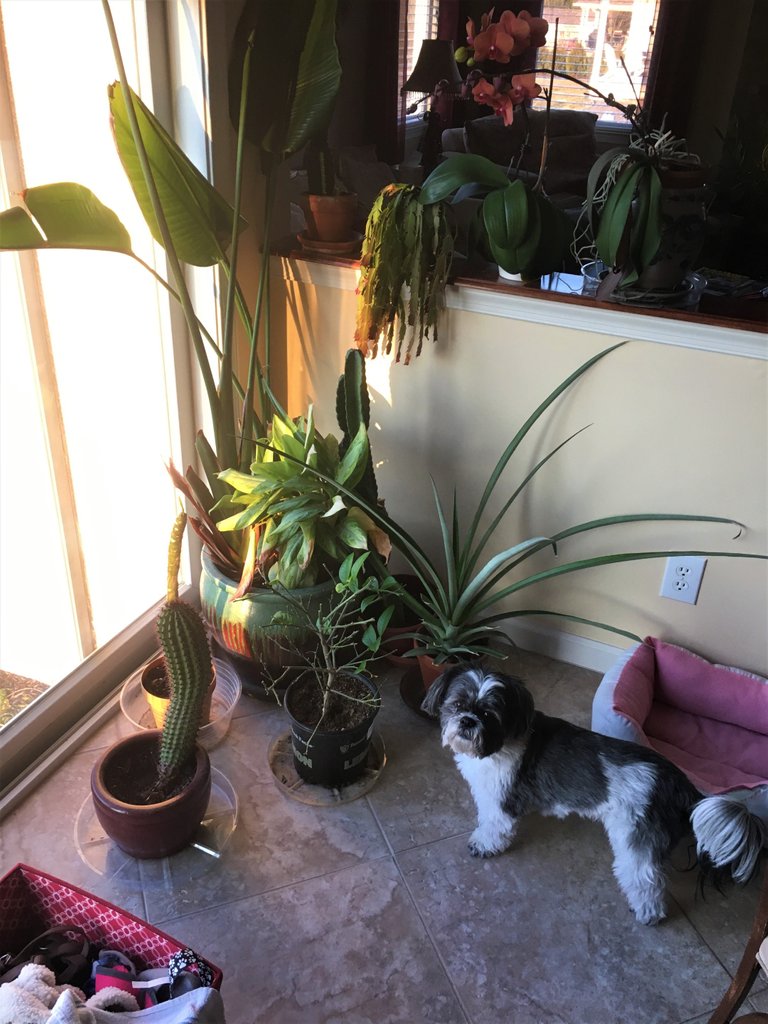 Thank you for swinging by my blog and checking out the post. Have a great day!


All words, pictures and art pieces are the sole property of B D Miller Gallery, unless otherwise noted and credited, and are not to be reproduced or copied without the prior written consent of B D Miller Gallery.

About Me ~ The Artist
My art work incorporates a wide variety of subject matter, including landscape, seascape, cityscape, and still life images. My works are the product of a continuing process of exploration through which I seek to portray personal and visionary interpretations of my surroundings. My paintings are impressions of places and events from everyday life, an interpretation of my imagination, and personal responses to what I see and feel on a daily basis. More recently I have invested generous amounts of time into my landscape painting. I am surrounded by natural and man made beauty, which inherently presents itself in the tri-state area, and almost demands that I paint it.
Not everything is art. Art is not everything, but it comes close. Art is everywhere and all the time. Art makes you experience the beauty of the world, the people in it, and the places we call home. Art itself is so influential that it can tell stories, show feelings, and express passion or fury. Art exists in addition to language; expression of sensations and thoughts, revealing a way of thinking too subtle and delicate for words.
For me art requires love, honesty and perseverance. In return, it reveals some personal, non-analyzable, and creative untamed passion. For the public, art with its magnificent beauty, improves mood and health and builds better human beings and communities. It engages the intellect, softens the heart, strengthens the soul and frees the spirit.

If Your Interested In Purchasing Any Of My Work:
They can be found for sale in
OR
My Etsy Store
If you don't see the piece in either shop, It may still be drying. Let me know and I can upload it as soon as possible to be available. Or you can always make me an offer (in SBD or STEEM) in the comments section of this post. If we agree on a price, I will then ship the painting to you. (shipping costs will be determined by your location).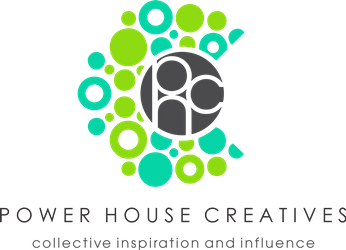 I Proudly Support: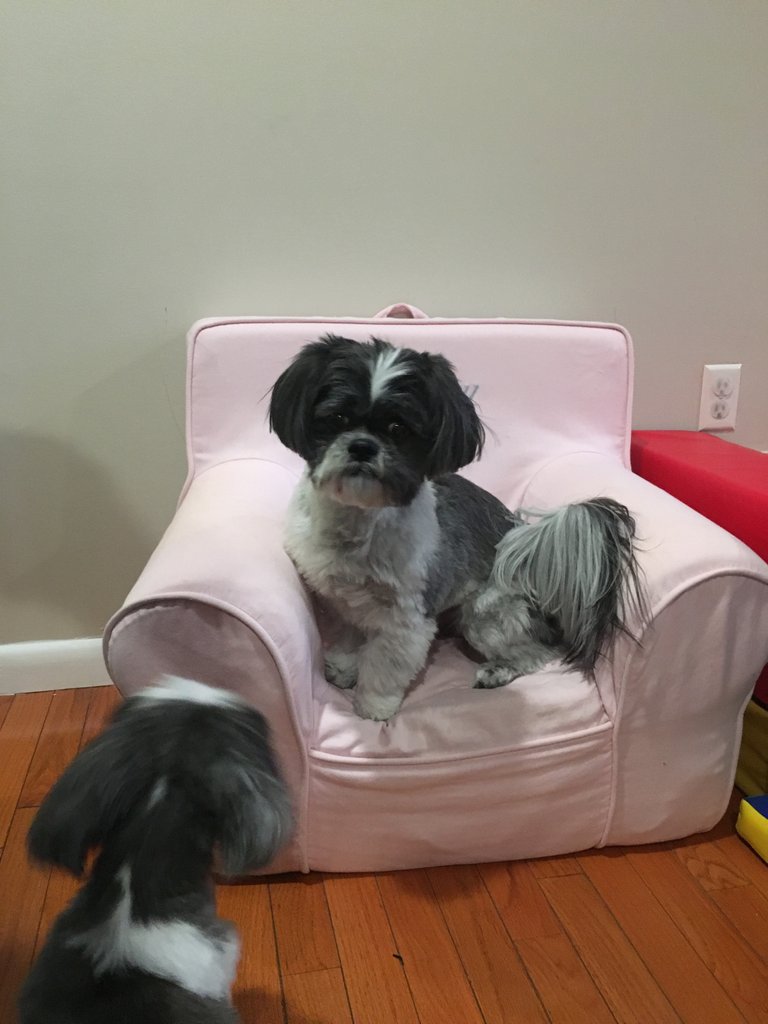 There are always those days when you don't want to share. Those days when you say to yourself, "Today is all about me." So you sit down on that chair made for one, in front of an audience of different opinions, and slowly realize selfishness is not all it's cracked up to be. It's at that moment you come to know that there's always room for one more.
:-)