Nothing better than hearing good music on big sound systems! But unfortunately, I have to settle with my own old-ish HIFI system. Recent months - maybe even years - I didn't go - as often as to my younger years - out and about to the better clubs to listen to my favourite artists. Guess, I either don't have too much time, am getting too old, am not able to locate the clubs (anymore), the bouncers don't allow me to enter, or...
Well, nothing wrong with my hearing, or brain cells, or ability to navigate... And yes, am not 25 anymore! Despite the age, nothing wrong with mister Adrenaline and Serotonin; My production facilities are top notch - as if I was 15 years of age - the moment I hear music I really like :)
Time.... Time is the issue... mainly... In addition, it is getting harder to get my friends to join me. Need to find a new set of them :) Sure, from time to time we go; Probably still more - much more often than the average 25+ year old born in the good old 70s :)
In the mean time, I have to settle for my 40-odd year old JVC amplifier; One of these with a single button on it: ON/OFF. No remote control, No Bass button, No nothing. Added to that my almost as old speakers by B&W. Not the best speakers for most of the modern electronic music, but better - much better - than my laptop or phone speakers :) Ah well, good enough to get myself into the dancing vibes when my ears are massaged with the right set of sounds.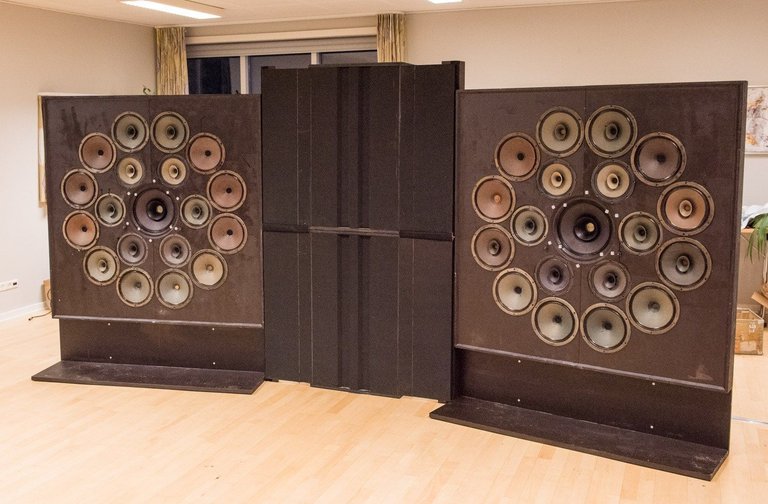 image: damn.... not my own... stolen from Pinterest (source)
Just finishing an extremely busy period in my life in which I hardly had time to listen to music, let alone to discover new pieces and artists. My to-be-checked playlists at all the major music services are growing and growing. "About time to do something about that", was my thought this weekend. Well, not only a thought; I spoke this out-loud like I was some kinda lunatic (fun fact: they say speaking out-loud to oneself shows intelligence; I try to be one hence act where I can).
Anyways...
One of these young-ish electronic producers and DJs from my southern neighbours (Belgium) is Peter van Hoesen. A great artist and most of what I heard of his, I really like; Goosebumps like. So why not throw some more of his work through my audio system? Super long recording of about a year ago in one of the hidden pearls, underground club RADION, needly tugged away in the outskirts of my little city of Amsterdam. The music: Modern Minimal-ish Techno with Drive that leaves minimum chance to get bored. Sure, if you're not into this type of music, you probably get bored big time, within minutes! hahaha Try It! :)
Owww, you may like this...
I mentioned already RADION is kinda tugged away in the outskirts of Amsterdam; So I mention it again so you won't forget hahaha. The cool thing - at least I think its cool - the club is located in the basement of an old academic research dental center. Where in the past researchers and dentist did shake our teeth; It are now the DJs inducing very similar effects... But in O SO MUCH better circumstances!
I certainly hope you did press the play button before you started reading this blahblah post; Or even better, BEFORE you opened this post as time is very relative! :) Otherwise, press it!!!... What??? The play button!! :)))
NJOY
You like what you hear?

Artist: Peter van Hoesen
Set: RADION
Year: 2018
source soundcloud
Peter van Hoesen Resources
Music Resources | Spotify Beatport Bandcamp Soundcloud YouTube
Discography | Discogs
Upcoming Gigs | Resident Advisor
Artist | Website

qsounds music library with more than 300 entries | A...K | L...Z |
steem blockchain curator for @illuminati-inc and @qsounds