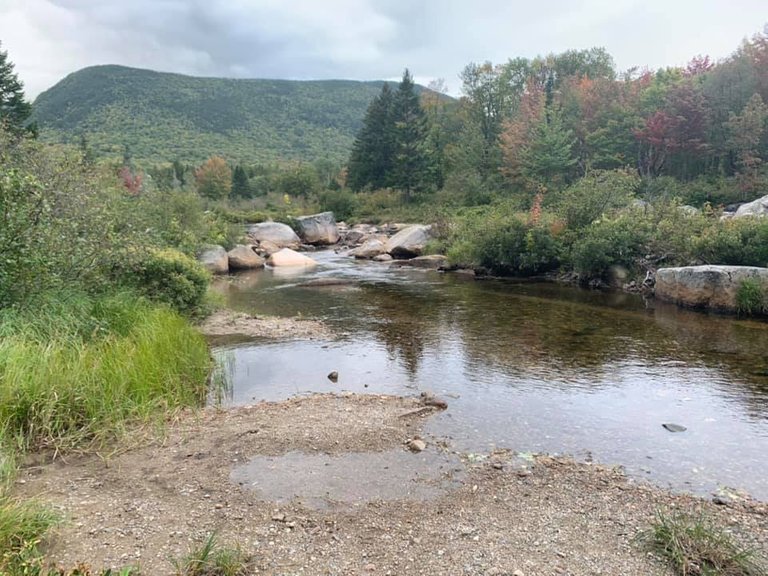 A lovely Hike.
Muscles burning, sweat glistening, body enflamed, mind filled with wonder, I grip my walking stick tighter and take the last step to the end of an 8-mile hike to the top of a waterfall. Speechless I look around me, taking in the scenery and breathing in the fresh crisp air. I find a sturdy giant flat rock hanging a little off to the side and I climb upon it to watch the waters swirling and flowing away to disappear around a swash of pine trees.
Once I settle down and stop moving about I can hear frogs, cicadas, and birds chirping all around me and the wind rushing through the trees. Off in the distance, I can hear a small animal rustling in the brush and I imagine it is a squirrel or perhaps a covey of quail searching about for food.
I lean back and feel strong warm arms wrap around me and I nuzzle into them forgetting everything except this man and the feel of serenity. Soaking up the warmth from the sun above, the rock under my ass, and from my lover behind me I started to get hot so took off my boots, socks, flannel, and jeans neatly stacking them and tucking my socks inside my boots. Then I go to the edge of the water and even before I dip my toes in I know that it's going to be cold. I carefully wade out into the pool making sure not to cut my feet or step on a crawfish or worse.
I say, "Oh, lover boy? Come here, lover boy!". He obeys, slowly standing taking his time to remove his clothes and place them gently to the side all the while watching me as I watched him. Knowing my breath caught as he was unbuttoning his shirt and again when he unzipped his pants. Then he came to the water's edge and like a cat near water his hair seemed to stand on end. His dick getting smaller hiding itself from the known coldness about to come. Right before he got in he had a mischievous look in his eye.
I started backing away slowly, dunking down further, so only my nose and above were out of the water. My hair is floating across the water and he is steadily heading to me. I feel my pussy clench in anticipation of what's to come. Just a few steps away I see his eyes darken and my heart quickens.
I stand up and reach out, wrapping y hand around his shrinking cock, I pull him toward me. I press my body into his tucking his slightly firming meat between my legs and squeezing them together. The heat is rising between us his eyes darken more and I can feel he is warm enough, as he grows between my thighs. I jump up, wrapping my legs around him, as he grabs me and guides himself inside, sliding me down so slowly I want to scream and force myself on him. Sucking on my neck and keeping me riding just the tip of his cock I bite his chest to show my frustration and then all at once he forces himself the rest of the way inside me. Filling me to the brim I let out a yell of pure pleasure. He started pounding himself into me and I could feel the water pushing in the out around him adding to the experience. Next thing I know I am out of the water and being carried to the rock.
He lays me down and starts kissing his way down my body, biting at my tits and lingering over my belly button. Lifting my legs and bending the knees to my chest he begins to lick my clit. running his tongue over it and playing with my folds. He slips a finger in and sucks on my clit sucking harder and harder while fingering me and right when I feel like I can't take it anymore he slides in a second finger and dips the pinky in my ass. I squirt all over his face and he plunges in to swallow every drop gulping straight from the tap. with my legs still, up he climbs on top and slides himself inside my now tighter pussy. Still pulsing from my recent orgasm I didn't feel another sneaking up on me till I was spraying him a second time. Noticeably his rhythm changes and I know he is about to cum. I feel his release inside me and it sets off another round of waterworks. Ending in us both wet and spent.
Eventually, we get up rinse off then hike back down the mountain.