There's no candy coating it, Australia is in a sorry state, both economically and ecologically. At the time of the 2008 global financial crisis, Australia's economy continued to ride high on its mining industry, because China kept buying their resources. Mining jobs paid fantastic money and there were plenty of them to be had if you had the right qualifications. Unfortunately, nothing lasts and it wasn't long before China stopped buying our steel and the news of layoffs at the mines became all to common. It seems the resilient Australian economy was actually a one trick pony.
In 2017 the automotive production industry, the only other real ace up the economy's sleeve, pulled out of Australia, taking with it tens of thousands of jobs. The knock on effect is becoming apparent in the retail sector as sales plummet and well known retail outlets close their doors for good.
Over the last couple of years voices for the environment and pressures to switch to renewables and stop pulling fossil fuels out of the ground have been getting bigger. After years of droughts, a crisis for fresh water is looming. In some places it's already hit. Yet the people are fighting the government on more approvals for companies to take water. If you're in Australia you may have heard about Adani, the latest company they're planning to sell water to for their mining operations. Across Australia thousands of fracking wells use huge amounts of local water.
Then recently we hear of some more mismanagement of water in a burning, drought stricken Queensland. In 2016 a safety review of Paradise Dam near Bundaberg found lots of design and construction faults. Three years later, during "the worst drought in living memory," 105,000 megalitres of dam water was emptied into the sea!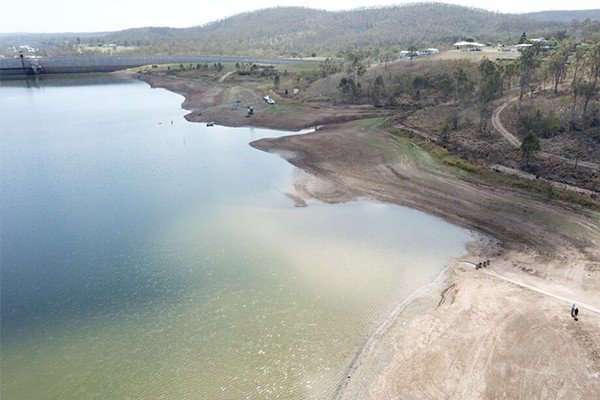 Source
Elsewhere in Queensland a Chinese owned company has been given approval to run a 96 million litre per year water mining operation. The day after, local towns had their water restrictions tightened to 80L per day. On top of all this the fires that have been raging since late spring are putting still more pressure on water supplies as they try to quench those fires.
It is then no real surprise that people are becoming furious with a prime minister, previously treasurer, who is still pushing for coal mining, which seems is mostly being sold to China. So why is he pushing it so much and why did he even get voted in last election when everyone was well aware of his stances back when he was treasurer?
If we look at the fact that if the coal mining sector were also to close down we'd lose another 38,000 jobs, then that might be a clue as to why people continued support him and voted him in. The economy is heading into such a scary state, many just want to know that there are leaders who are trying to keep the economy ticking over. Now before you demonise the economy, consider that it is merely a description of the financial state and economies don't have to be destructive and run on greed. The fact of the matter is, that if the economy had started to branch out years ago towards renewables and sustainables, then we could have much more easily been weaning off the current economy which is now collapsing under its unsustainability.
With Australia literally burning, people are demanding more money be put into much needed firefighting equipment. However, money doesn't come from thin air, which is why an economy is needed to support these things. This economy is hanging by a thread. The welfare system is overwhelmed and support is being cut left, right and centre. If your job only allows you to live from hand to mouth, then when you lose it you're going struggle to keep your head above water during the new, longer, waiting period to get approved for welfare. No wonder people are worried and ready to support someone who professes a concern for the economy.
As people have less and less money to make choices of where to spend it, voting with their dollar for more sustainable choices plummets in people's priority and the big polluting companies, producing things for cheap, win out again. Without an economy, the environment still continues to pay the price. It seems we can't tackle the environmental problem without also tackling the economical problem and attacking one side as the problem is not going to work out.
So many concerned about the environment are growing their own food and becoming less consumerist, but if we also want better public transport system to take cars off the road then the money has to come from somewhere and if not from a tax paying economy, then where? We probably need to bear in mind that when we make demands of a government they need to find a way to pay for those demands, no matter who is in charge. That goes for Greenpeace too.
It's all well and good to make wishes, but are we also aware of the consequences of having them granted?
~○♤○~
---
Posted via Marlians.com