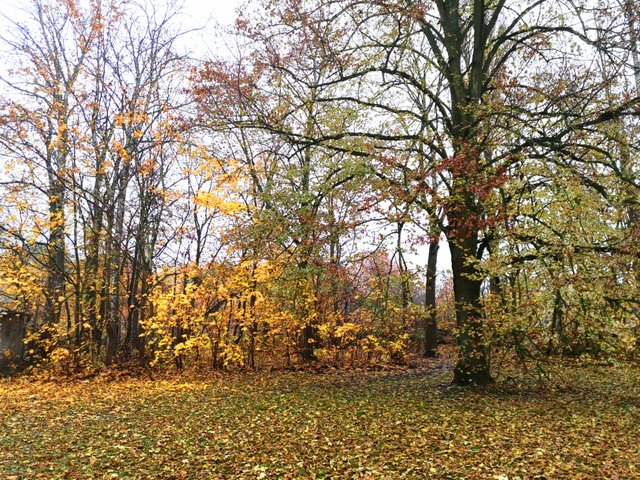 [DE] Heute habe ich sehr gut geschlafen und bin vor dem Wecker eingeschlafen. Meine Frau und ich fuhren meine Tochter in den Kindergarten und von dort aus ging ich zur Schule. Heute habe ich angefangen, in einer neuen Gruppe zu lernen, also hat es mir etwas Stress bereitet.
Vor dem Unterricht ging ich zu einem Lehrer aus meiner "alten Gruppe", um nach der Anzahl der Fehler aus dem gestrigen Test zu fragen. Zu meiner Überraschung hatte ich insgesamt nur 12 Fehler, was mich auf das Niveau B1 aus der deutschen Sprache qualifizieren würde (das ist die Grenze der Fehler in der Prüfung zum Hören und Lesen mit Verständnis), also ich denke, dass mein Deutsch ist nicht so schlimm. Später ging ich in meiner neuen Gruppe in den Unterricht.
Unter Berücksichtigung der Lehrmethode des Lehrers habe ich den Eindruck, dass mehr gelernt und vor allem mehr verstanden werden kann. Bisher war dies mein erster Tag in der neuen Gruppe, so dass ich das Ganze erst in Zukunft beurteilen kann.
Der Vorteil ist, dass die Lehrerin kommt aus Deutschland, so dass man sich besser an den deutschen Akzent gewöhnen kann. In der vorherigen Gruppe war der Lehrer ein Russe und ich war verärgert über die schlechte Aussprache einiger Wörter. Außerdem gibt es in dieser Gruppe viel zu schreiben, was sehr hilfreich ist, um sich an die Rechtschreibung und die Wörter selbst zu erinnern. Außerdem werde ich der Prüfung im Februar und nicht im Januar haben, und am Freitag werde ich immer frei sein.
Nach der Schule ging ich nach Hause, ging mit meinem Hund aus und ging mit meiner ganzen Familie einkaufen. Am Abend musste ich natürlich noch einmal mit meinem Hund hin und her gehen und dort kann ich diesen Tag beenden. Und ich vergaß. Ich muss noch meine Hausaufgaben für morgen machen.
Es tut mir leid für die Fehler, aber ich lerne Deutsch. Wenn Sie Anmerkungen zur Grammatik haben, schreiben Sie bitte, wie sie aussehen soll.
---
[PL] Dzisiaj spałem bardzo dobrze i obudziłem się wyspany przed budzikiem. Z żoną odwieźliśmy córkę do przedszkola i stamtąd pojechałem do szkoły. Dzisiaj zacząłem uczyć się w nowej grupie, więc to wywoływało u mnie lekki stres.
Przed zajęciami poszedłem jeszcze do nauczyciela z mojej "starej grupy" by zapytać o ilość błędów z wczorajszego testu. Ku mojemu zdziwieniu łącznie miałem tylko 12 błędów, co kwalifikowałoby mnie na poziom B1 z języka niemieckiego, bo właśnie taki jest limit błędów na egzaminie ze słuchania i czytania ze zrozumieniem, więc nie jest aż tak źle z moim niemieckim. Później poszedłem na zajęcia do mojej nowej grupy.
Biorąc pod uwagę metodę nauczania pani nauczycielki, mam wrażenie, że więcej można się nauczyć i przede wszystkim więcej zrozumieć. Póki co był to mój pierwszy dzień w nowej grupie, więc całokształt będę mógł ocenić dopiero w dalszym okresie czasu.
Plusem jest to, że nauczycielka jest niemką, dzięki czemu można bardziej oswoić się z akcentem niemieckim. W poprzedniej grupie nauczycielem był Rosjanin i denerwowało mnie złe wymawianie niektórych słów. Poza tym w tej grupie jest dużo pisania, co bardzo pomaga w zapamiętywaniu samej pisowni i słów. Dodatkowo egzamin będę miał w lutym a nie w styczniu, a w piątki zawsze będę miał wolne.
Po szkole pojechałem do domu, wyszedłem z psem i poszliśmy całą rodziną na zakupy. Wieczorem oczywiście jeszcze raz obowiązkowo poszedłem z psem i na tym mogę zakończyć dzisiejszy dzień. A zapomniałem. Muszę jeszcze odrobić zadanie domowe na jutrzejszy dzień.



12706

Daily Activity