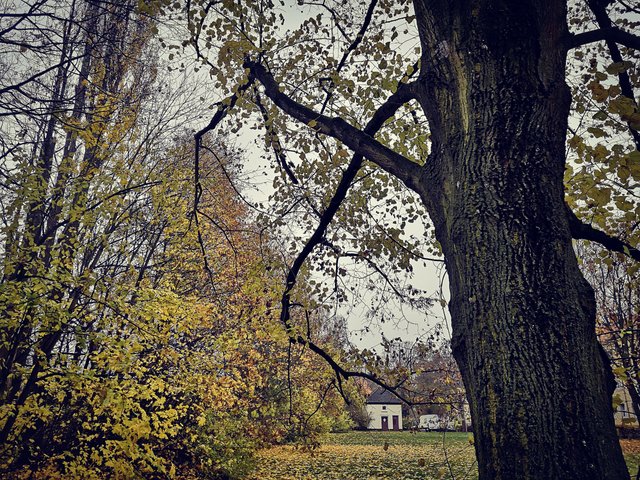 [EN] This day didn't start off well. I couldn't sleep at night and I was on my feet from 5:00 a.m. onwards. Additionally I couldn't find any important documents that I had to present at school. Fortunately, I was satisfied with the documents I had already prepared.
Before walking my daughter to the kindergarten I went for a walk with my dog. My wife today had to take care of things in Berlin, so we went to kindergarten together, then I drove my wife to the railway stationand and I drove to Luckenwalde to school.
In addition, I had to consider over the weekend whether I wanted to stay in the group with which I am currently studying, or whether I wanted to change. I completely forgot about it.
At 10:30 a.m. the man from the school administration came to our classes. He copied from me the documents needed for the Ministry and asked about my decision to stay in the group. I was wondering for a while. I thought of all the pros and cons and decided that I wanted to change, because I had so much material to make up for that I would have to sit at night to make up for it all.
That's why from tomorrow I'm in a different language group, which is doing the same material, but which started to do it much later. I hope that now I will be able to learn and catch up in grammar, because I care about it the most, and which will be very useful on the exam.
After school I still had to go to the office and take care of some things, so at home I was just before 3:00 pm.
In the evening I had a walk with my dog and I'm tired that I'm going to sleep right now. I don't even want to watch the match Poland - Slovenia. I need to sleep.
---
[PL] Ten dzień nie zaczął się zbyt dobrze. W nocy nie mogłem spać i już od godziny 5:00 byłem na nogach. Dodatkowo nie mogłem znaleźć ważnych dla mnie dokumentów, które musiałem przedstawić w szkole. Na szczęście wystarczyły mi te dokumenty, które miałem już przygotowane wcześniej.
Przed odprowadzeniem córki do przedszkola poszedłem jeszcze z psem na spacer. Żona dzisiaj musiała załatwić sprawę w Berlinie, więc razem pojechaliśmy do przedszkola, później odwiozłem żonę na dworzec i pojechałem do Luckenwalde do szkoły.
Dodatkowo miałem przez weekend zastanowić się czy chcę pozostać w grupie, z którą się aktualnie uczę, czy wolę zmienić. Kompletnie o tym zapomniałem.
O 10:30 przyszedł do nas na zajęcia lekcyjne facet z administracji szkoły. Skserował ode mnie dokumenty potrzebne dla Ministerstwa i zapytał o moją decyzję w sprawie pozostania w grupie. Chwilę się zastanawiałem. Myślałem o wszystkich za albo przeciw i stwierdziłem, że chcę zmienić, bo materiału do nadrobienia mam tyle, że musiałbym siedzieć po nocach, żeby to wszystko nadrobić.
Dlatego od jutra jestem w innej grupie językowej, która realizuje ten sam materiał, ale która zaczęła o wiele później jego realizację. Mam nadzieję, że teraz spokojnie będę mógł się uczyć i nadrobić zaległości w gramatyce, bo na niej mi najbardziej zależy, a która bardzo przyda się na egzaminie.
Po szkole jeszcze musiałem jechać do urzędu i załatwić pewną sprawę, więc w domu byłem chwilę przed godziną 15:00.
Wieczorem zaliczyłem jeszcze spacer z psem i jestem już tam zmęczony, że zaraz idę spać. Nawet nie chce mi się oglądać meczu w telewizji Polska - Słowenia. Trzeba się wyspać.


11586

Daily Activity