I've been a bit quiet for the past couple of weeks, primarily because we're on vacation interstate and visiting my family.
What has, however, captured the attention of the entire nation has been our catastrophic bushfire crisis. It also hasn't escaped notice on the world stage either.
As of the time of writing, fires raging across 4 states have claimed 21 lives with a similar number of people still unaccounted for. Approximately 1500 homes have been destroyed and the destruction of our native flora and fauna is unfathomable.
Whilst my home of Tasmania has not seen anywhere the impact of the fires this year, it was only 12 months ago that we were living with the trepidation of not knowing whether my father in law would lose his home - it was saved by some miracle, with fires reaching fencelines on three sides of his property - so I have some empathy for the people who are so heavily impacted currently.
There has been so many images of destruction published that you almost become desensitized to it. Until I saw this image.
I don't recall where it has come from so I am unable to credit the source (if you know, please let me know and I'll update).
The picture is of the 19 month old son, dummy in mouth, receiving a posthumous bravery award on behalf of his father, a volunteer firefighter tragically killed in the fires.
As the father of a four year old, this image really hit home to me. The tears flowed for this young boy who is too young to really remember what a hero his father was. What he will be deprived of as he grows up, and the loss that he and his mother have suffered.
There has been a lot of blame and finger pointing in regard to these fires, but really all Australia is craving right now is some real leadership from our Prime Minister. Sadly, all we are getting are sterile photo opportunities where he is forcing people to shake his hand when they clearly don't want to.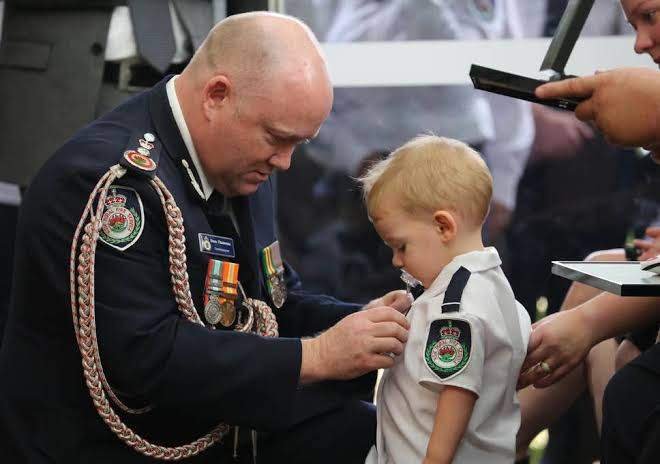 Posted using Partiko Android