I am dropping off the face of the earth
like rainy season winds, like trees shedding
leaves filled with veins green with envy
for the grass stalks scrambling for food
beneath the shadow of the sun, their roots
still tangled deep beneath the warm humus
like revenants peeling bones from sleep
and reaching for wind, sun and tree roots as
the maggots, stench and decay heavy silence -
the toilet of a god whose fingers are wrapped
permanently in everybody's pot of soup,
whose breath sours hope and succour,
Making men filled with sweet power to
crumble, girls to grow grey locks and each
prayer to become the last urgent slap of
Wet bodies interlocked in a maze of minute
needs and heaving sighs coiled around
wavering hearts like snakes in paradise,
becomes a metaphor for life beginning again
In the cycle of harvest and seed, the tides
Of all the oceans, rivers and all the universes.
The sun must get to the edge of the world
and blow his kisses at the moon, her pale
legs stretched in a mute dance across the
surface of the drowsy sea and she must
forgive him each and every burnt patch
of grass that died of thirst before she too
wastes away in the cell of heaven and finds
the ultimate need, just like me, to fall away,
far away from here into those corner spaces,
those dark tongueless places where she
like me can become a silent eye on
the shaping and breaking of the world.
---
Hello Dearie's, today is the last day of the Lagos Book and Arts festival and I have been entertained beyond words. I have also been reading. I have also been having intense conversations with creatives and I have been pulled off life support and given a new lease at life.
---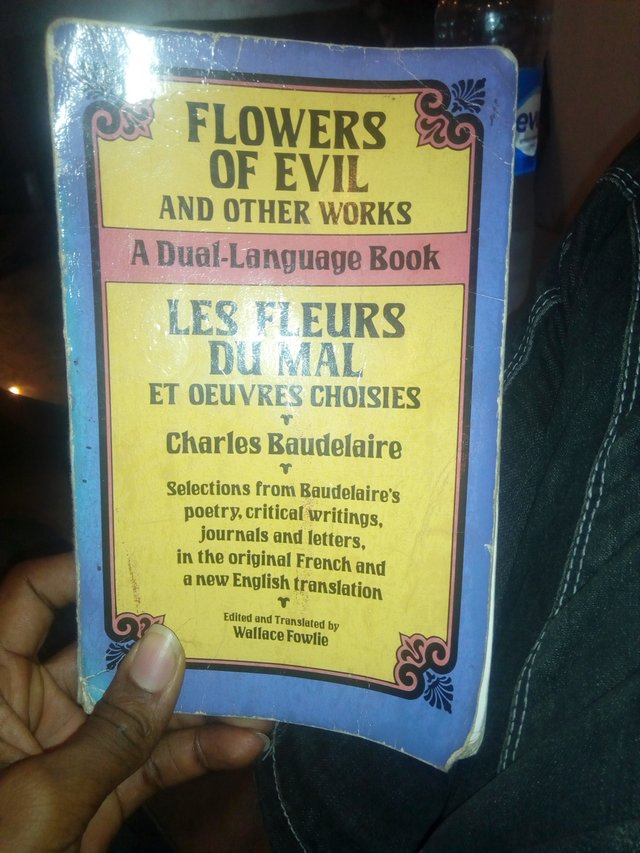 Flowers of Evil by Charles Baudelaire
---
On Monday, I might find my way back to warri and to real life and I hope that whatever emotions I find here do not fizzle out but wax into a bonfire that will light not only my world also light fires in the spirits of others.
I leave you with this poem which in some way is influenced by Baudelaire's writings and I hope you enjoy it as much as I enjoyed writing it. Take care and stay out of harm's way.
©warpedpoetic Nov, 2019.