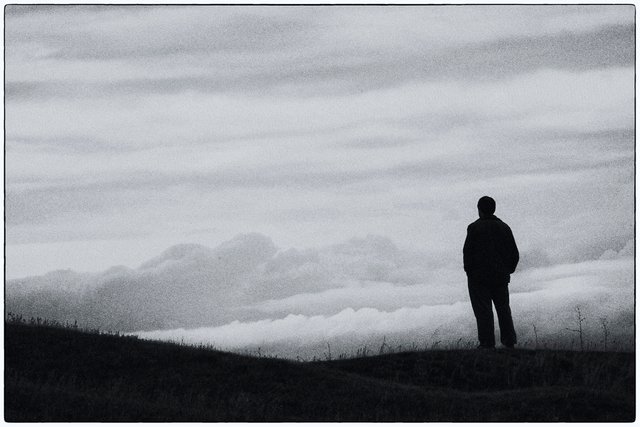 Del adiós solo quedo nuestras espaldas,
ni el recuerdo quiero conservar,
pues del querer que nos tuviéramos,
ni el deseo de la carne se evito ignorar.


Aunque la soledad nuevamente me abraza,
no pierdo las esperanzas ni la batalla,
pues no hay guerra sin fin,
cuando del amor se trata.


De la oscuridad siempre nace la luz,
que nos guía hacia la esperanza,
nos aleja de las redes cotidianas,
de almas que vagan solo de venganza.


Te espere y seguiré a tu espera,
porque dentro de mi algo se cuela,
esperanza tal vez sea,
de volver a ser amado y amar.


Compartimos un dulce mirar,
nuestras historias del mas allá,
descubriendo que compartimos más
que solo nuestros gustos y cruda realidad.


Tan difícil se me hizo separarme de ti,
un hasta luego con ansias de verte ya,
un recuerdo del rozar nuestros labios,
que deseo una y otra vez reavivar.


La espera no fue tardía,
fue tan sabia como la vida,
y aunque hay un trayecto por caminar,
contigo correr muchas ganas tengo mi vida.
All that's left of goodbye is our backs,
I don't even want to keep the memory,
because of the desire we had for each other,
nor the desire of the flesh was avoided by ignoring it.


Though loneliness again embraces me,
I don't lose hope and I don't lose the battle,
for there is no war without end,
when it comes to love.


From darkness, light is always born,
that leads us to hope,
takes us away from the everyday networks,
of souls that wander only in vengeance.


I waited for you, and I'm still waiting for you,
because inside me something is escaping,
hope maybe,
of being loved and loving again.


We share a sweet look,
our stories from the beyond,
discovering that we share more
than just our tastes and raw reality.


It was so hard for me to part with you,
a good-bye and looking forward to seeing you now,
a memory of our lips rubbing together,
that I wish to revive over and over again.


The wait wasn't long,
was as wise as life,
and although there is a path to walk,
with you running around I have my life.