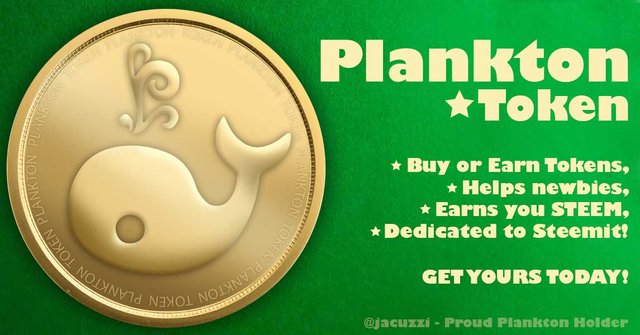 This is a late post. Every Sunday, we reward our PLKN buyers of the week with Steem Power! This is the 20th week that we are giving a 0.1 Steem Power boost to PLKN buyers of the week. Thank you so much for the support. We encourage you to keep steeming and powering up some Steem to grow your accounts and be better curators in Steemit.
Plankton token is the best investment opportunity for new Steemians. We promise to support the people who support us. We give upvotes and liquid Steem daily to our holders and we have perks to make sure you can boost your accounts into minnowhood and beyond (terms apply). Not only that, we have an interactive and vibrant community of fun loving people. Join us in our Discord to know more about us. We have good services and a community to back up the Plankton token.
We have 9 PLKN buyers this week that meet the criteria of > 5 PLKN bought this week:
20th WEEK
@raserrano
@treeplanter
@mermaidvampire
@ankarlie
@cavampire
@ecoinstant
@kenny-crane
@steemincome
@cloudblade (Plus 3 shares in Steembasicincome for purchasing more than 20 PLKN tokens.)
Each of them were sent 0.1 Steem Power right away. Please check wallets.
PS:
0nly buyers of 5 PLKN and up will get this boost.
If you want to take a chance at this Weekly Steem Power boosts, you can buy and hold 5 =< PLKN tokens and you'll get it.
Thank you for the trust and support.
BUY PLKN TOKENS here: PLANKTON
The Plankton Token is building its community of Plankton in Discord and we want to introduce a fun way to gather all of us there. We are calling all Plankton holders to join us in the Official Plankton Token Discord Server and enjoy daily rains of different cryptocurrencies and other perks like games, raffles and tips.
Please follow our official Steemit account @plankton.token. Thanks!
HOPE FOR PLANKTON, HOPE FOR STEEMIT!


This footer GIF was made by @gerber