We have tribe token delegators for PAL SCOT Tribe Tokens. We are sending them token rewards weekly, based on the rewards earned by the @plankton.token account.
Here are our delegators for PAL token.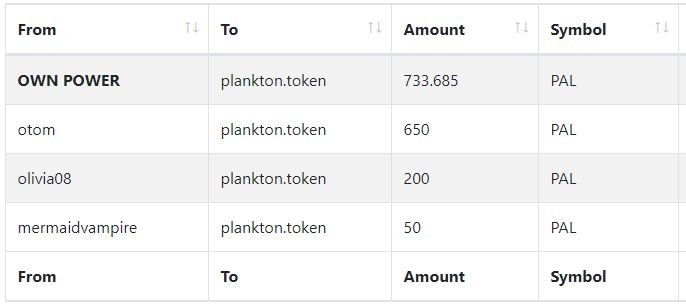 Plankton's PAL earnings for the week is a total of 20 PAL tokens, while we have a total of 1, 633.685 PAL tokens staked and 900 of them are from delegators.
@otom's 650 PAL earned her 7.957 PAL tokens this week.
@olivia08's 200 PAL earned her 2.448 PAL tokens this week.
@mermaidvampire's 50 PAL earned her 0.612 PAL tokens this week.
Thank you for your support, more weeks to share rewards with you and the Plankton Token community.