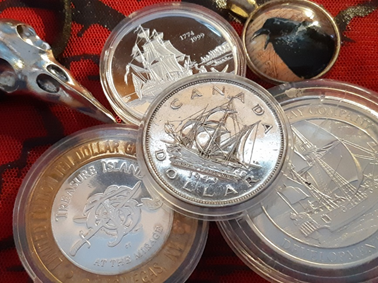 1P

" Blackbirds tend to like Shiny Things" ~ The Bloody Raven
Resuming my #piratesunday post brings me to my favorite circulation Canadian Silver Dollar. I admit having at least four of these with a fifth one I gave away to a young man in Scotland. This was my original consideration for my YouTube avatar coin going back some years ago but I decided on the Raven.
Though not truly an Investment kind of coin I continue to look for opportunities to pick more of them up if the price is right, not much more than a buck or two above melt value but these have been consistently selling on Ebay and at my local coin show for well above that. So why?
The Coin
1949 Canada Dollar Newfoundland Commemorative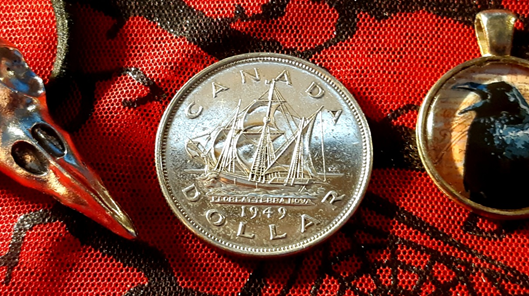 1
Reverse: The Matthew, CANADA DOLLAR, 1949
"FLOREAT TERRA NOVA" May the New Land Flourish.
Silver (.800), Weight 23.3 g
Apparently, it is the favorite among most Canadian collectors as this 1949 dollar's reverse has been a big hit since the year of it's issue. Commemoratives have been traditionally often popular in the past, and with this 1949 coin design's dramatic departure from the regular iconic Voyager Reverse, many of these coins were kept out of circulation and in marvelous condition.
The Artist
And though coin designs were first made in full size plaster versions then are copied down to dies via Pantograph machine, the Royal Canadian Mint's Master Engraver Thomas Shingles created his coin art by hand carving the actual press dies, an amazing talent.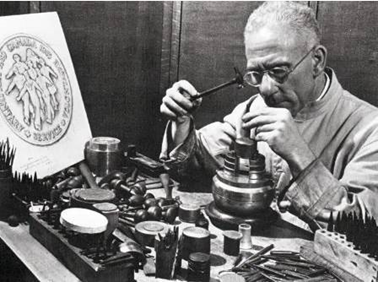 RCM
Master Engraver, Thomas Shingles, photo from the Library and Archive Canada: Thomas Shingles Portrait
Thomas Shingles was the Canadian Royal Mint's Master Engraver from 1943 to 1965 credited in creating the designs for;
1949 Newfoundland Commemorative, 'The Matthew'.
1943 V Nickle variant.
1959 to 1964 Coat of Arms on the Canada 50 Cents
1971 Commemorative British Columbia Dollar submitted as a freelance artist.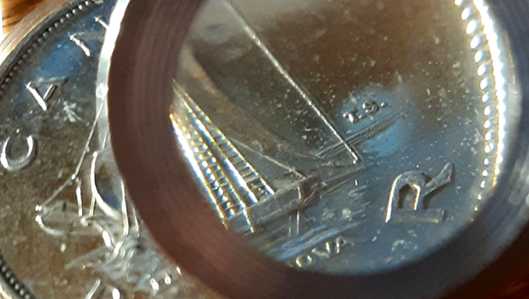 1
His Initials T.S. are clearly indicated on the works of his legacy….
And with his deep knowledge of minting and amazing skill as a Master Engraver Mr. Shingles enjoys his personal past time of collecting stamps. Really!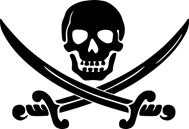 P
Six months ago I wrote my article: Mystery of the Hudson's Bay Company Silver Medal featuring the English exploration Ketch, 'The Nonsuch'. In celebrating their 300th year anniversary, The Hudson's Bay Company ordered a full sized replica built by J. Hinks and Son shipyard, in Appledore, England.
For 1997, to commemorate John Cabot's 1497 discovery of America and mark the 500 year anniversary of the event, a replica Caravel of the Matthew was built by Storms'l Services of Bristol (Bristol Classic Boat Company), of England in 1996. Following her tour to Newfoundland and various ceremonial appearances she was given to The Matthew of Bristol Trust in 2012 where her current location is in Bristol's M Shed Museum.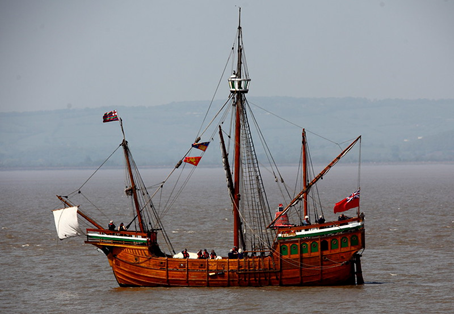 F
Flickr: The Matthew in Bristol By Shawn Spencer-Smith under CCO 2.0
Type: Caravel
Displacement 85 tons
Length 78 feet (24m)
Beam 20 ft. 6 inches
Draught 7 ft. 6 inches
For more details: Wiki The Matthew Replica ship
1949 Canada Dollar Newfoundland Commemorative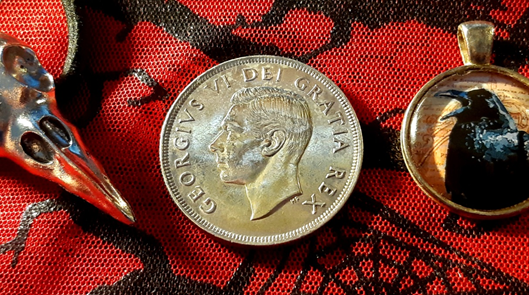 1
Obverse: George VI facing left
"GEORGIVS VI DEI GRATIA REX": George VI By the grace of God
Diameter 36.06 mm, Thickness 2.84 mm
Reference KM# 47, Schön# 46
Mintage of 672,218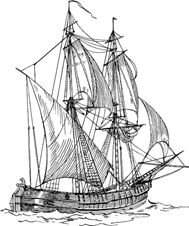 P
That other Coin.
And that brings me to the other coin that many collectors don't know about. A coin that I have be mulling about too long if it weren't the huge premium on this baby. RCM, you guys are too cruel!
2019 Edition of the 1949 Newfoundland Commemorative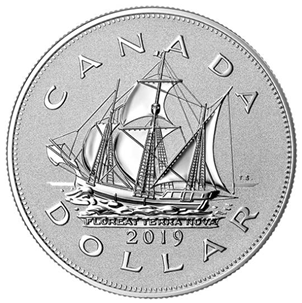 RCM
Reverser: The Matthew, CANADA DOLLAR, 2019
This is a bullion coin and classified as a Piedford, twice as thick than the original 1949 Newfoundland commemorative issued 70 years ago. This coin not only revisits and celebrates Newfoundland's entry into Canadian Confederation but once again acknowledges the Legacy of it's maker, Master Engraver Thomas Shingles.
2019 Edition of the 1949 Newfoundland Commemorative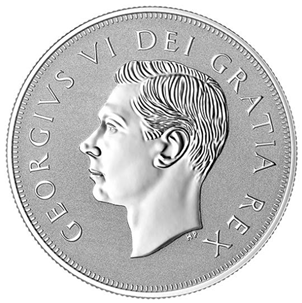 RCM
Obverse: King George VI,
" GEORGIVS VI DEI GRATIA REX": George VI By the grace of God
From the mint.ca website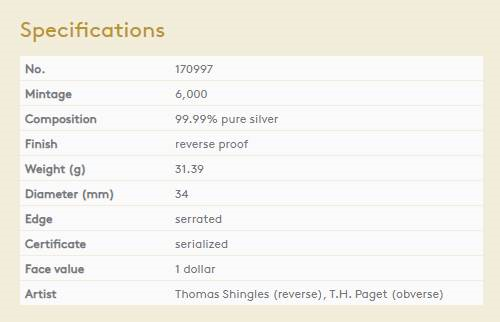 RCM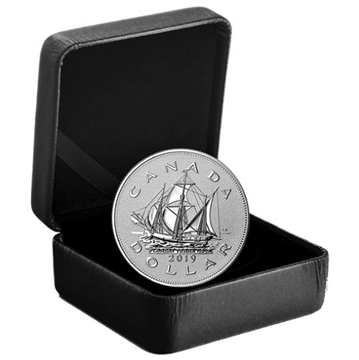 RCM
Of course it comes in it's own Coin Cozy and COA
I hope you enjoyed this very special feature
Thank you for stopping by my Blog today.
The #piratesunday tag is the scurvy scheme of Captain @stokjockey for #steemsilvergold and #ssg-community pirates to proudly showcase their shiny booty and plunder for all to see. Landlubbers welcomed to participate and be a Pirate at heart so open yea chests an' show us what yea got!

R
References
1. My own pictures shot with a Samsung SM-A530W
P. Image under Pixabay
R. Clip art from 123RF
W. Wiki Commons
RCM: mint.ca
Wiki: The Matthew ship
Library and Archive Canada: Thomas Shingles Portrait
NSNS: My Favorite Coin
Trip Advisor: The Matthew
Coinweek Article: 2019-1949 Newfoundland Commemorative
Mint.ca: 2019-1949 Newfoundland Commemorative
"Et lux in tenebris to serve laboro, sum sicarius" "I work in the shadows to serve the Light, I am an Assassin"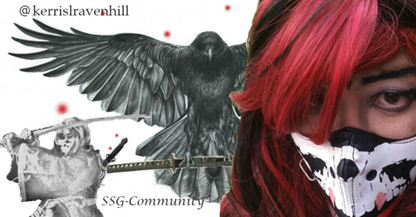 Danger! Don't try this at home!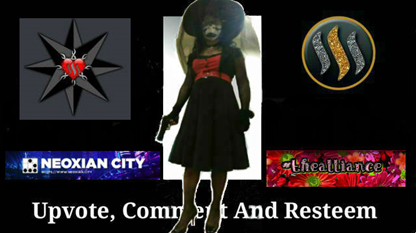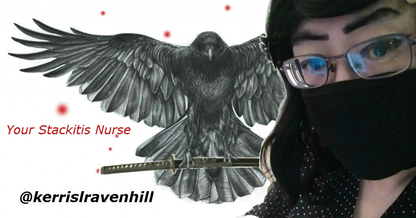 Posted via Steemleo