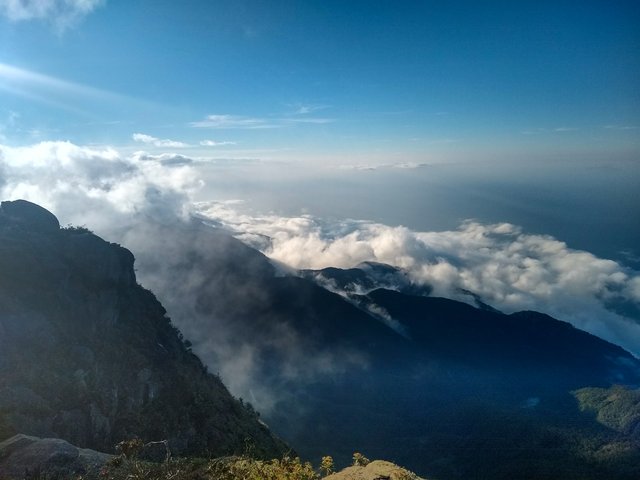 (Righ click on images and open on new tap to full size or check: https://imgur.com/a/VV6w053)
Today I want to talk to you about Naiguata Peak, a space located in the city of Caracas - Venezuela, which by far is the first high impact challenge for a camper before going into higher mountains within Venezuela.
This peak, represents the highest within the coastal range located in our capital city, representing an altitude of 2765 meters above sea level.
With a route of more than 12 hours and 14 kilometers of night walk, we enter in the wonders and mysteries of the Avila hill to be able to enjoy the greater possible amount of hours of this paradisiacal space.
El día de hoy quiero hablarles sobre el Pico Naiguata, un espacio ubicado en la ciudad de Caracas - Venezuela, que por mucho es el primer reto de alto impacto para un campista antes de adentrarse en montañas de mayor altura dentro de Venezuela.
Este pico, representa el mas alto dentro de la cordillera de la costa ubicada en nuestra ciudad capital, representando una altura de 2765 metros sobre el nivel del mar.
Con un recorrido de más de 12 horas y 14 kilómetros de caminata nocturna, nos adentramos en las maravillas y misterios del cerro Avila para poder disfrutar la mayor cantidad de horas posibles de este espacio paradisíaco.

Naiguatá Peak belongs to the so-called coastal range of Caracas. This peak was first crowned in 1872 by General Leopoldo Terreno and a group of academics who made the expedition possible, among them Anton Goering, which is why one of the areas of the mountain is named after this famous painter and zoologist. This peak was discovered barely 70 years after the botanist Alejandro de Humboldt carried out expeditions or another of the peaks of the mountain range, establishing himself as the highest within the mountain range.
El pico Naiguatá pertenece a la denominada cordillera de la costa caraqueña, este pico fue por primera vez coronada en el año 1872 por el General Leopoldo Terreno y un grupo de académicos que hicieron posible la expedición, entre ellos, Antón Goering razón por la cual una de las zonas de la montaña lleva su nombre en honor a este famoso pintor y zoólogo. Este pico fue descubierto apenas 70 años después de que el botánico Alejandro de Humboldt realizara expediciones o otro de los picos de la cordillera, estableciendose asi como el mas alto dentro de la cordillera.

---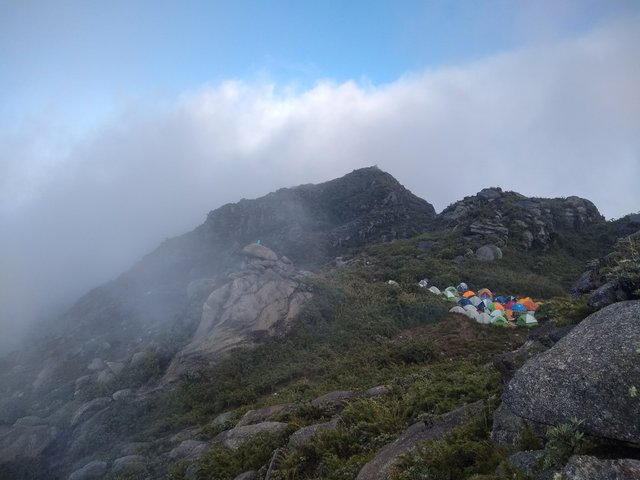 Camping areas | Zonas de camping.
The mountain has a large space for recreation, the day of our ascent we estimate a total of more than 200 people spending the night in the mountain who to celebrate the beginning of a new year wanted to start visiting the most emblematic of the mountains of the capital. There was almost no space to put up tents for so many people who attended the mountain.
---
La montaña cuenta con un amplio espacio para la recreación, el día de nuestro ascenso estimamos un total de más de 200 personas pernoctando en la montaña quienes para celebrar el inicio de un nuevo año quisieron comenzar visitando la más emblemática de las montañas de la capital. No había casi espacio para colocar carpas de tantas personas que asistieron a la montaña.
---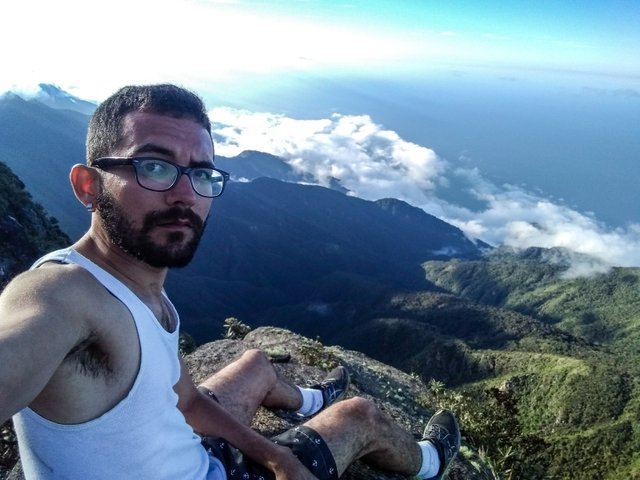 Me in the mountains | Yo en la montaña.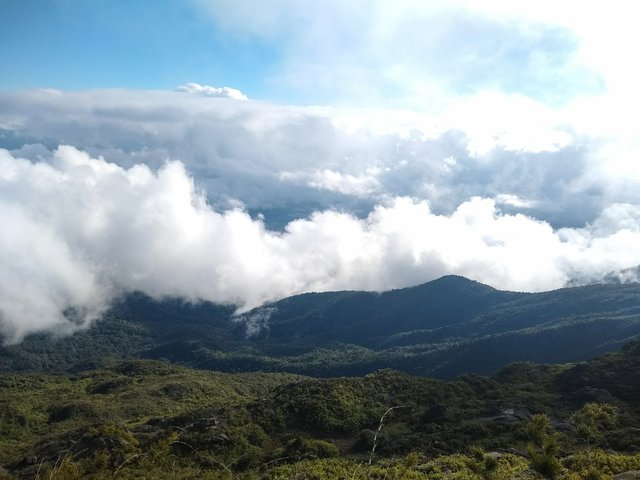 View towards Caracas, cloudy | Vista hacia Caracas, nublado.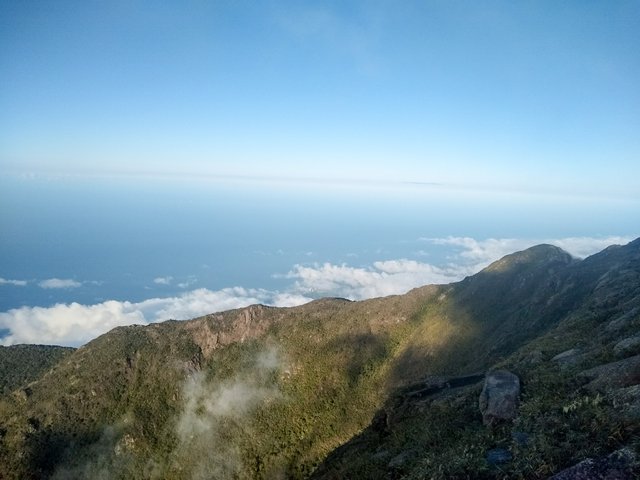 View towards the Caribbean Sea | Vista hacia el Mar Caribe (La Guaira)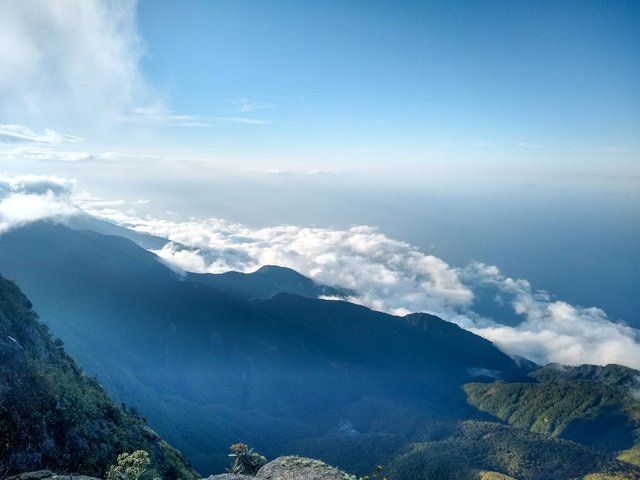 Part of the Coastal Mountains | Parte de la Cordillera de la Costa.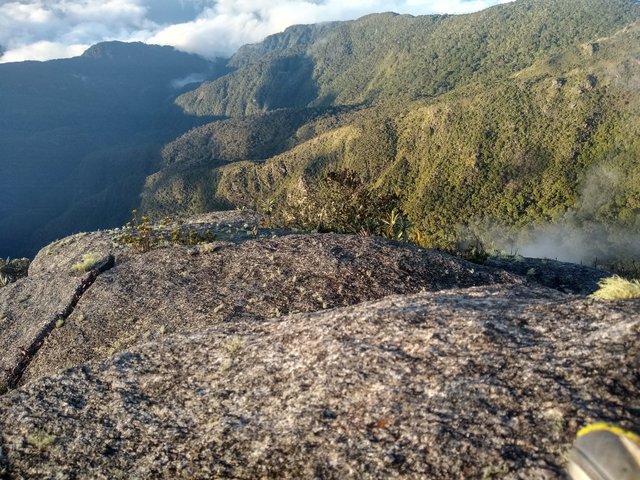 Green Mountain | Montaña verde.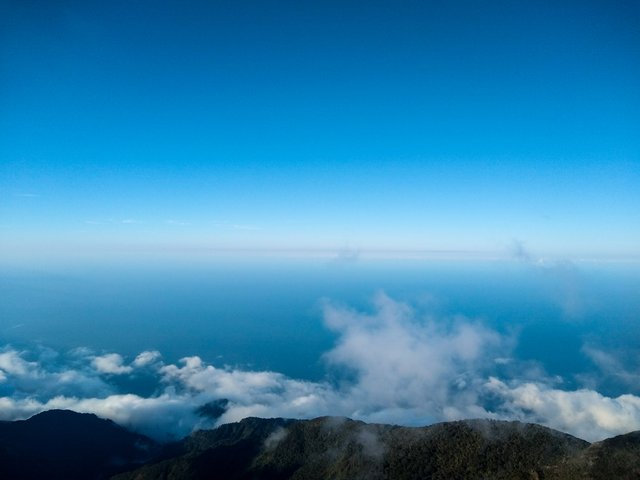 Caribbean Sea | Mar Caribe.
---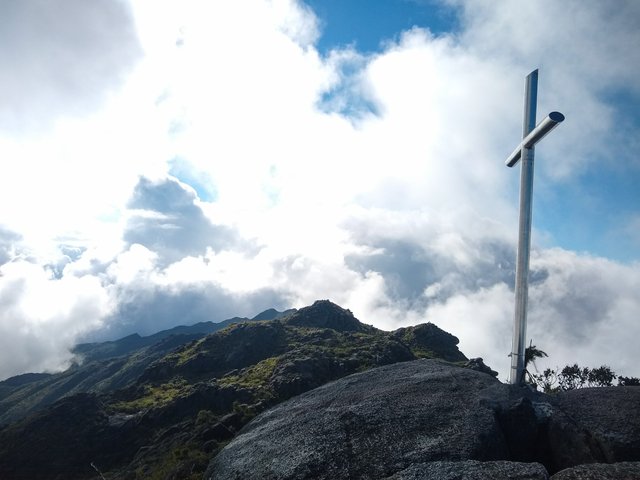 Naiguatá Cross | Cruz de Naiguatá.
Another of the most emblematic features of this mountain is the iron cross on its summit. This was placed by the Loyola hiking center in 2004, which, coincidentally, are the tents that you can see piled up a few photos above (these kids make this excursion once a year to commemorate the placement of this cross by past students and teachers).
---
Otras de las cuestiones más emblemáticas de esta montaña es la cruz de hierro que se encuentra en su cumbre. Esta fue colocada por el centro de excursionistas Loyola en el año 2004, que, casualmente, son las carpas que observan amontonadas unas cuantas fotos más arriba (estos chicos hacen esta excursión una vez al año para conmemorar la colocación de dicha cruz por los alumnos y maestros pasados.)
---
---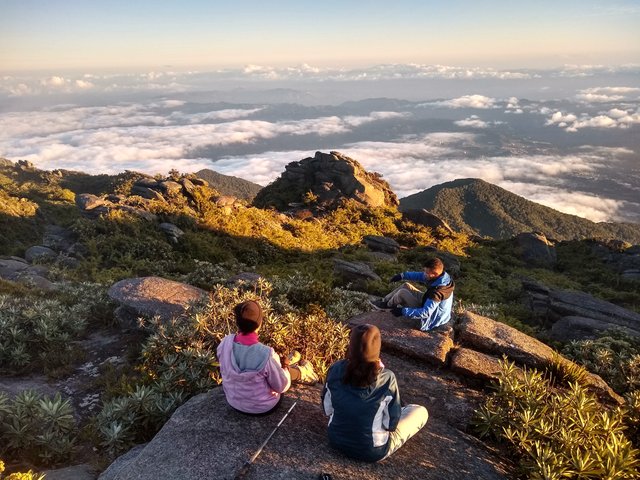 Caracas desde las alturas.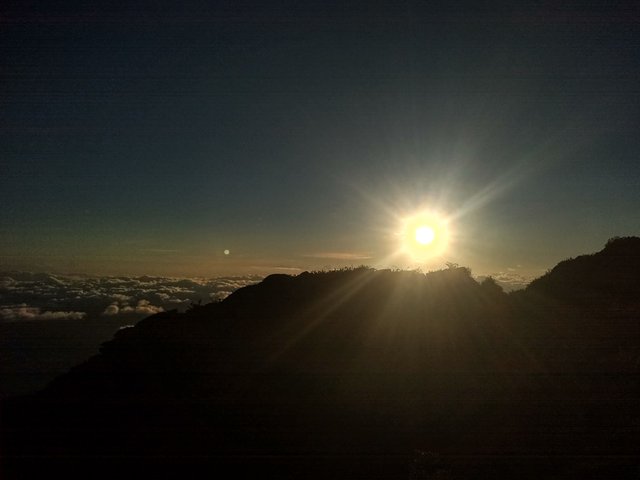 Cuando el sol se oculta.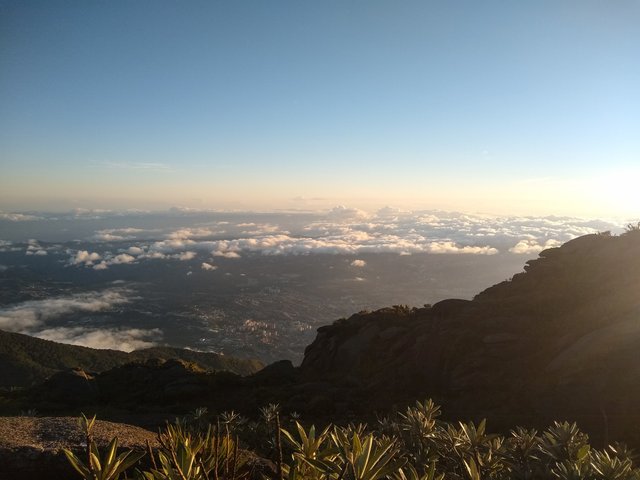 Otra vista de Caracas.
---

I can certainly say that this has been one of the most incredible experiences I've ever had. Mountaineering is something that I love with passion and although my camera is not very good and is almost damaged by the cold I hope you have enjoyed this photo tour of the views from above.
Sin duda puedo decir que esta a sido una de las experiencias más increíbles que he tenido. El montañismo es algo que amo con pasión y aunque mi cámara no es muy buena y casi se daña con el frio espero hayan disfrutado de este foto recorrido de las vistas desde lo alto.
---

Images takes with Motorola Moto G6.
---