Hello there, fellow Rastafarian friends!
I'm back with a new entry for the APART initiative. (Read more about it below.)
This grocery store in Hong Kong immediately caught my attention for the huge diversity of colours, vegetable and fruits... but I also found the name to be really interesting: Garden of Eden.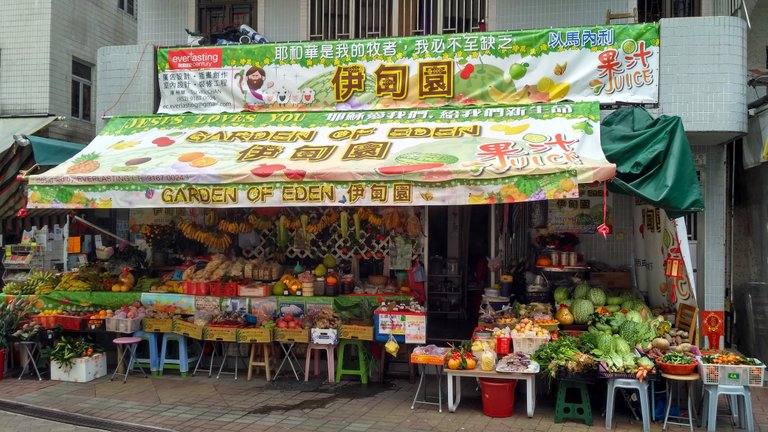 It looks like the business was flourishing, or else they wouldn't have this vast amount of perishable goods on stock.
They had all kinds of vegetables and fruits on display but two of them in a larger quantity than the others. I guess people from Hong Kong must love melons and bananas more than the rest of the fruits, for some reason. Maybe they pick these watery and fresh fruits... because of the insanely hot weather?
---
"APART is a simple concept we came up with to use a pic (any pic) and relate it to a Reggae tune. Music is life and our experiences bring out memories & the melodies." - @dmilliz
---
I could go with more than one Reggae Song this time, since the Religious theme is present in a lot of them... but today I chose a song from Nneka called "Book of Job".
Nneka is a Nigerian singer, songwriter and actress. She uses a mix of English, Igbo and Nigerian Pidgin in her lyrics and the songs are very lively and upbeat. The message is always positive, as she focus on the good side of life, even though she is natural from such a poor and godforsaken country.
"Book of Job" is included in her fifth studio album named "My Fairy Tales", from 2015. The videclip was released in December of the previous year, as part of the marketing campaign to promote the album that would come out in March of 2015.
---
---
| | |
| --- | --- |
| Camera | Xiaomi Redmi 3 |
| Location | Sai Kung, Hong Kong - China |
| Photos | Edited with GIMP |
---