A couple of days ago, @caseygrimley texted me that he was heading through my town of Truckee, California and he wanted to know if I wanted to meet up for a sunrise shoot. YES! Sounded fun to me so I met him and his buddy Ian up at a favorite spot of mine, Rainbow Bridge (officially known as Donner Summit Bridge). I have met up with @caseygrimley previously at Bonsai Rock, Lake Tahoe and we were incredibly lucky then with a nice sunset. Well... we got lucky again and got to capture an amazing sunrise.
In order to get this composition, you need to scramble down a fairly steep and very rocky mountainside where there is not much room and it's not very comfortable. Three photographers in this spot was a bit tricky but we got it done. Glad we did because I'm very happy with this shot!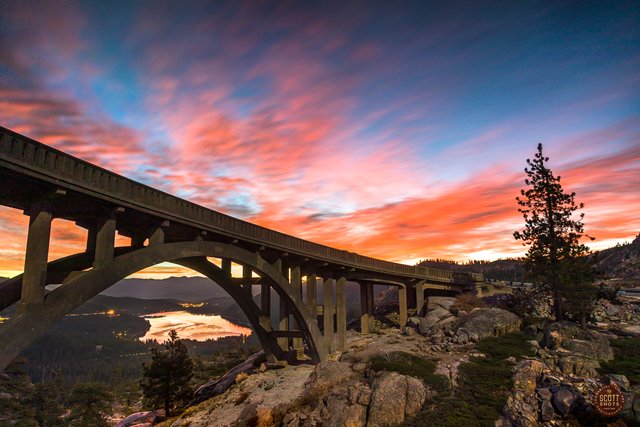 Photographed with a Canon 5DS R and a 24-105mm lens set at 24mm. Two graduated neutral density filters were used on the front of the lens in order to darken up the sky a bit and balance the foreground exposure with the sky exposure. The ISO was 100, the aperture was f4.5, and the shutter speed was 30 seconds long.
After we got some photos, we all moved to a different area to get a different composition on the bridge. The photo below is @caseygrimley (on the left) getting a shot of the sun actually rising above the mountains.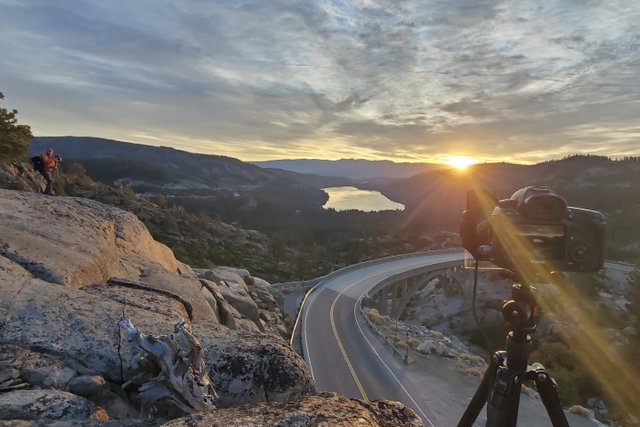 Worlds biggest Canon??? I snapped this quick selfie, it makes me laugh as the composition makes it look like Ian is using a huge Canon camera...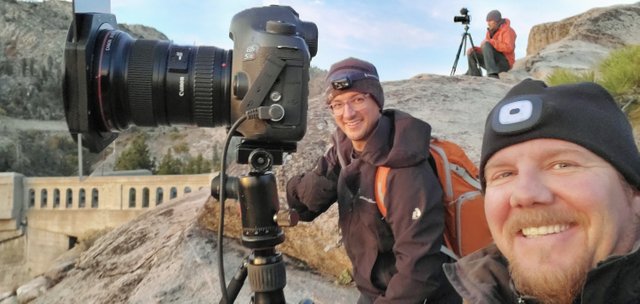 Once we were done, we went into town and got breakfast at the famous Squeeze Inn. The omelet I had was delicious and I think they liked theirs as well. We decided to check out one more location which is in Downtown Truckee. The cottonwood trees are in full fall color right now along the Truckee River. I hope they got some good ones.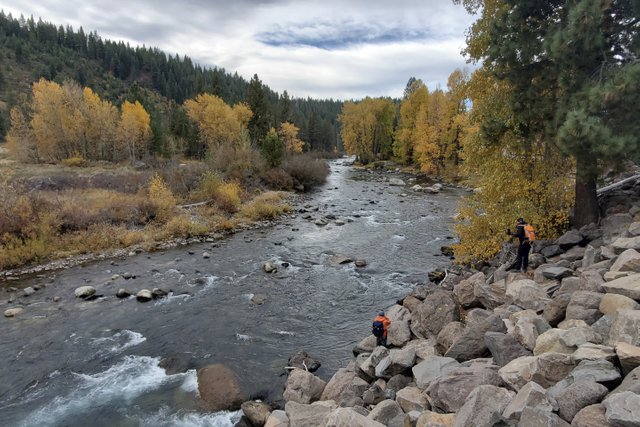 It was a great morning and at this point, they continued their adventure, off to the South Lake Tahoe area and then to Yosemite. I had job to shoot in the afternoon so unfortunately I couldn't join them but I'm guessing they got more great shots of fall colors at both locations.
I hope you have been enjoying the fall colors out there! (Actually, what season is it where you live???)
Scott Thompson
Scott Shots Photography