Hello and Happy New Year! It's been a bit since I've posted here. My old laptop that lived in my living room finally died a few months ago and that has always been the computer that I steem on. Excuses excuses... I am posting this from my studio.
Anyway, I had the pleasure of going to Lake Tahoe's east shore yesterday while giving my son's college friend a tour of the lake. It was his first time seeing Lake Tahoe and wow did he get lucky getting to see it like this. We stopped at a few different locations along Tahoe's shoreline but we ended up here at Bonsai Rock. It's one of my favorite places to shoot on Lake Tahoe and last night's sunset fired off with incredibly bright and beautiful colors providing a great show.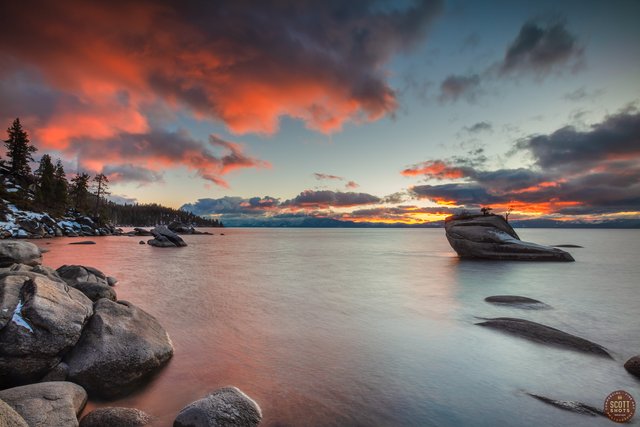 Shot on a Canon 5DS R and a 16-35mm lens set at 16mm. The ISO was 50, the aperture was f22, and it was a 2 second long exposure. A tripod was used as well as a graduated neutral density filter and a polarizing filter on the front of the lens.
Again I hope you all have a great new year and I hope to be posting more here again on steem in 2020. Cheers!!!
Scott Thompson
Scott Shots Photography