It has been a while since I created a Photoshop manipulated self-portrait like this. While both photographs in this work are quite old, I thought I would have some fun creating something. It's not perfect, but it does give me that vibe that I think suits me well.
© 2019 | Ruben Cress - rubencress.nl
Imagine
It starts with imagination, right? Now, what's imagination without a little bit of truth? I would say; less fun. There are a few symbolic truths about myself that you can find in this photograph. Can you tell how this self-portrait describes me as a person?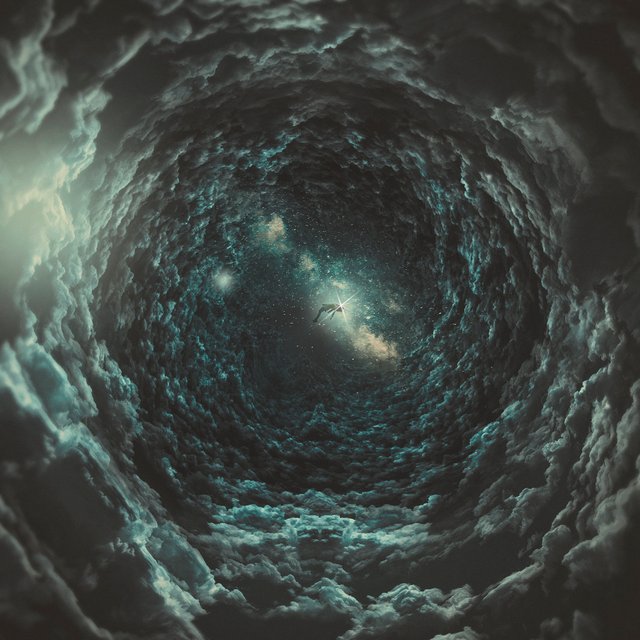 © 2019 | Ruben Cress - rubencress.nl
A few weeks ago I created the above artwork, it was an art challenge for MakersPlace. The topic was Fragile Balance. Creating this artwork had a whole different approach than the above self-portrait. While working with a topic also demands imagination, the blanks are already partially filled in. The two are completely different from each other, but there is one major thing that sets them apart: context.
Adding context to a work can change the perspective of its viewer tremendously. Whether it adds or takes away some value, is solely up to the viewer. The context can be a simple phrase or even just a few words can influence how it is being perceived. It's one of the reasons why I find it hard and difficult to name my work. I usually stick with either facts or something personal, unless it is a self-portrait, no context should be given.

But, let's try. Scroll back to the top, add the word "Dreamy" in your mind and take a look. What emotions evoke? Empty your mind and let's try again with "Rebirth". I'm not sure how this works with you (interesting to know), but I'm a visual thinker, and if you're a visual thinker as well... I believe there should be a big chance that different emotions were being triggered.
Oh well.. it's almost 4 AM, thought it was interesting to share. Please let me know what came to mind, and if you tried it out on other work from other artists. It was something I was pondering about, just before going to bed.
Sleep tight,
Ruben