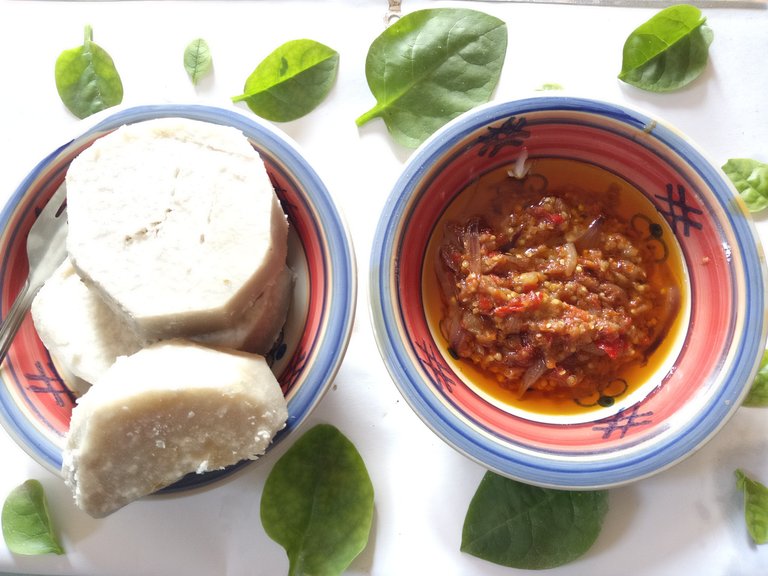 Hello Everyone 💕 💞,
You will be wondering in your mind what exactly is this again which I bring forward to you guys, hahaha😀. Take a seat and have a cup of coffee in your hand and relax back. Yes it is another episode of food chef here on steemit platform and I have the latest version of food preparation and step by step instructions for all my audience. I will say a big thank you to everyone who has subscribed on my YouTube channel and also who has in one way or the other followed me back to back here to know my latest post.
I bring to you a very delicious delicacy meal plan which I believe it another way to substitute for so many other Foodstuffs like Eggs, I mentioned eggs because when I finished Preparing this meal some few minutes ago, I said to myself, byebye to Egg sauce it is more nutritional in value than just Egg Sauce. I do not say Egg sauce do not make any sense but this is more nutritional and preferable for me as a person and also as a chef😉.
I got to know about Eggplant tree generally some couple of months ago, 5 months to be straight up. I went to my in-laws house and I met them on a discussion almost over on Eggplant survival, the consumption, the marketing and so on here in Ilorin.Nigeria. But due to the fact that they were all elders, I could not jump into their discussion at all, I gave them the respect and after all was done I met the Grandma about the Eggplant seed. She gave it to me and I planted it, three of them survived but later two were burnt dead by the sun. ( Summer period ) I had to keep more eyes on the survived one and keep Watering it more and more. It yielded massively and I was so happy to see the new improvement in the growth.
How To Prepare Eggplant Sauce With Boiled Yam ( Homemade)
I will start my own discussion with a little bit of more emphasis because we have different types of food preparation Techniques and pattern. What works here might not work for you, so you have to develop your own cooking pattern and style. So, let get back to work......
---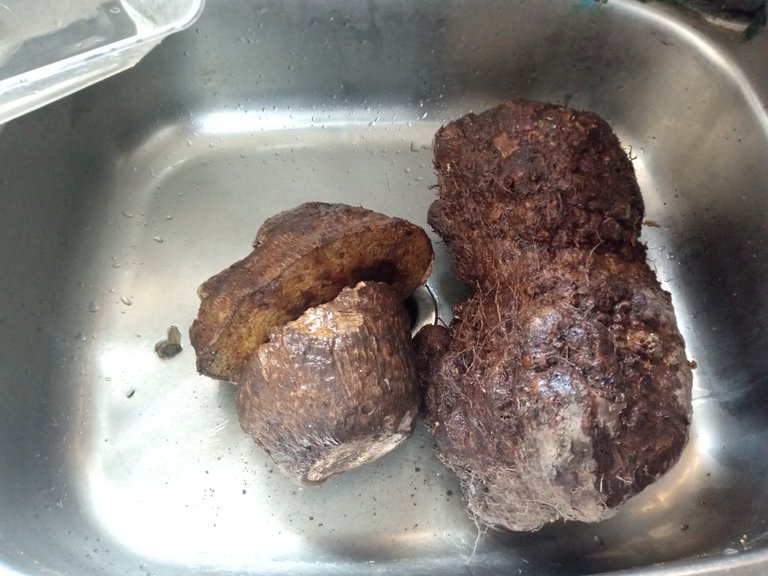 ---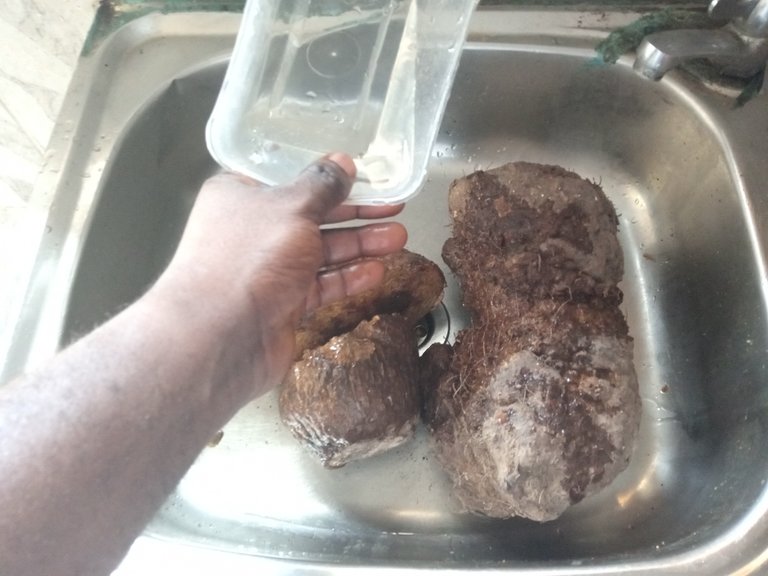 ---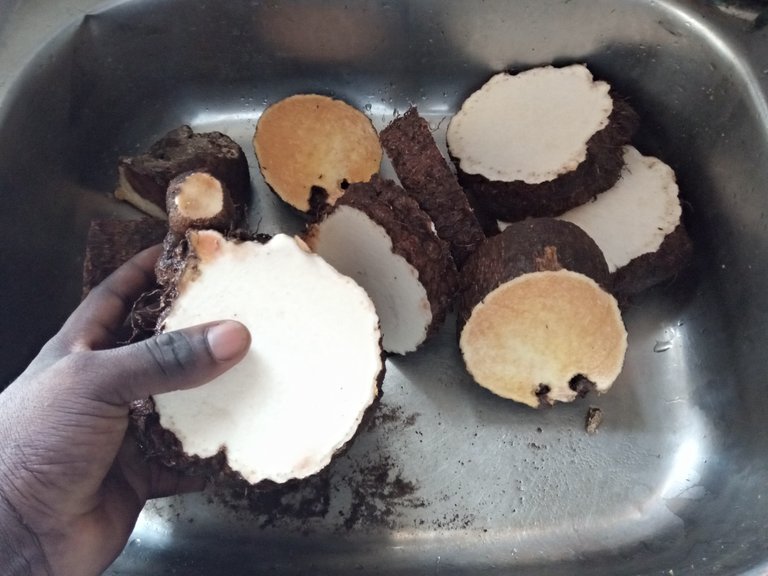 --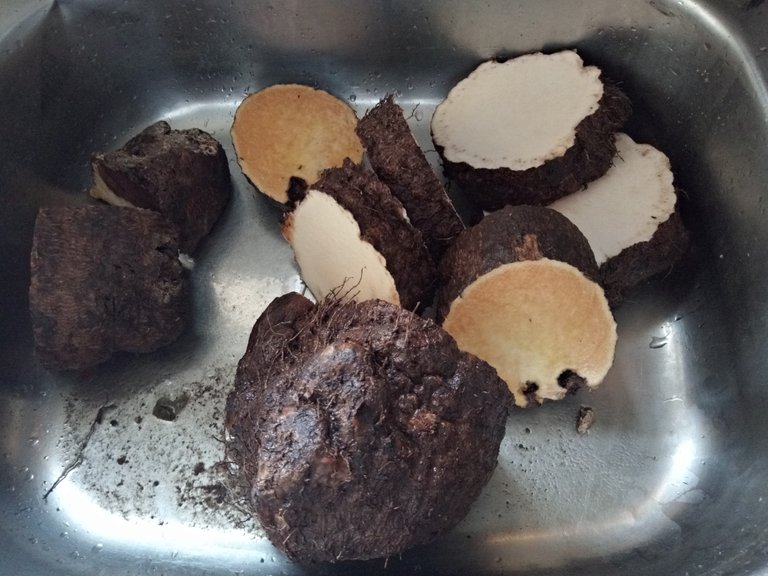 ---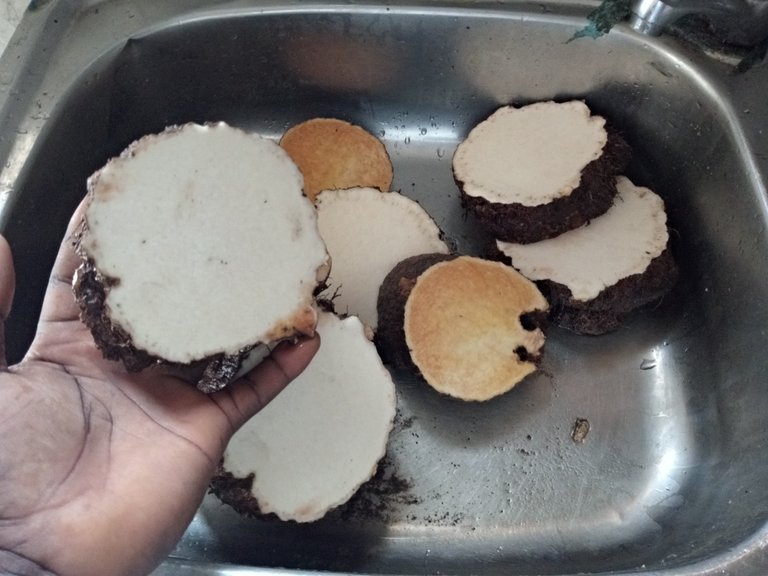 ---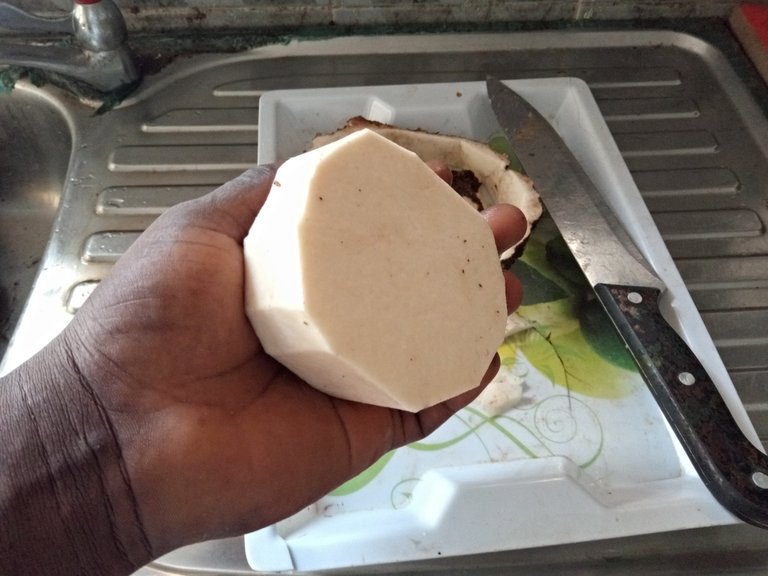 ---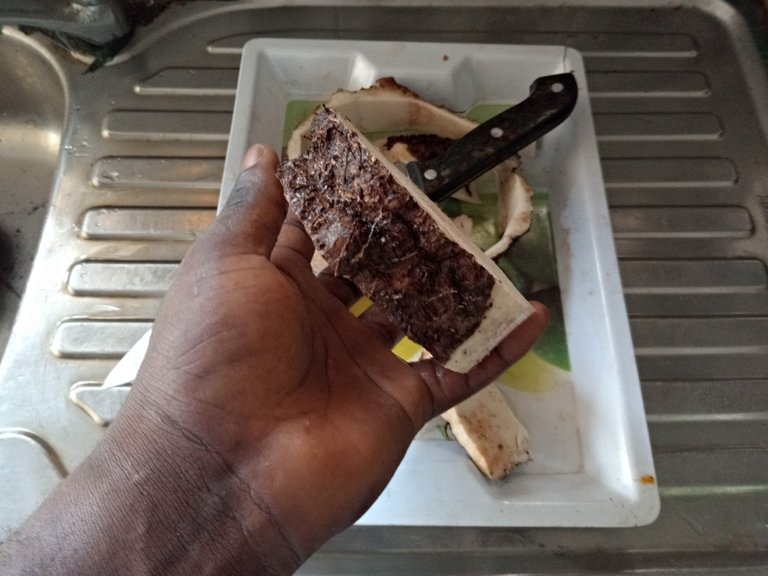 ---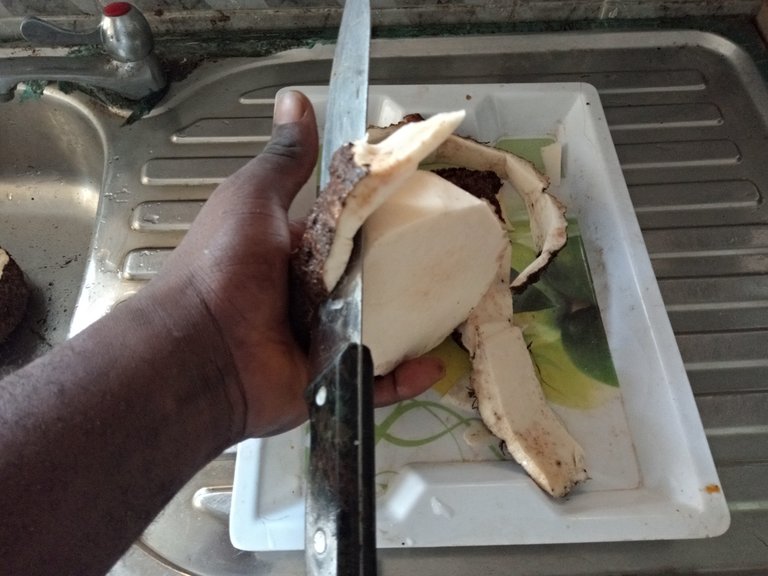 ---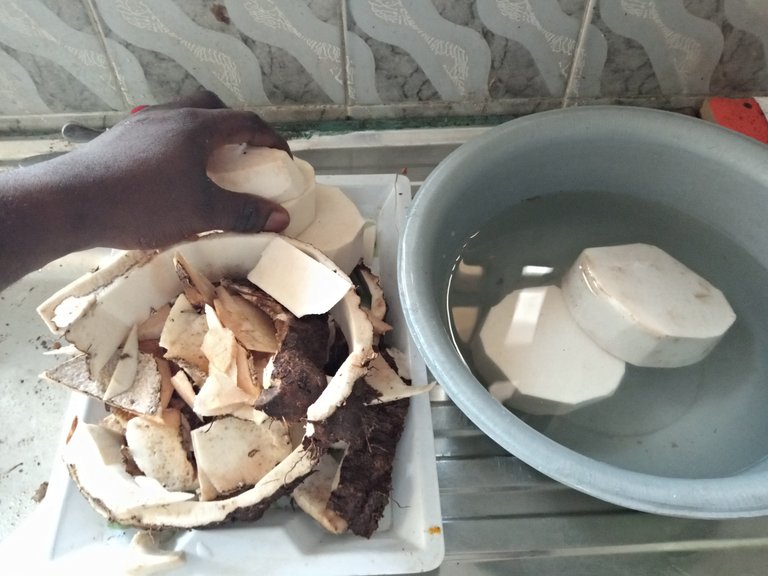 ---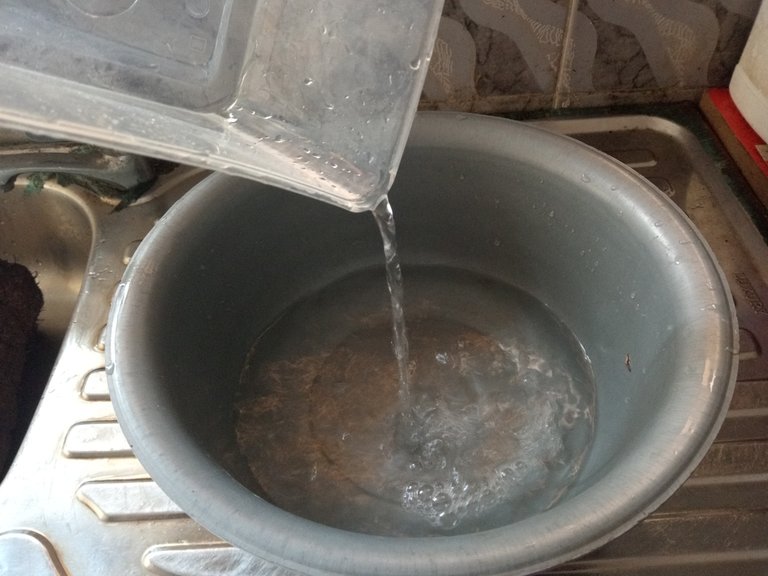 ---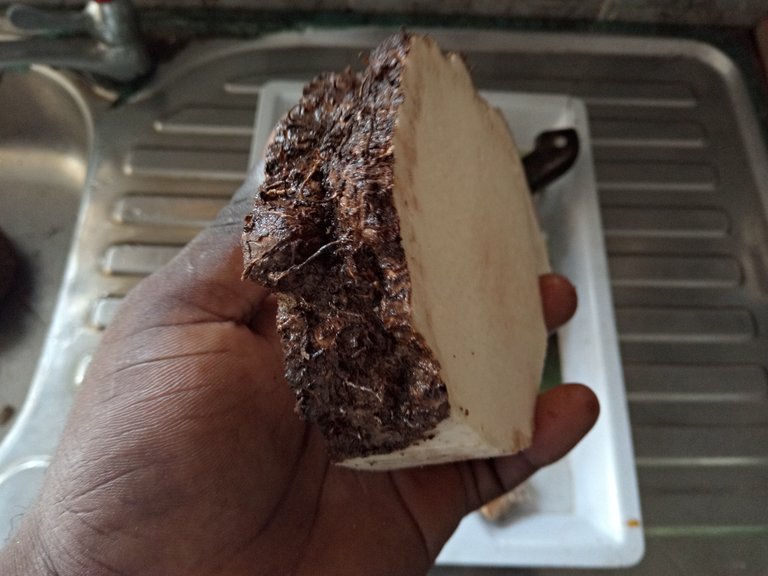 Here still in step one, I intentionally showed this picture of the White hairy yam, so it is more preferable to peel the yam very closely to the edible part of the yam. Yes, this is what I mean. When you want to peel your yam for boiling it has two ways or method of peeling, for those of us who do not observe or know this before, this is the secret behind it. There is one method of peeling for just yam eating and another way to peel your yam when you want to pound yam 😉😉.
---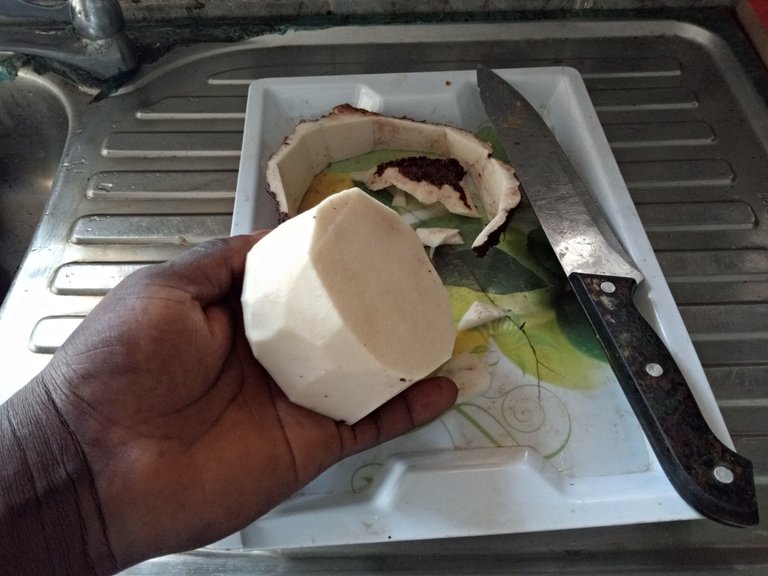 ---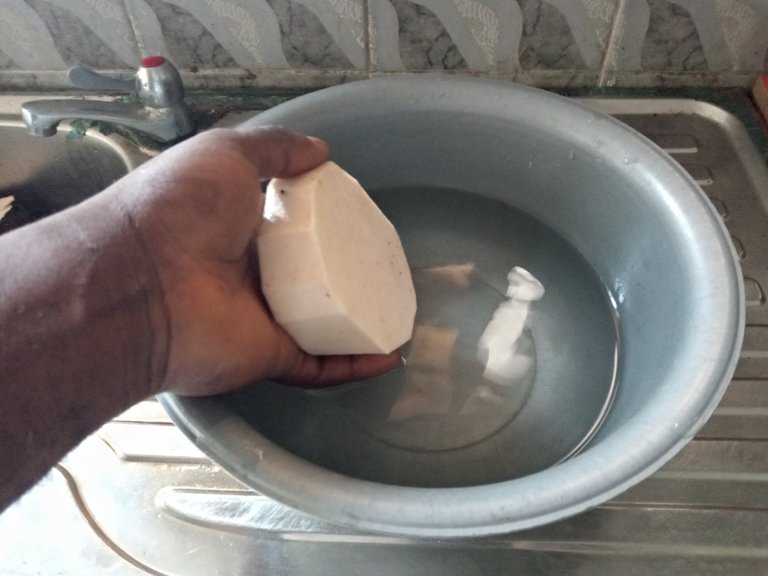 ---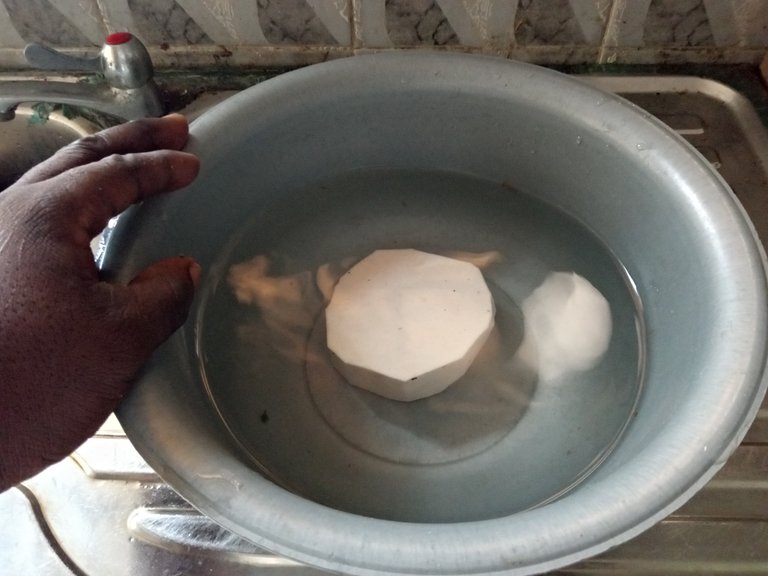 ---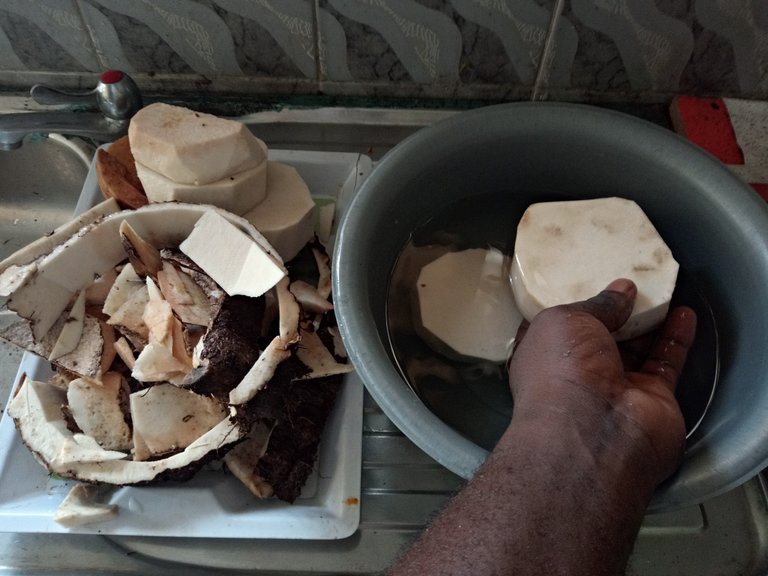 ---
After I have washed the preferred yam to use thoroughly because of little sands, I used my knife to cut it to my own required yam size and also the more bigger the yam is , the more time it takes on the fire. So, I had to peel the yam and wash inside a bowl half full of water as shown above.⬆️⬆️.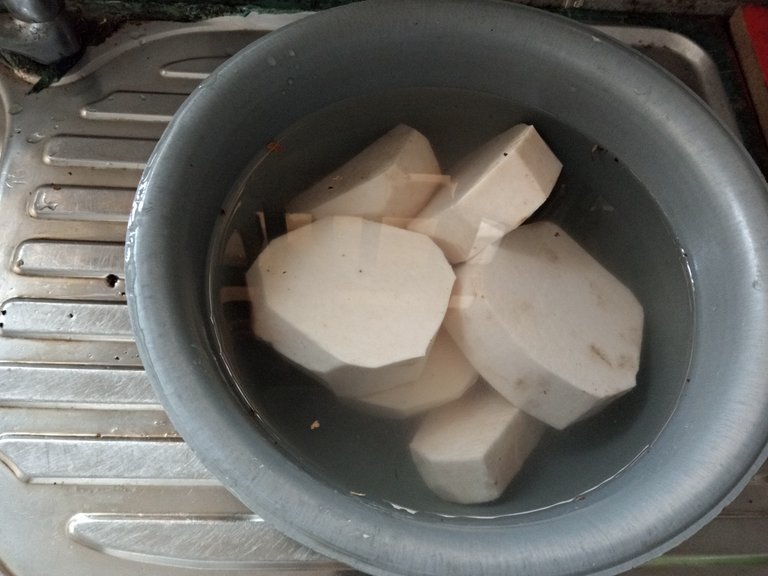 ---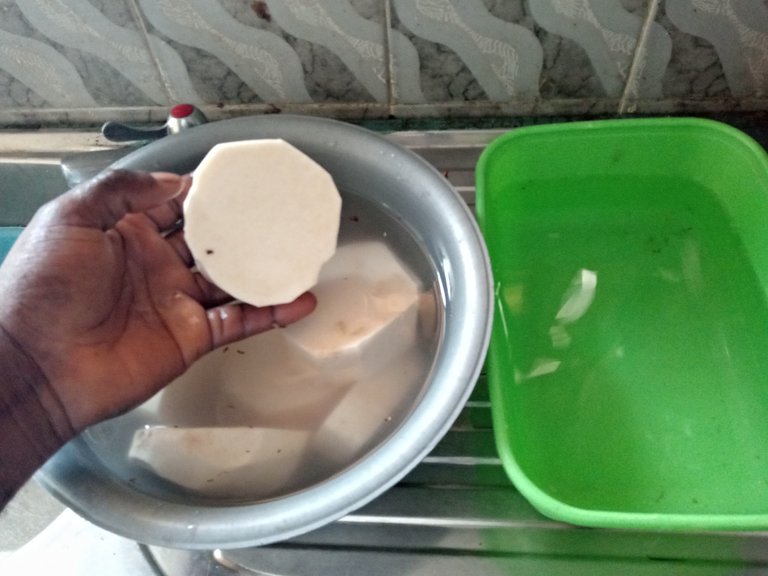 ---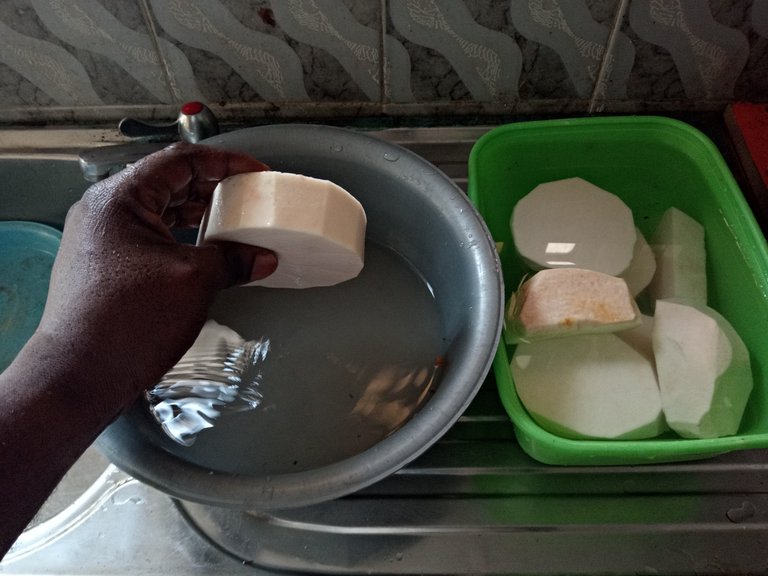 ---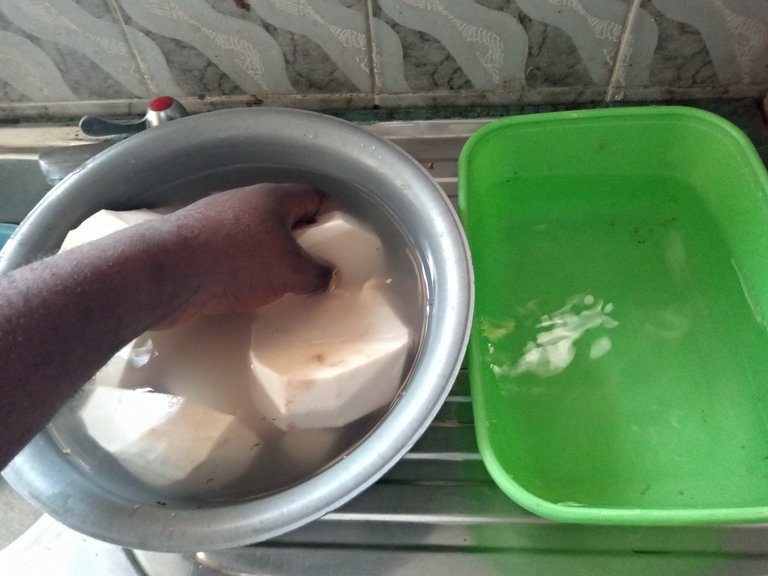 ---
After which I washed the first time, I was trained by my mum to always wash foodstuffs twice or thrice, do you know why? Personal Hygiene is very necessary and its the best way to live a good life. So, I had to wash twice to reduce the sands and dirt. What next? ⬇️⬇️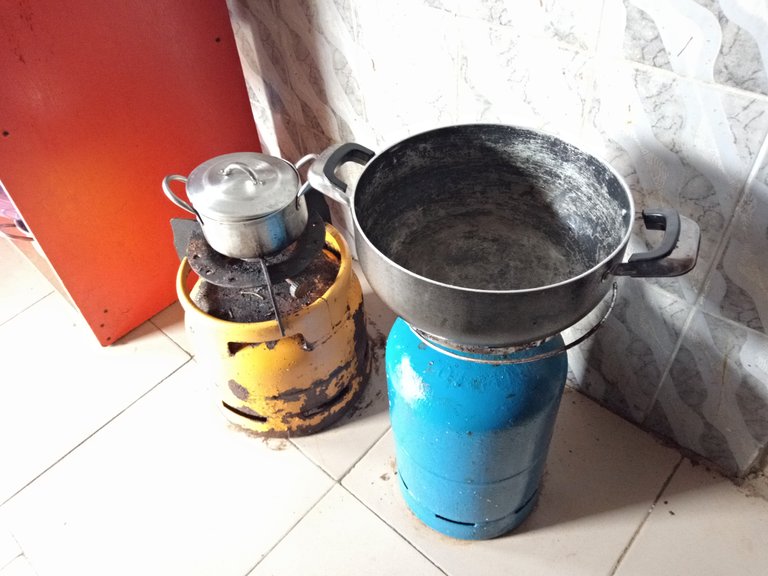 ---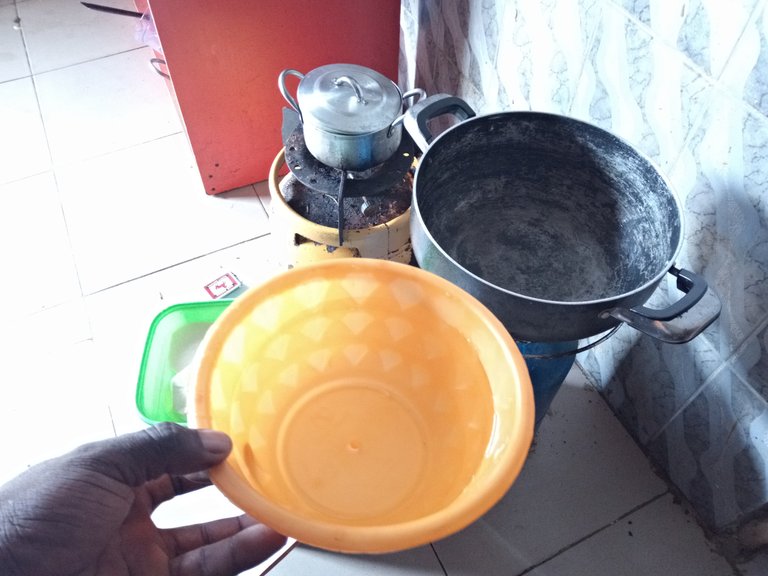 ---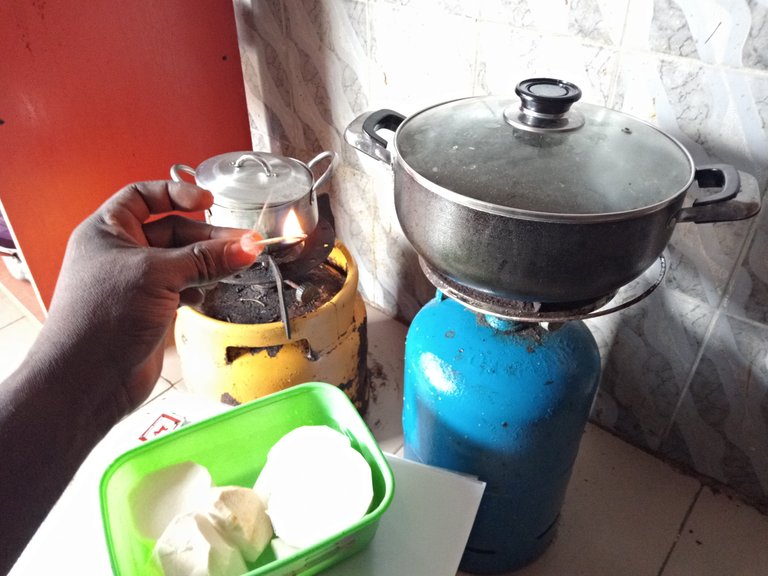 ---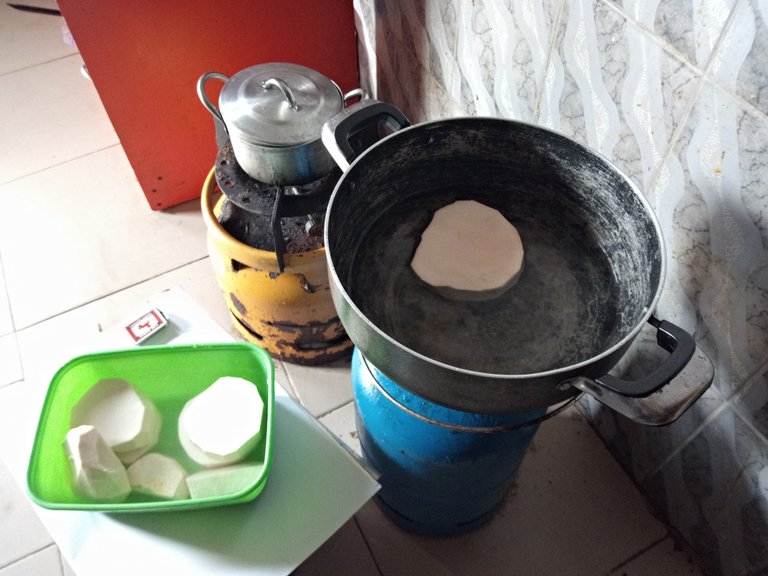 ---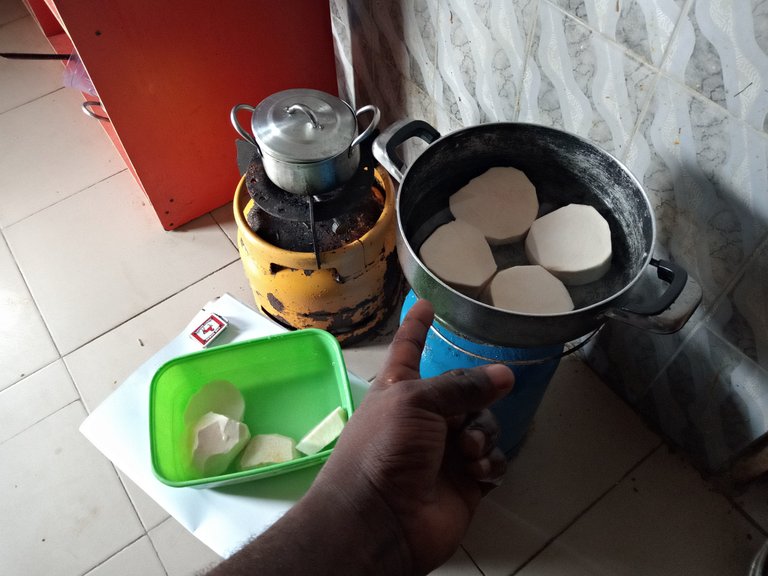 ---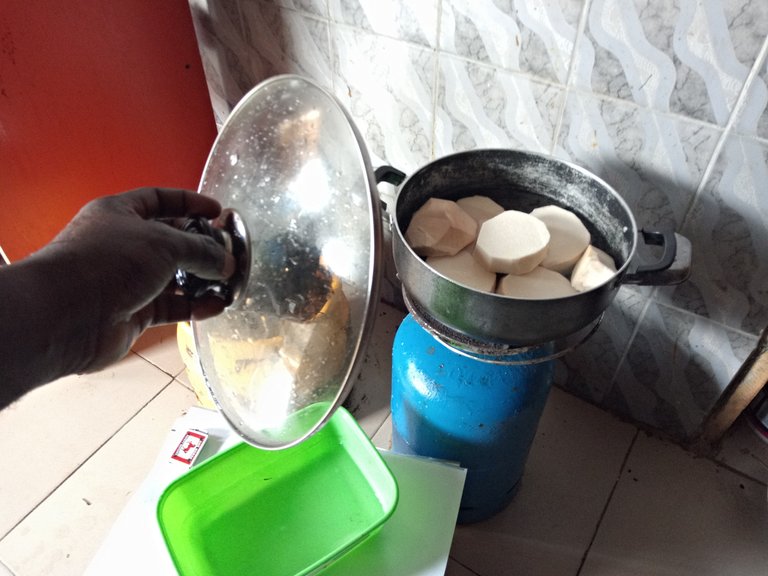 ---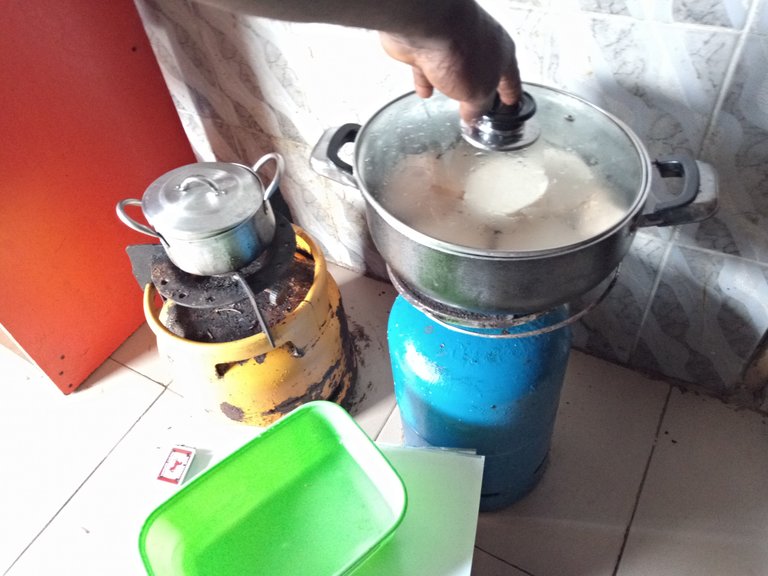 After washing twice, I had to place my empty clean pot on the fire and light it up, then I also washed the white yam into the empty pot and pour in more water at first. So I covered it up at once.
Where I Got My Eggplant. ( Source)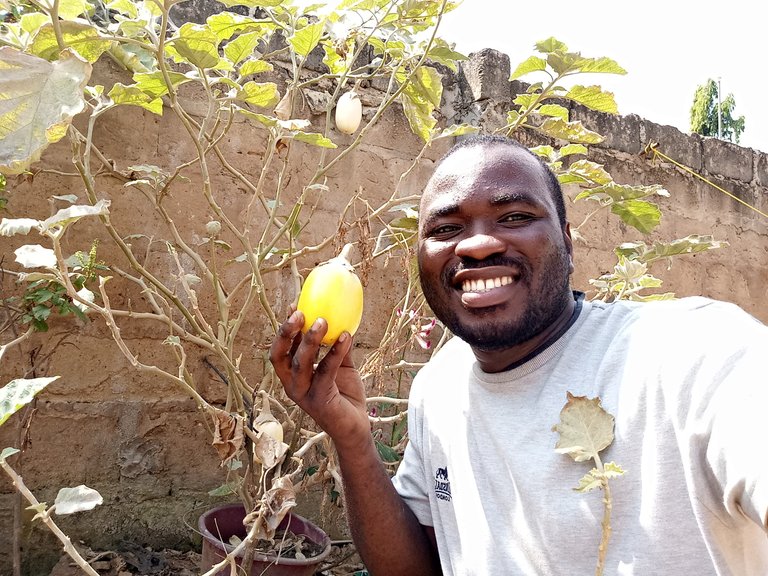 ---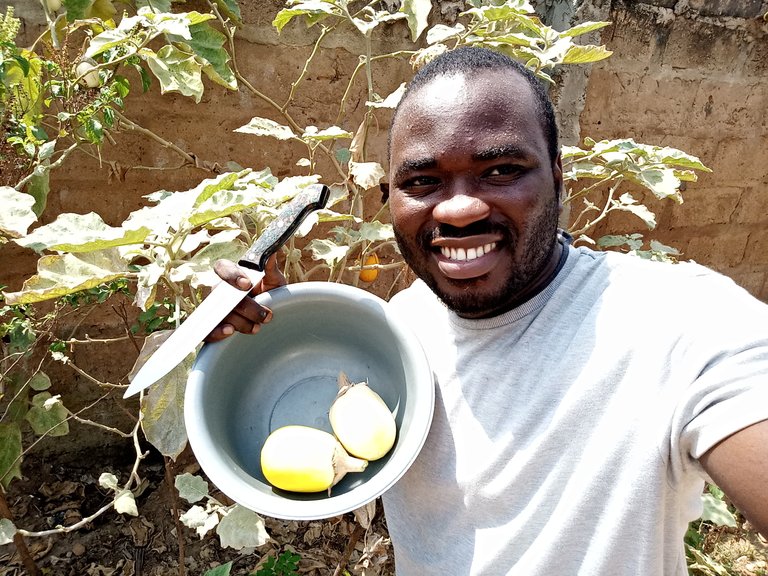 ---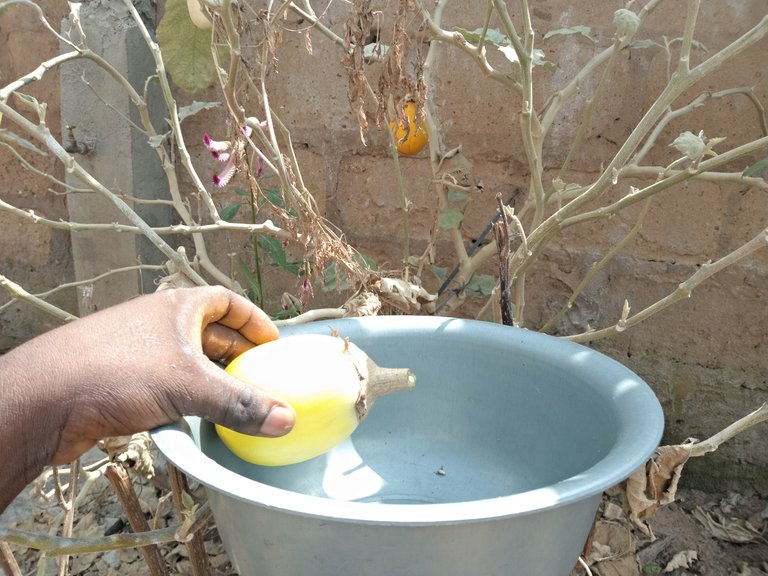 ---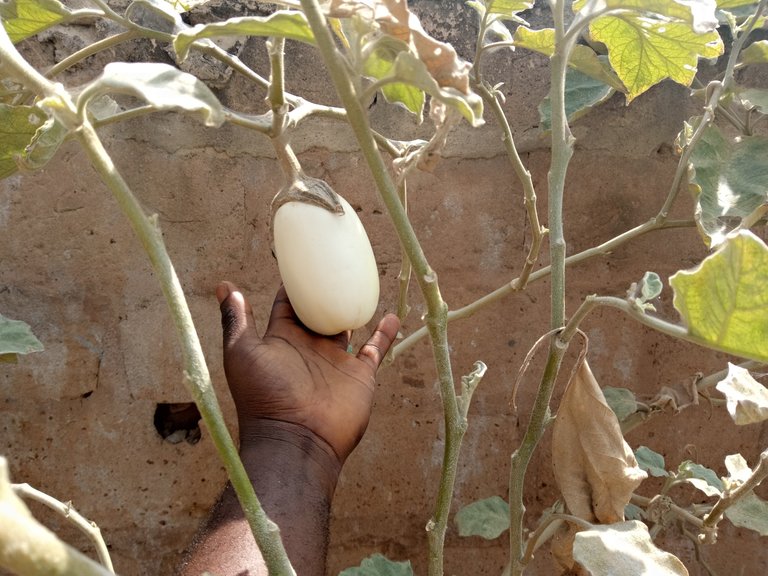 Fresh from its tree 🤸🤸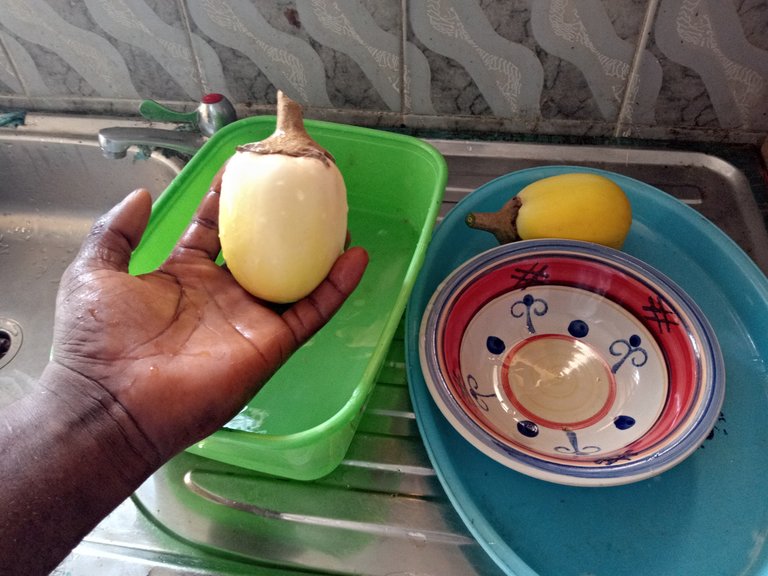 ---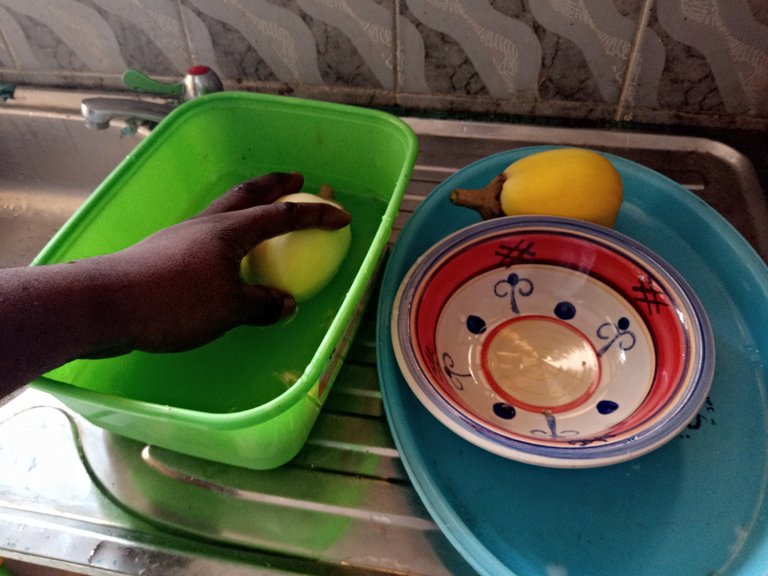 ---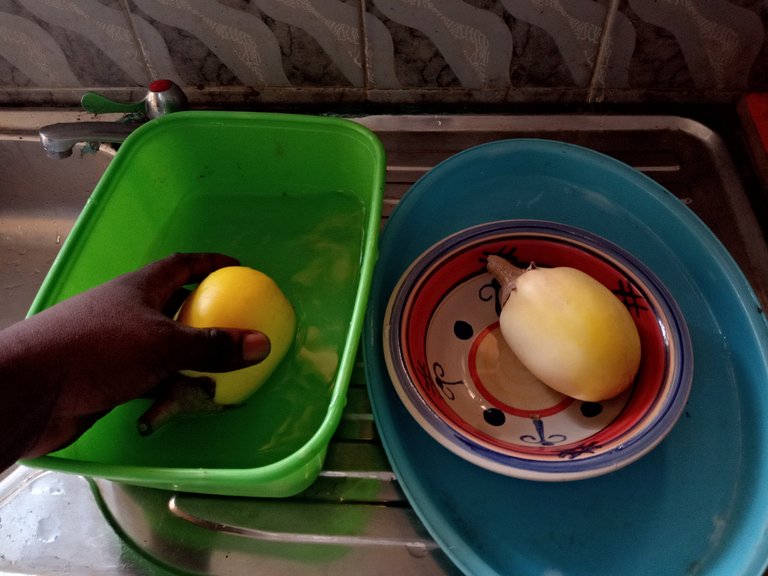 In my step 4, I did a little bit diversion to the Eggplant Preparation. As as you can see it above, I washed them so well because it very dusty out there and anything you want to eat now should be washed thoroughly with more patience and water. Guess what, those Eggplant are Originally from its tree Source.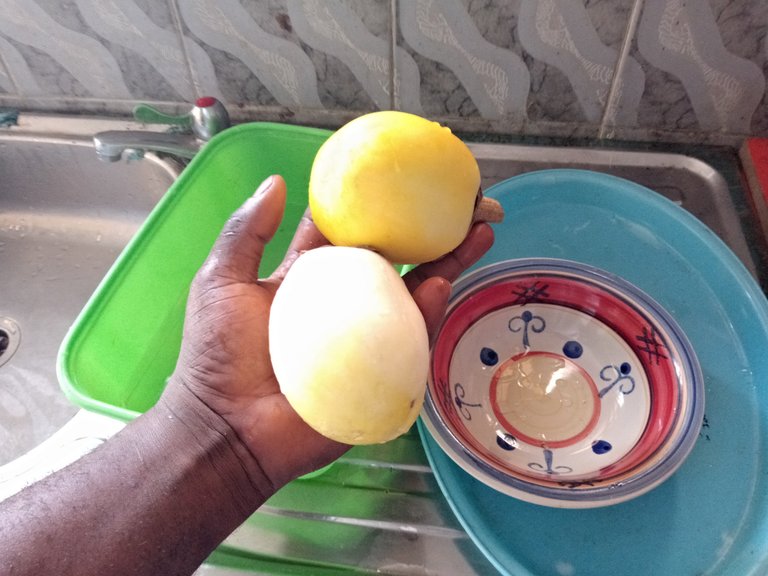 ---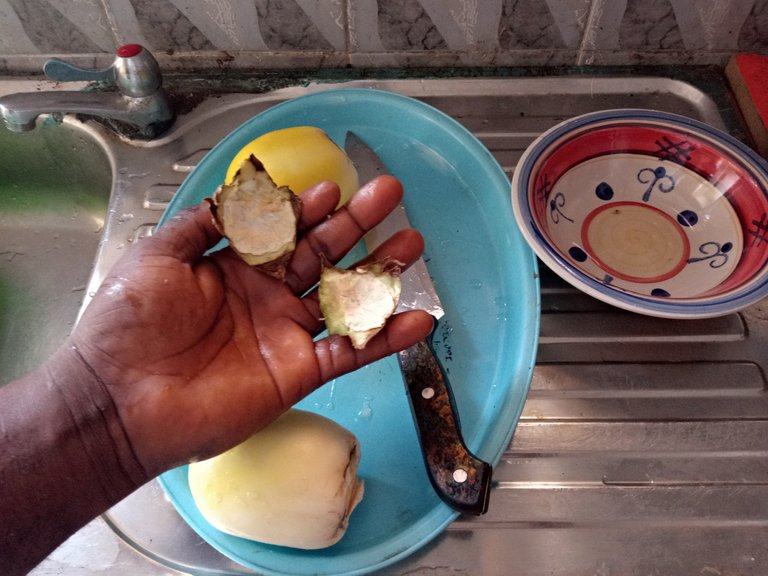 After I finished washing the Eggplant itself, I had to use knife to remove the stall joint remains left after I harvested it from its tree.
---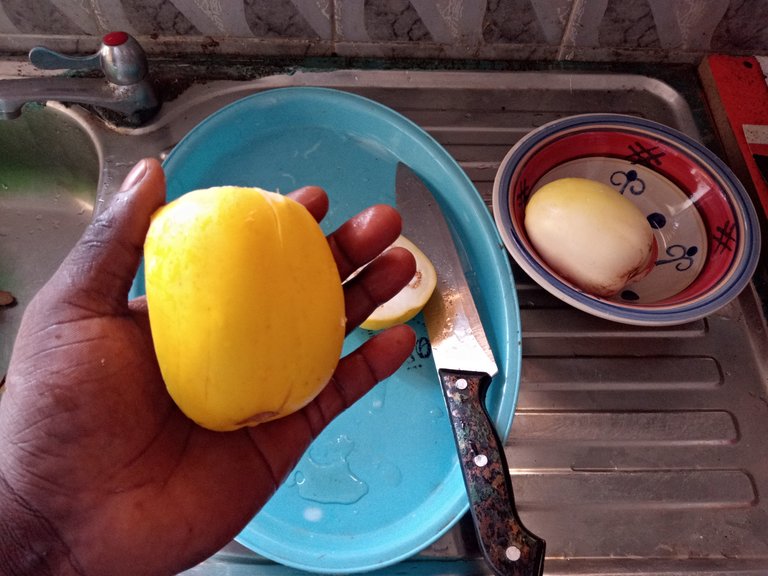 ---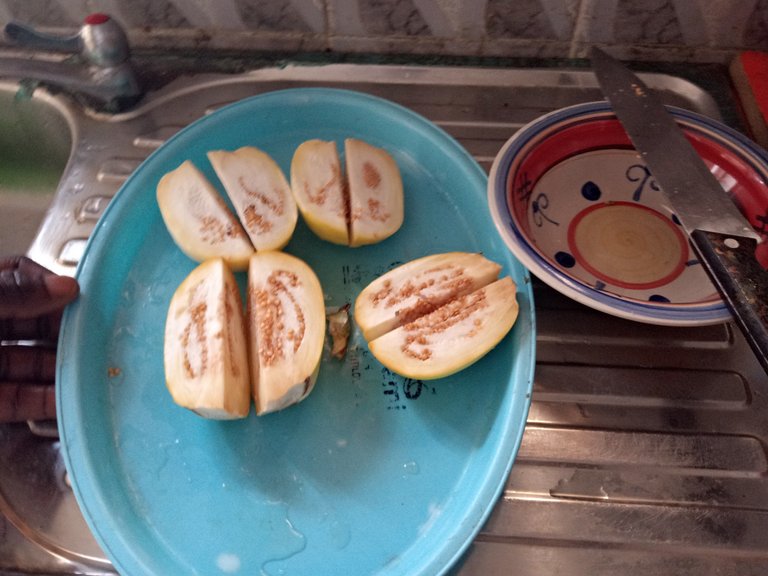 ---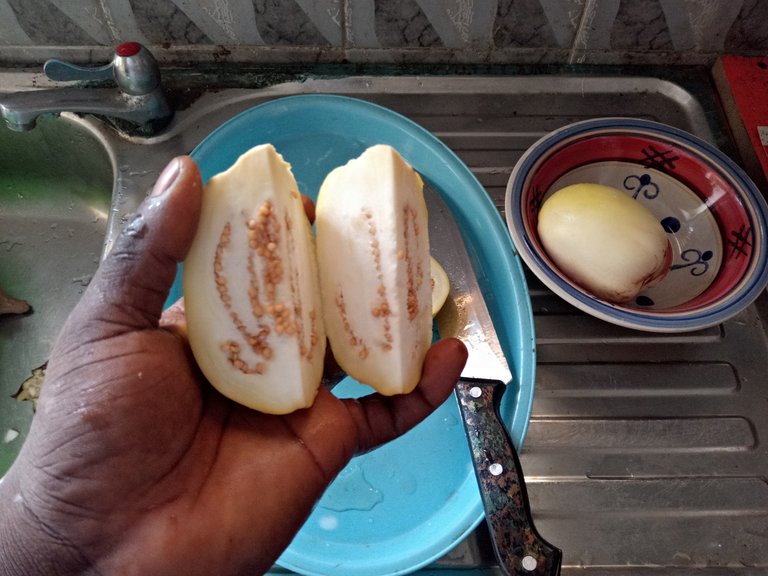 ---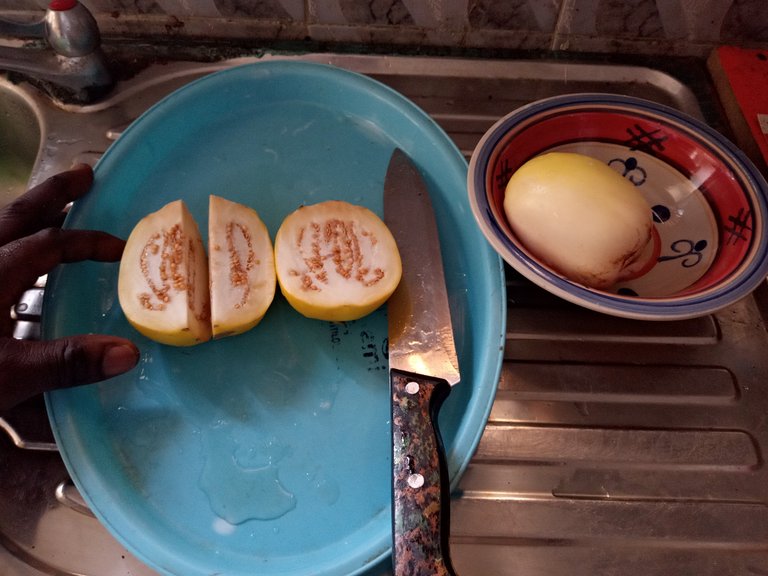 Then, I also had to slice it after washing it Thoroughly and place them on the fire , same inside the pot I was cooking the white yam. It serves the same purpose.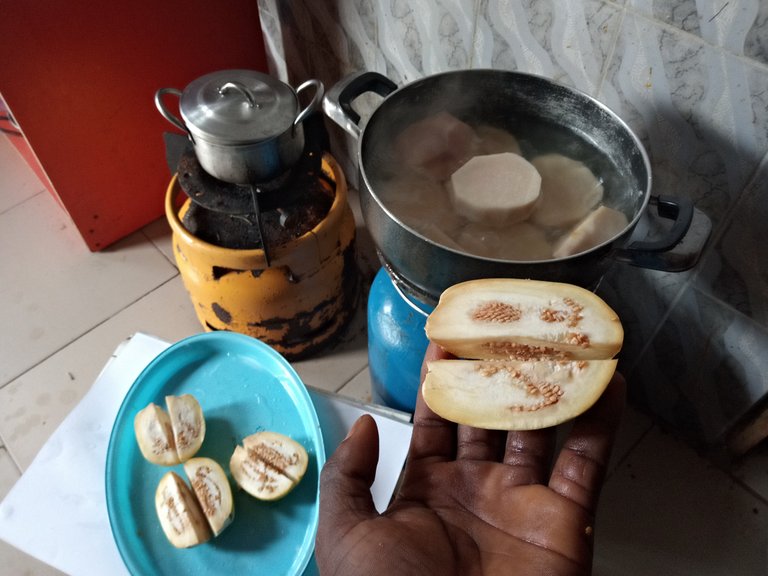 ---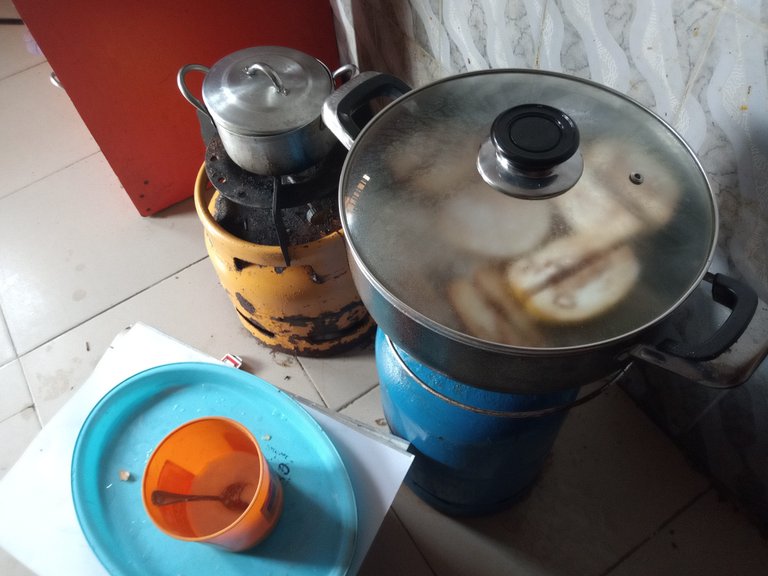 ---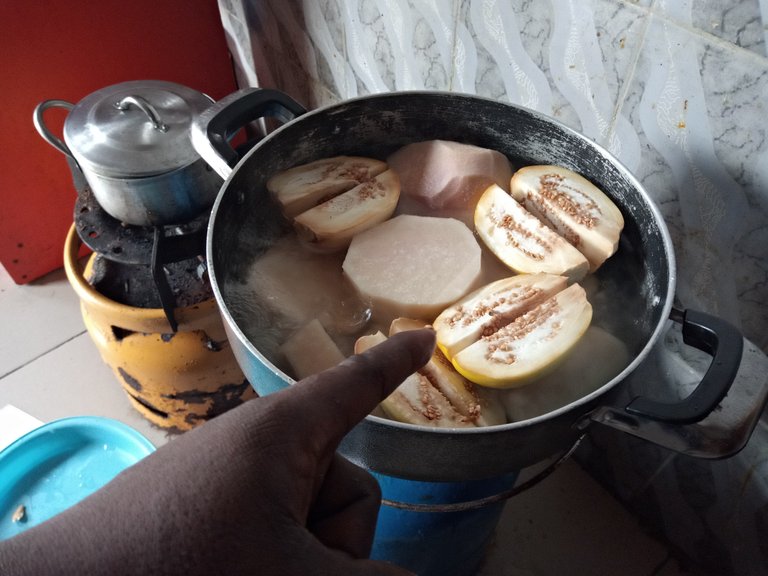 ---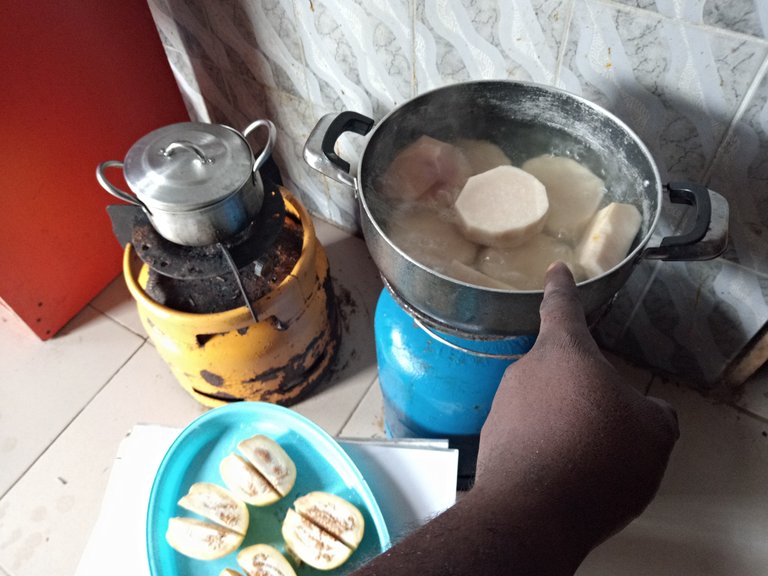 ---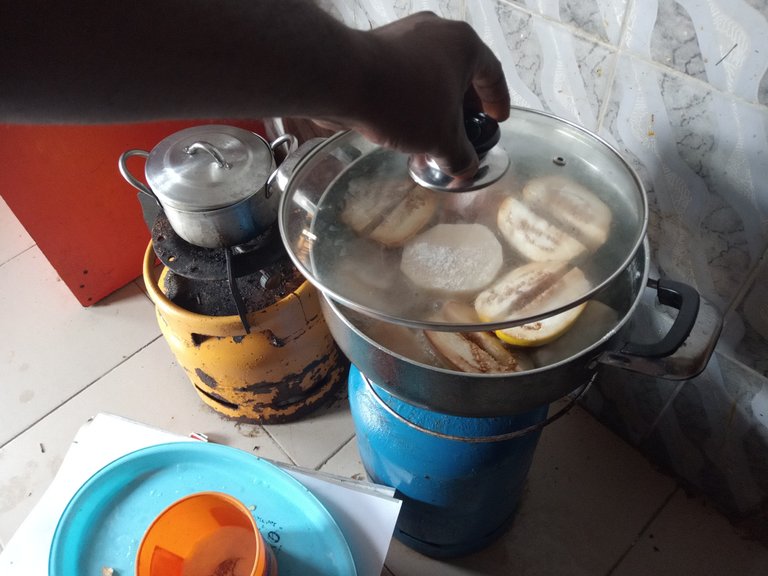 In the step 6, I had to use the same pot as the cooking rate will be more faster than the yam, it doesn't need any other new pot , you can use it as well. No offense.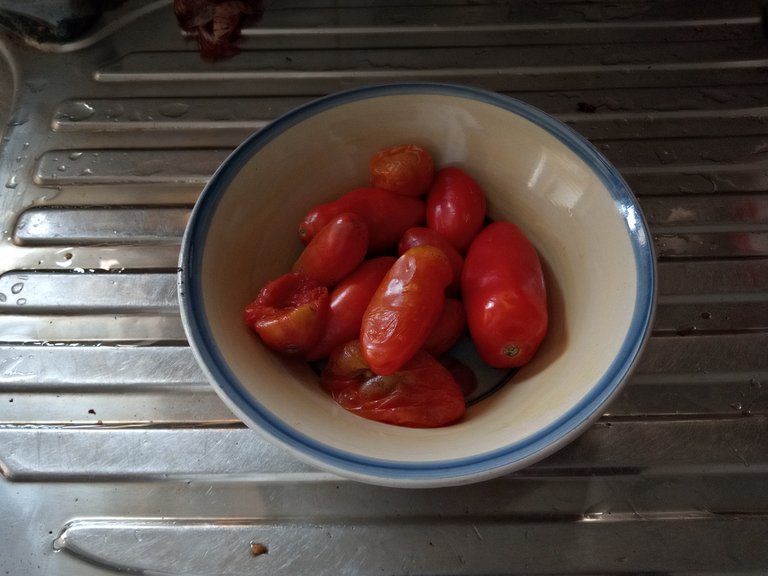 ---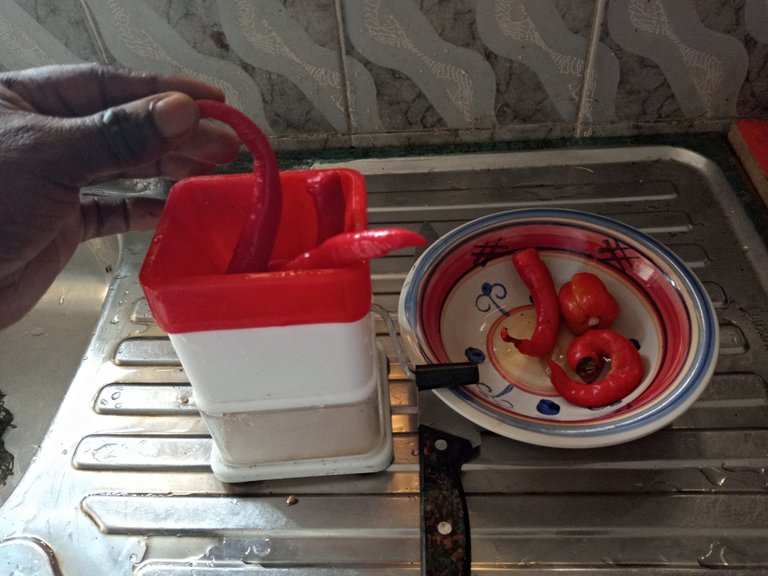 ---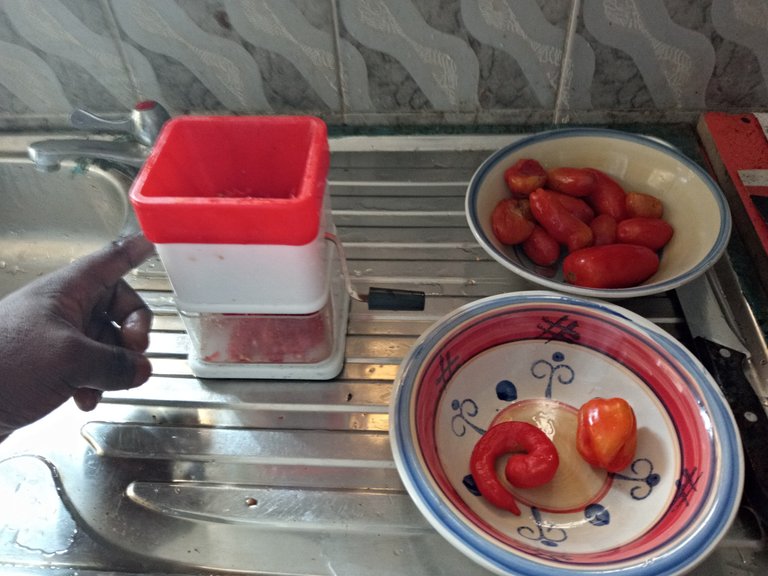 ---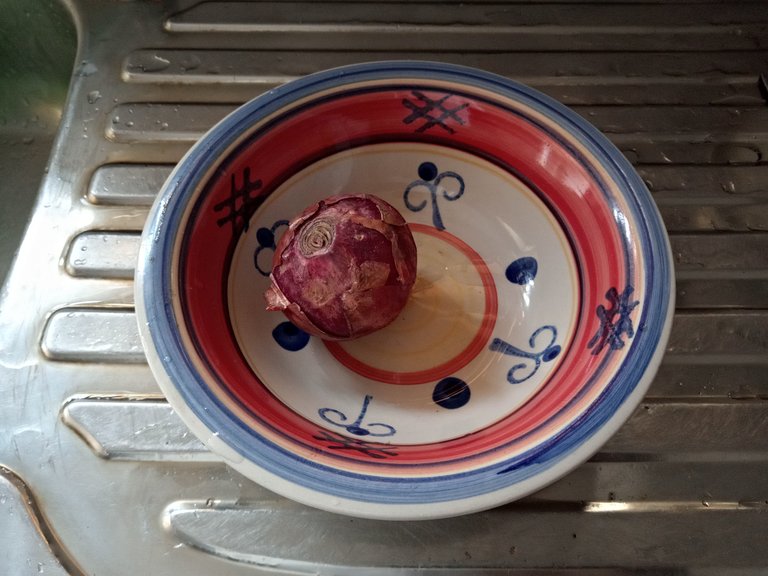 ---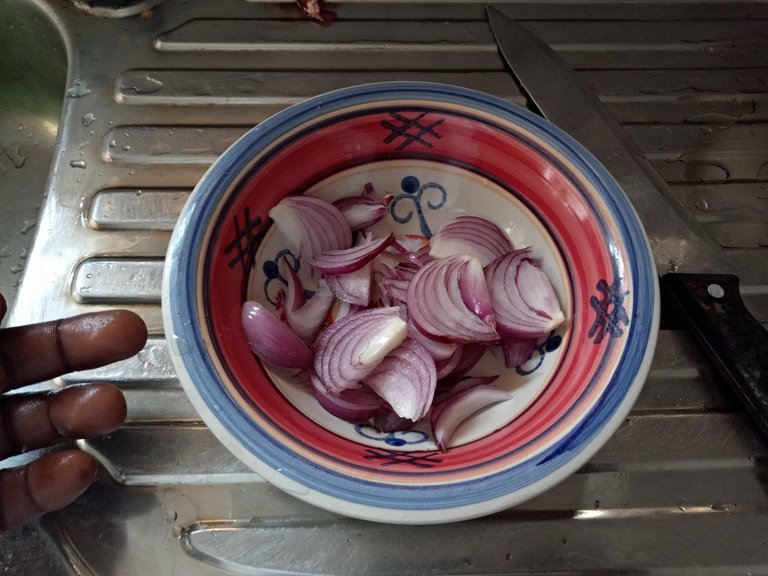 ---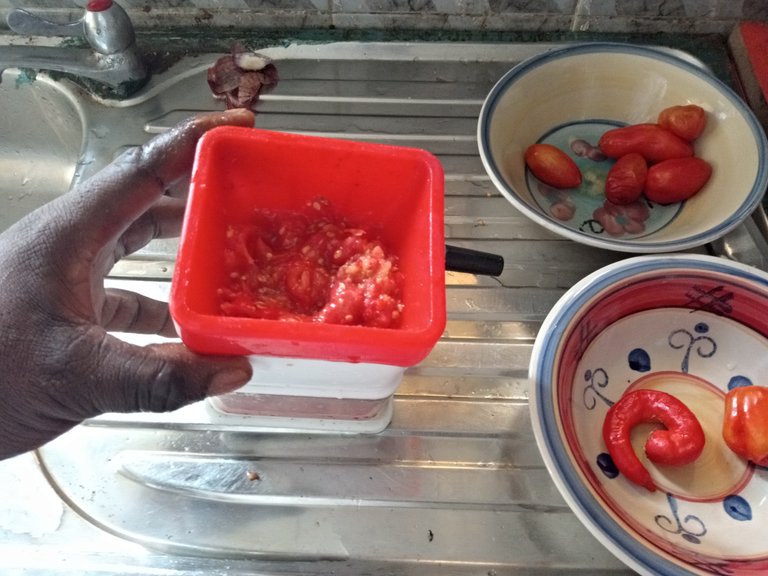 ---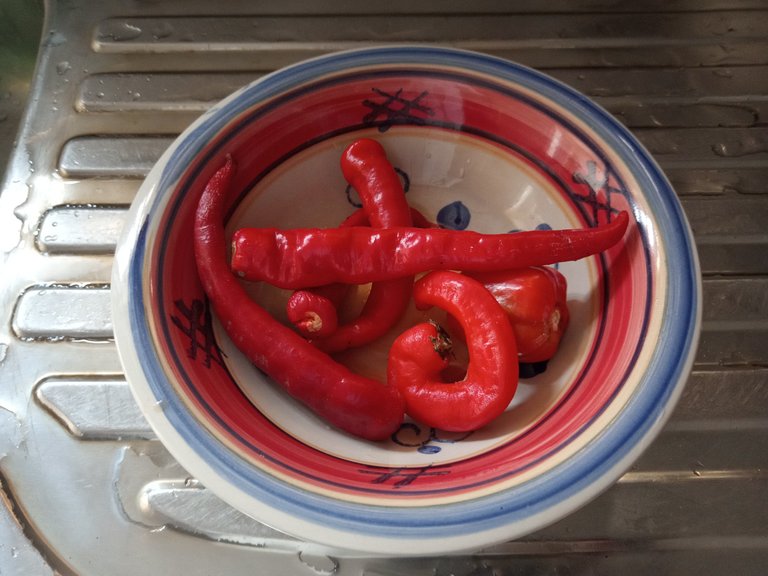 Before the Eggplant is done, I quickly moved my peppers, tomatoes into the hand grinding machine and I did the grinding within two minutes and I was done. You can see the Pepper and tomatoes. All inside the grinder.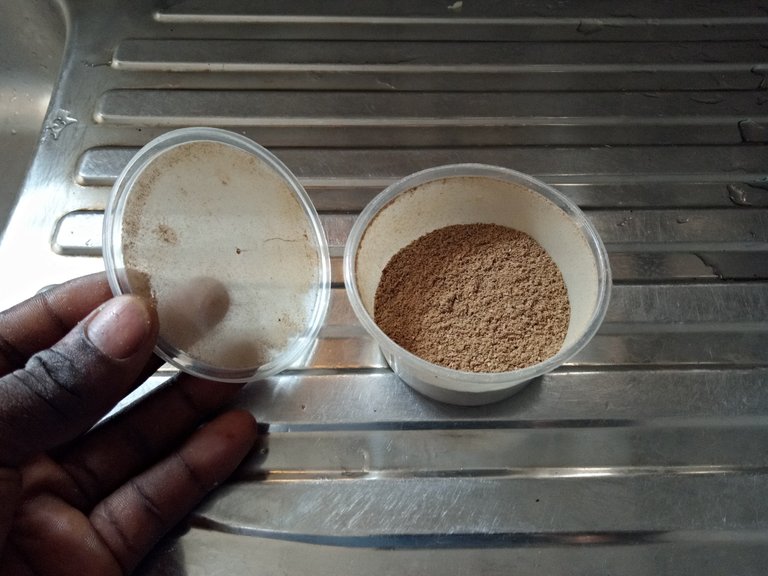 ---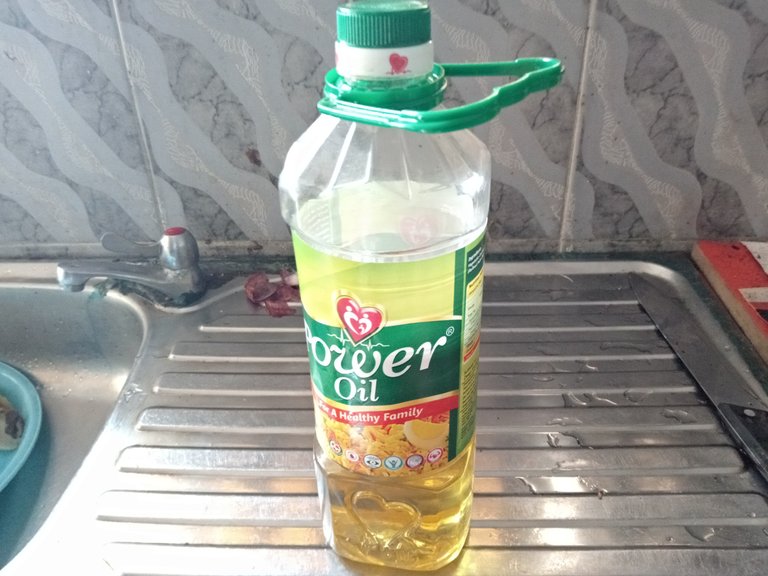 ---
---
Here I have my Maggie, My Salt, My Ginder and Garlic Powder , My Vegetable oil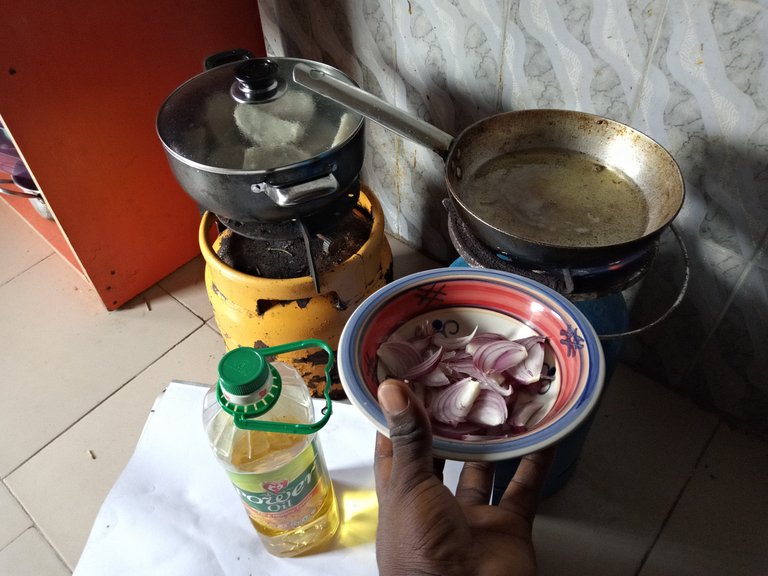 ---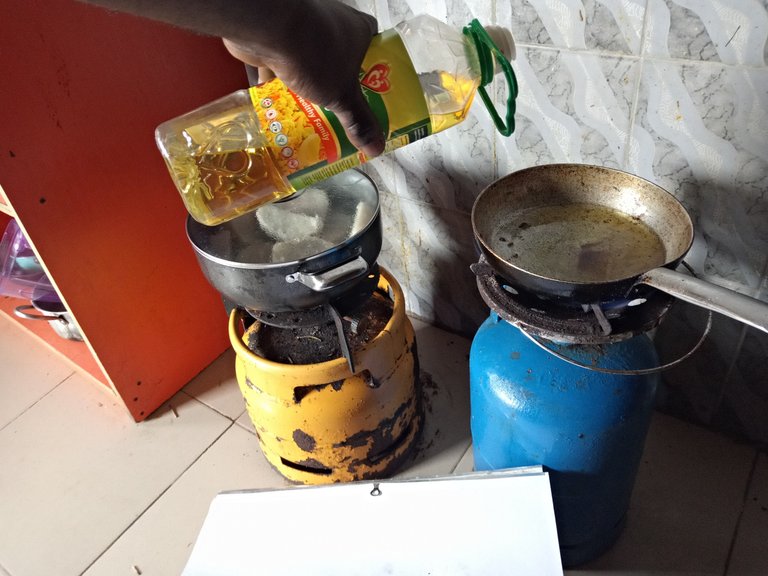 ---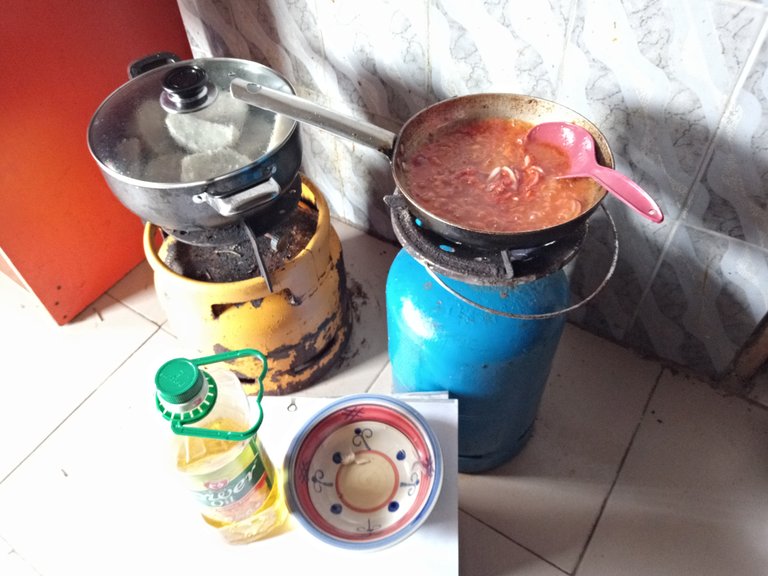 ---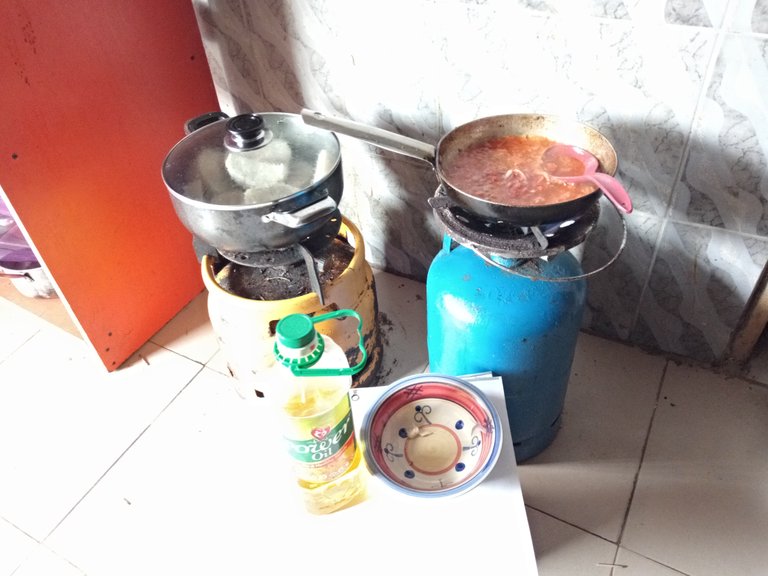 ---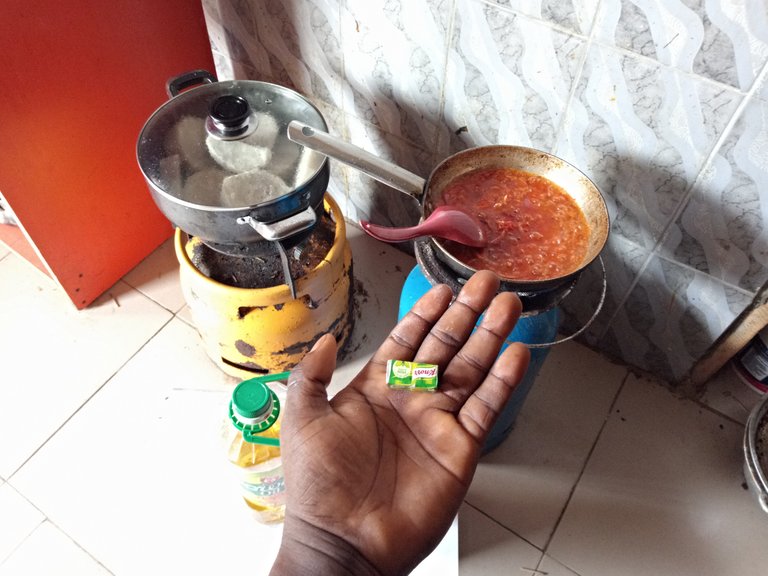 ---
---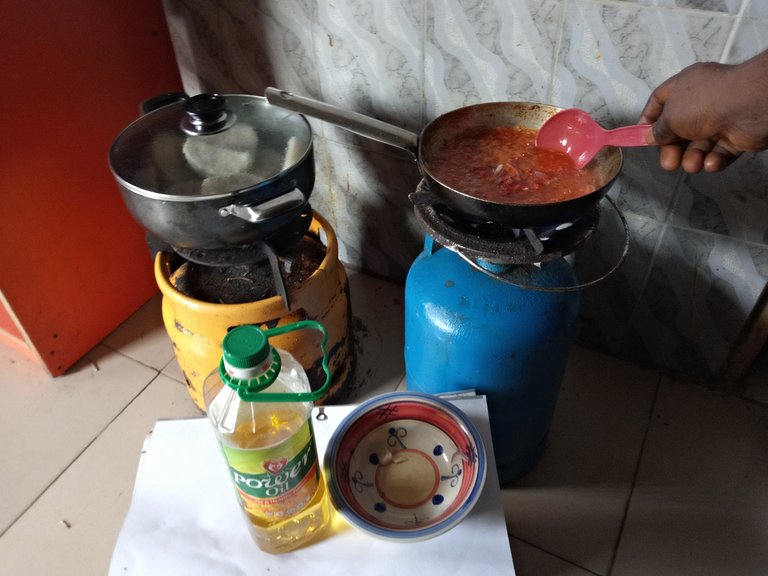 ---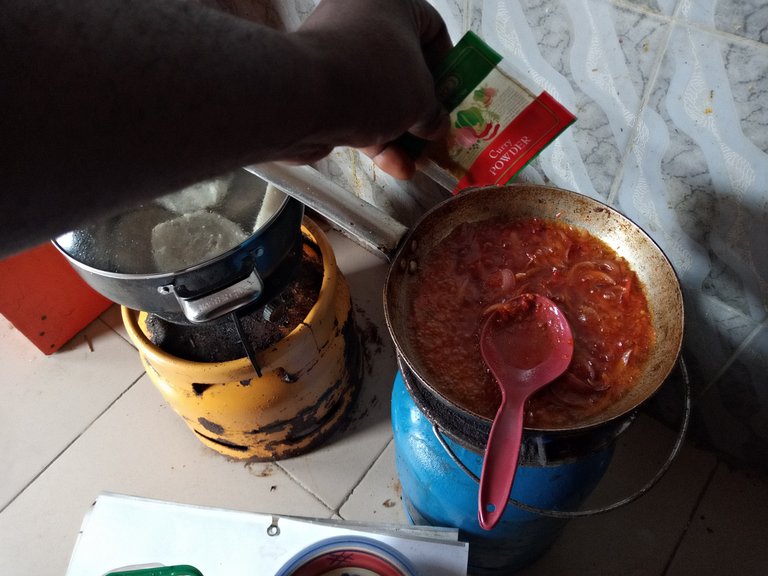 ---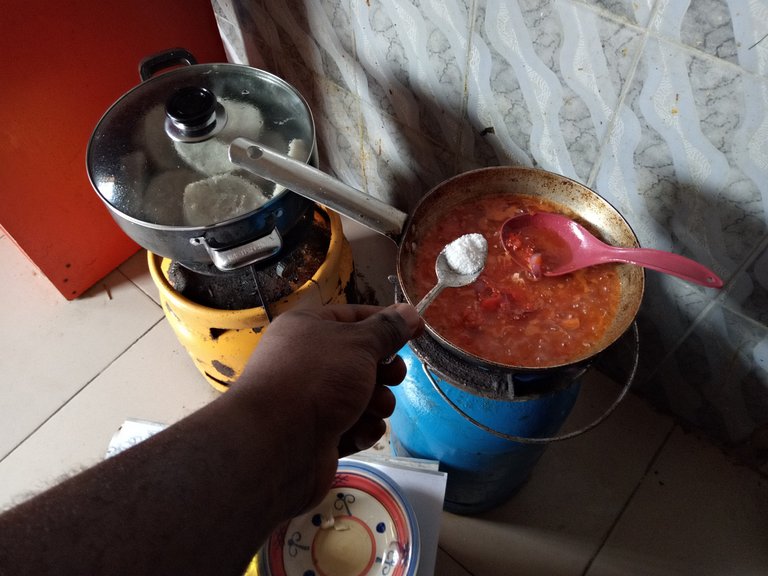 ---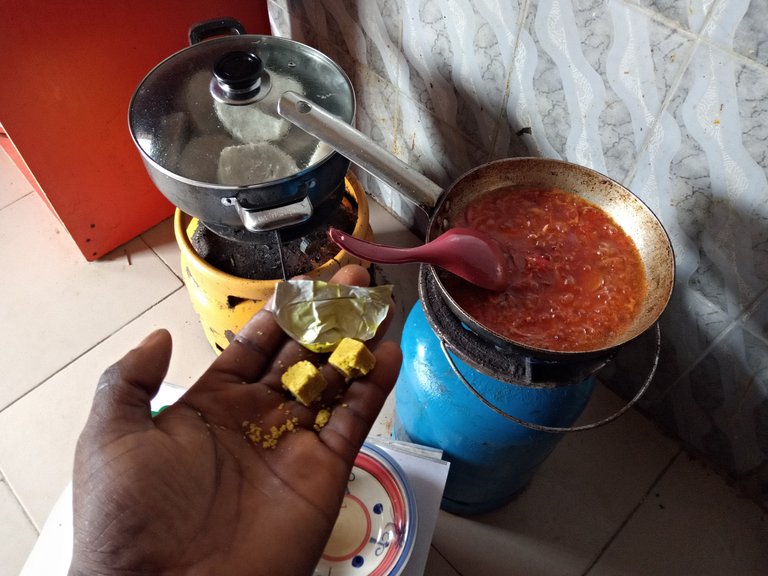 ---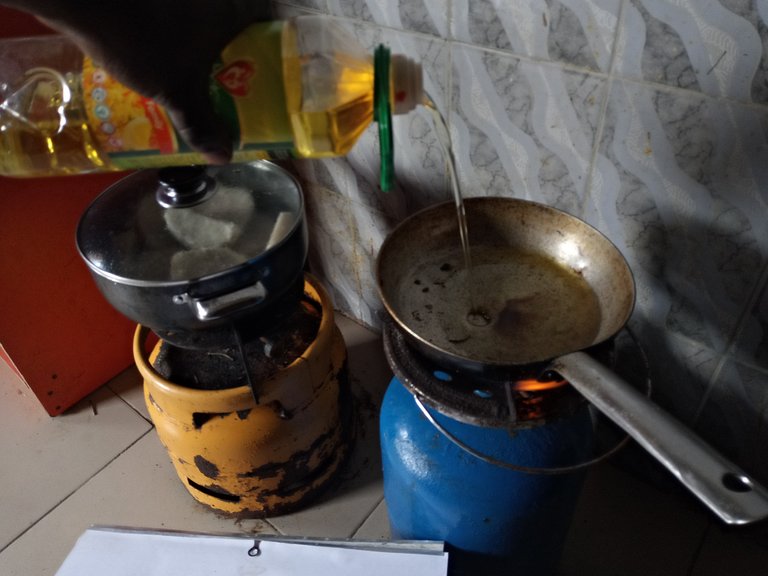 ---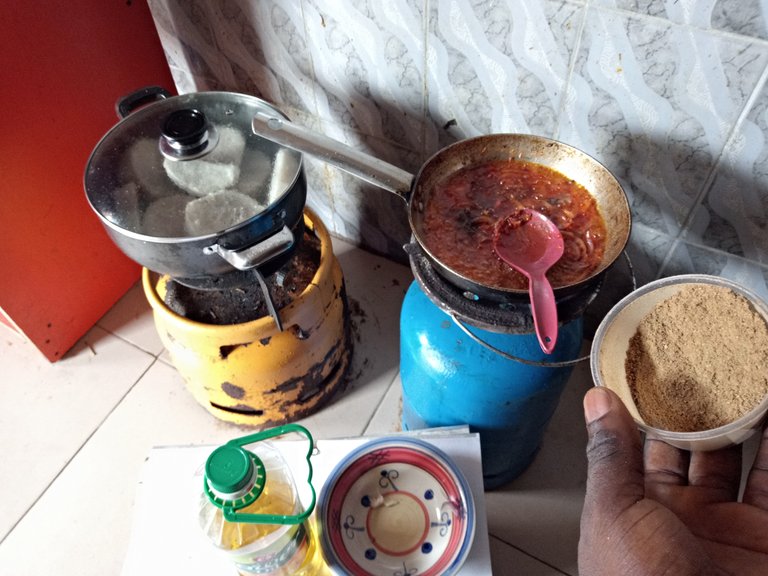 ---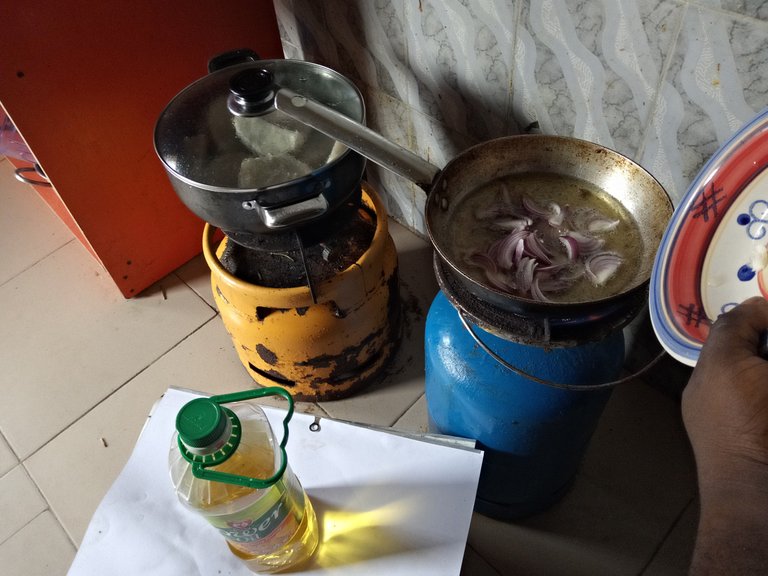 ---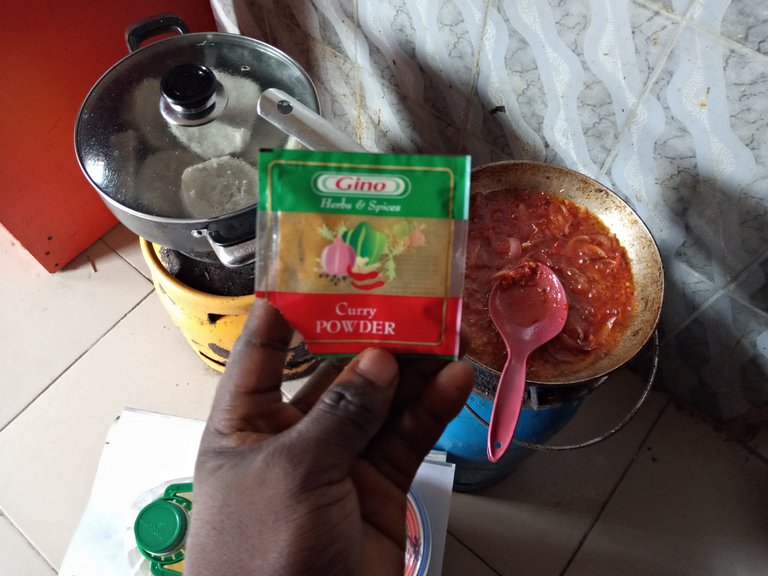 ---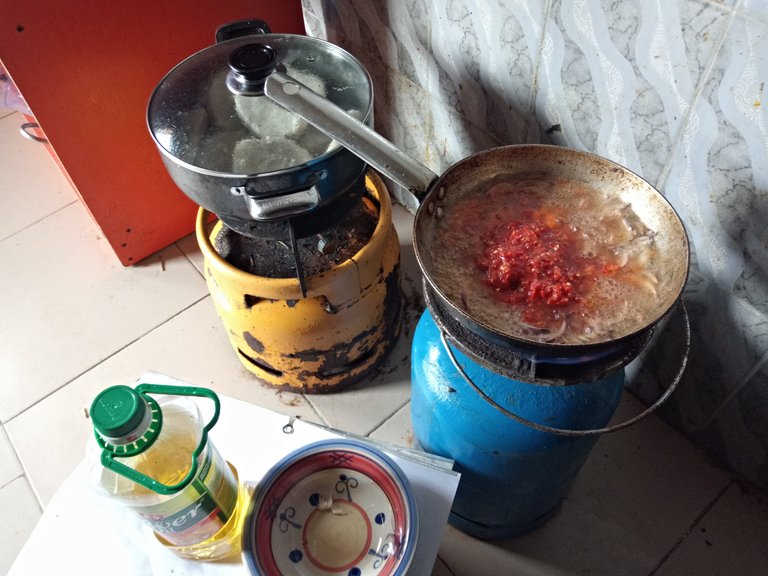 ---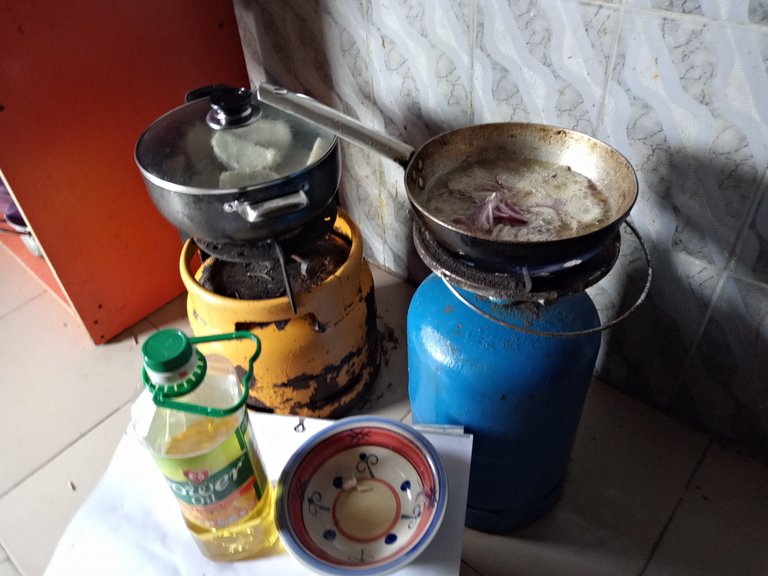 ---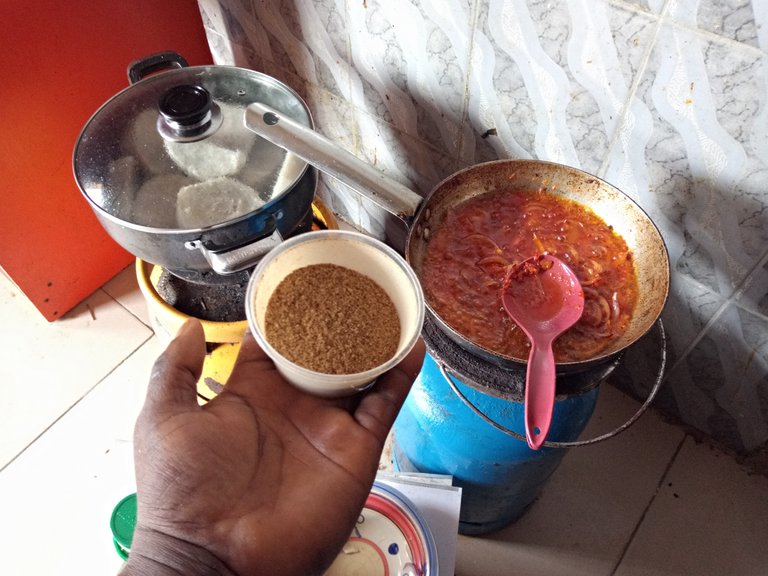 ---
The step 9 explained how I fried the pepper sauce before I finally poured in the already steamed Eggplant. I used fork to peel off the edible part of the Eggplant, the seed and the inner portion. And I poured it inside the already fried pepper sauce as shown below.⬇️⬇️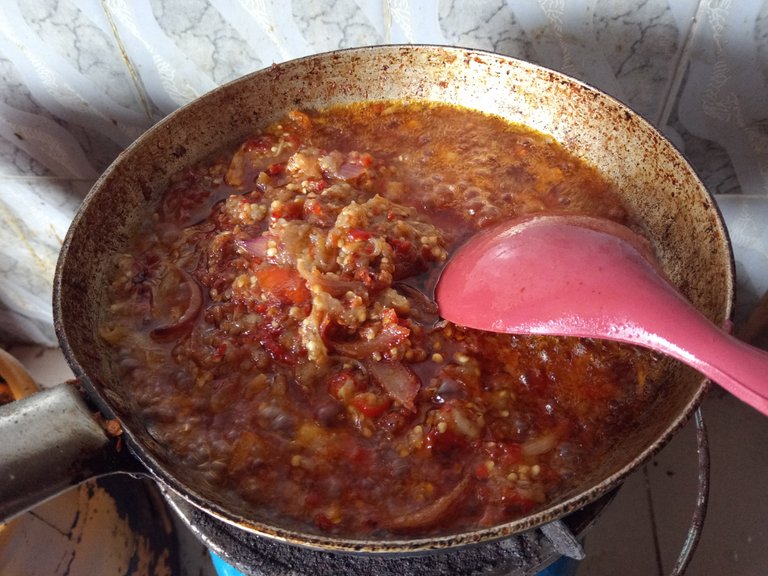 ---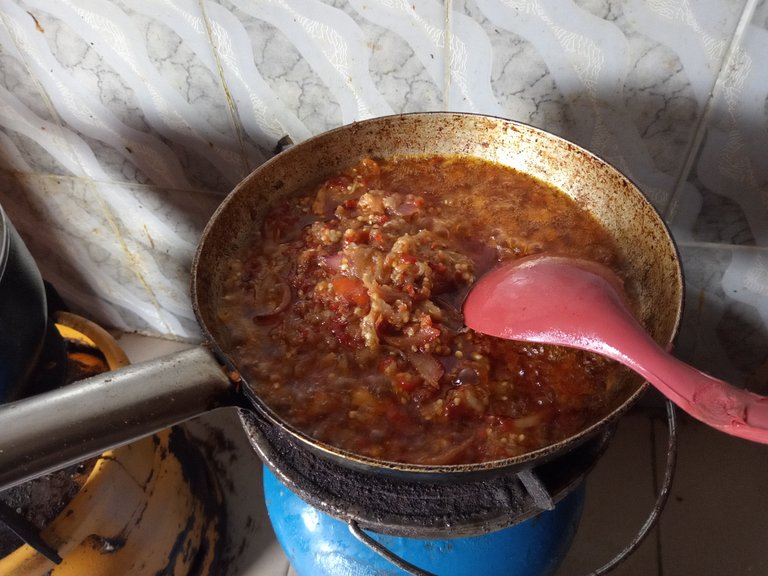 ---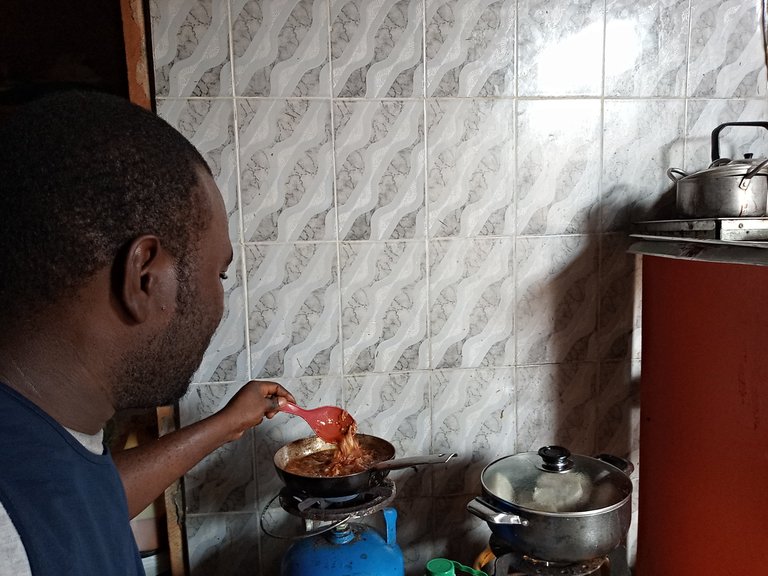 ---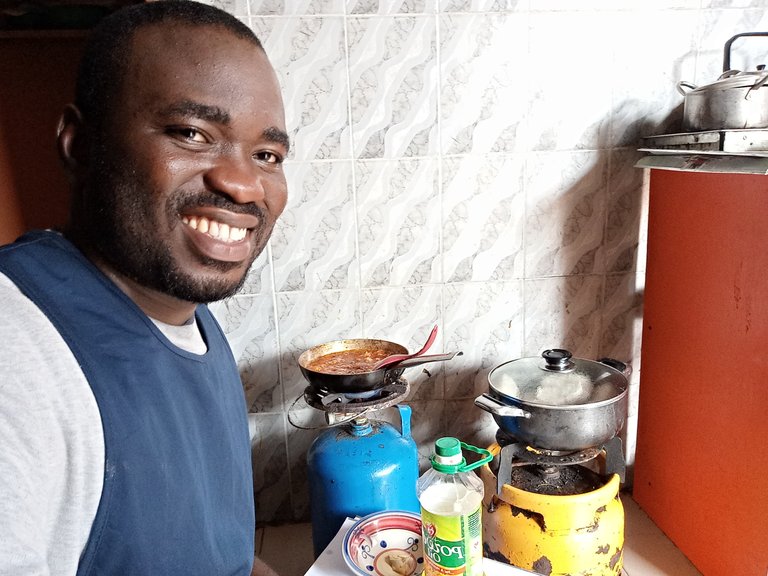 ---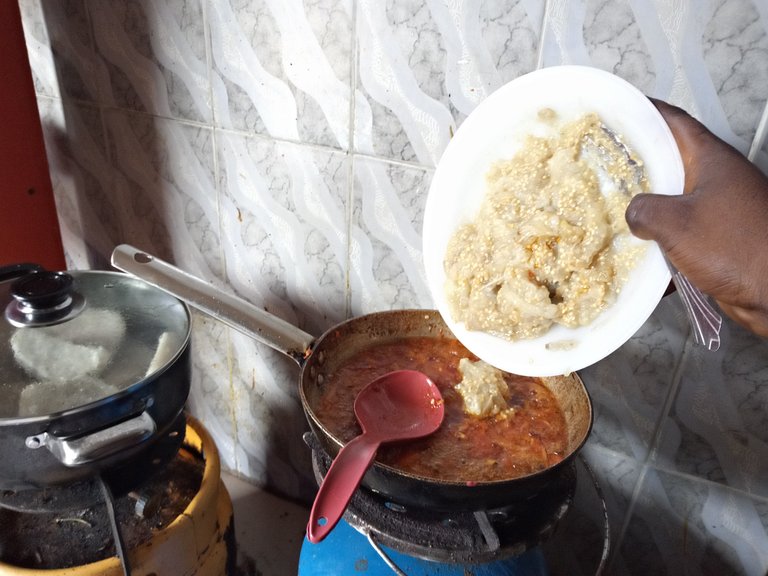 ---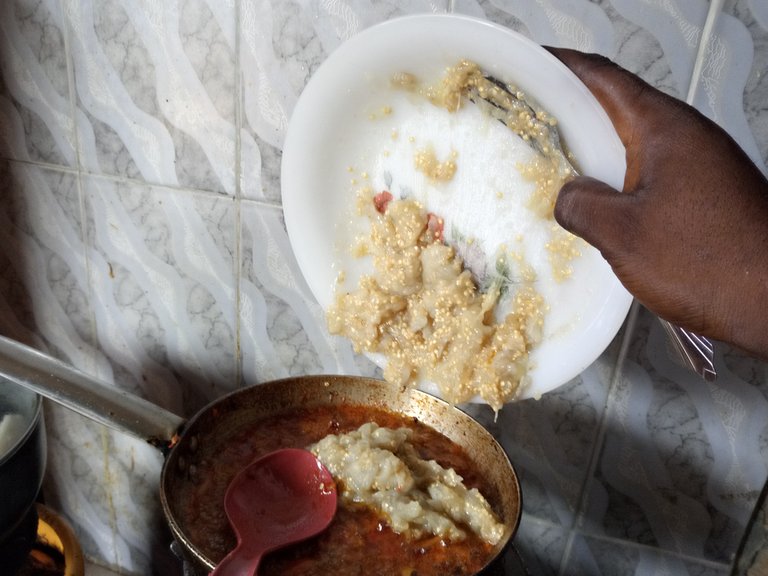 ---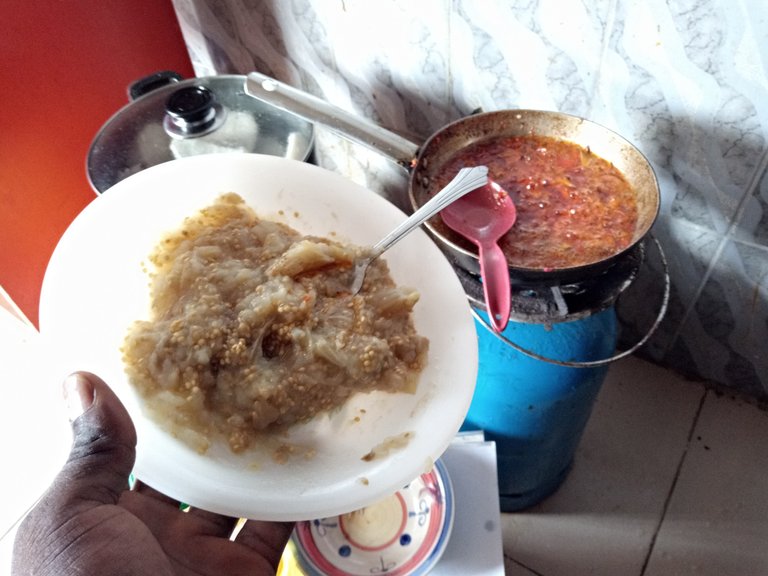 ---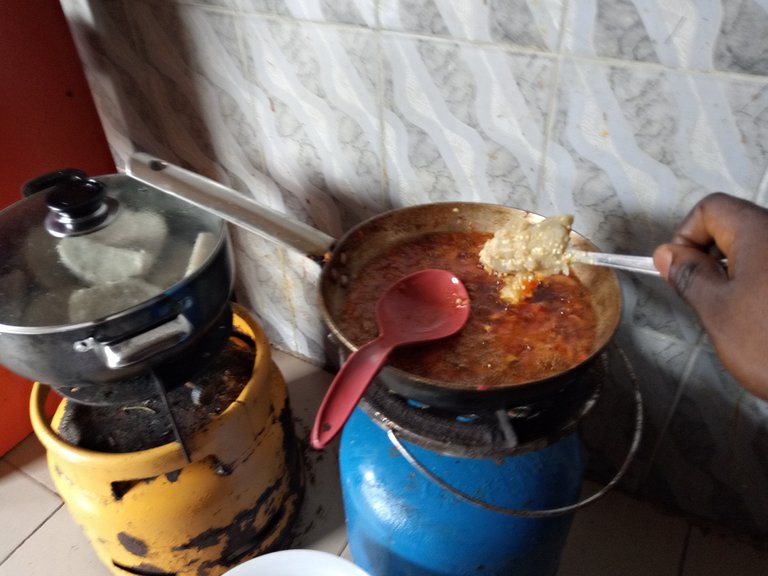 ---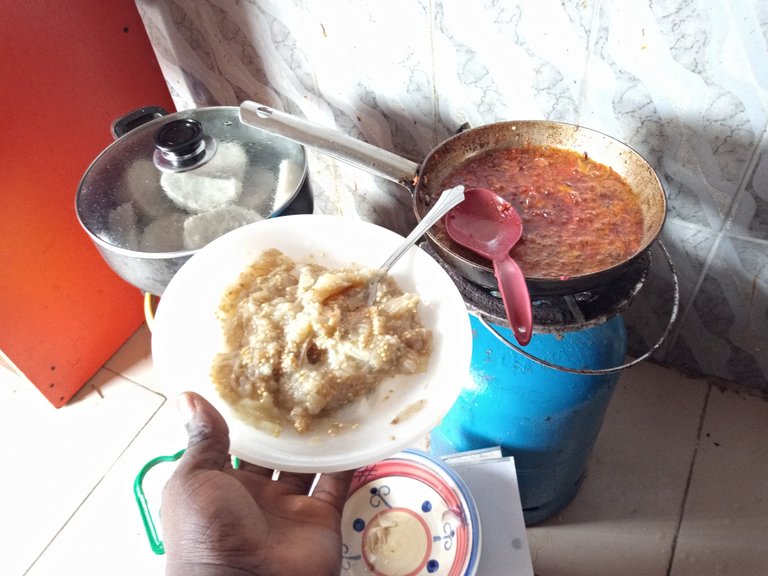 Yes, it almost done. I have to mix it thoroughly so as to make a perfect delicious food 😍💕❤️.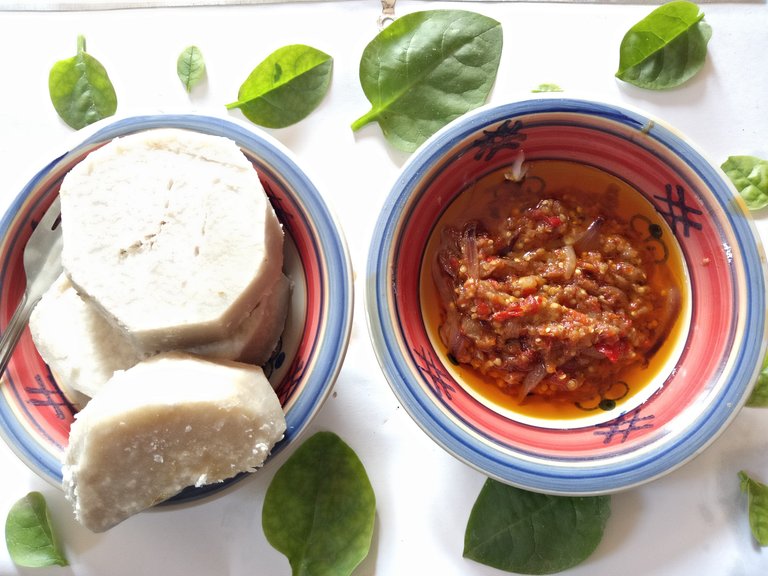 ---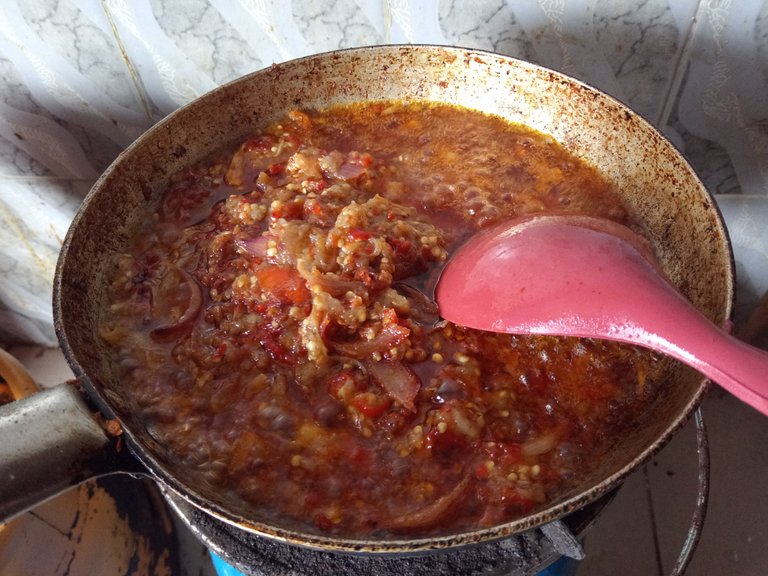 ---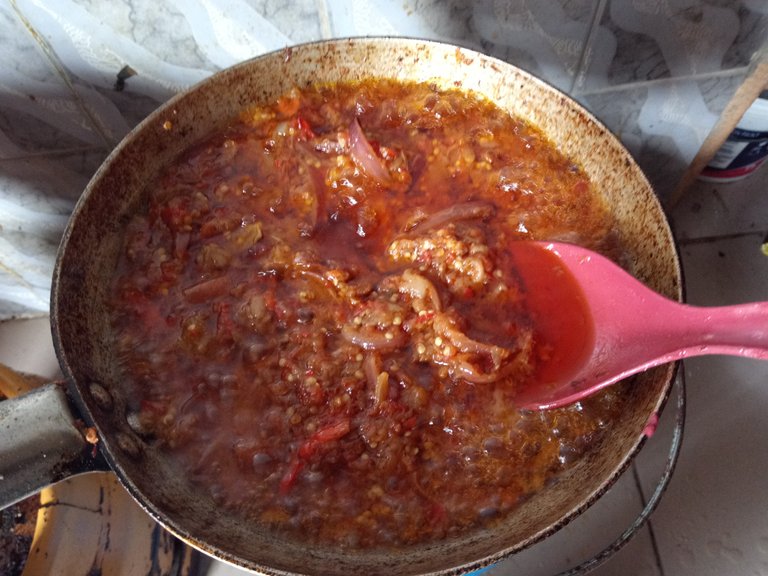 Yes, we are done Preparing the Eggplant Sauce With Boiled white yam. It takes 50 minutes in all. 😉😀.
Thanks for Stopping by 💕💘 💞.
Original content by me, @mattsanthonyit
Please important note▶️, order than any stated link in my post otherwise every other photographs used in my posts are originally taken and owned by me @mattsanthonyit, if you like them and wish to use any of my images please contact me privately. Thanks🔛.
🗓️Date Capture: 7/12/2019. 📸Medium capture: Infinix Note5 Smartphone. 🌍Location: Ilorin.Kwara State. Nigeria. 🕰️Time: 11:00am ⚡Posted with: steempeak.com
If you actually like what you see😃😄😉,watch📷📺📸 and read📖📋 I would equally be grateful for an upvote♥️⚡ a very cool comment under my comment box or a resteem 🌀😏 for everyone to see ... and perhaps maybe you would like to follow me for more of my Post to show on your own feeds. Don't miss any of my Post.🔝
Thank you for visiting my blog.
You Can As Well Join Me On Other Social Media Platform.
Twitter:
Check out Matthew O. Akinlotan [steemit @mattsanthonyit ] (@mattsanthonyit): https://twitter.com/mattsanthonyit?s=09
Instagram:
https://instagram.com/officialoluwagb...
YouTube:
[https://m.youtube.com/channel/UCPBPk8al3dnLy5xAWnbWT1w
Facebook:
( https://mobile.facebook.com/akinlotan...)
Steemit:
⬇️⬇️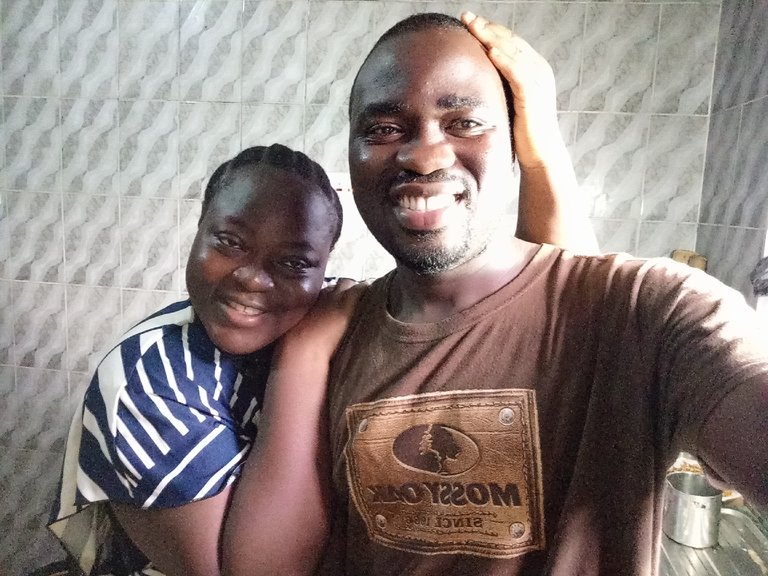 Matthew is a farmer and lover of steem. Steem has really helped my life to grow more healthier than I was, Steem testimony. I'm a Dad, husband and a hustler. Farmer who loves animals, he practice what he preaches . He is also a Photographer, Traveller , Mr Chef ( Loves Cooking) and above all, he is a blogger and a vlogger♣️♠️