| | |
| --- | --- |
| I wish I could have taken these photos today. | Ich wünschte, ich hätte diese Fotos heute machen können. |
Snow at the Lake / Schnee am See
Wörthersee / Rosental . Carinthia. Austria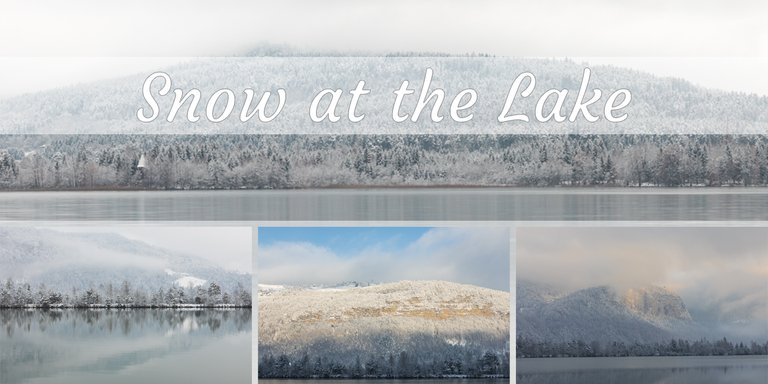 | | |
| --- | --- |
| I took these photos in the morning of December 14, 2019. The first three I have taken at the Drau reservoir in the Rosental valley and the last one I shot at the Wörthersee shortly before the other three on my way to the reservoir. | Diese Fotos habe ich am Morgen des 14. Dezember 2019 gemacht. Bei den ersten drei war ich am Drau Stausee im Rosental und das letzte habe ich kurz vorher auf dem Weg ins Rosental am Wörthersee geschossen. |
The water is calm and the trees are beautifully white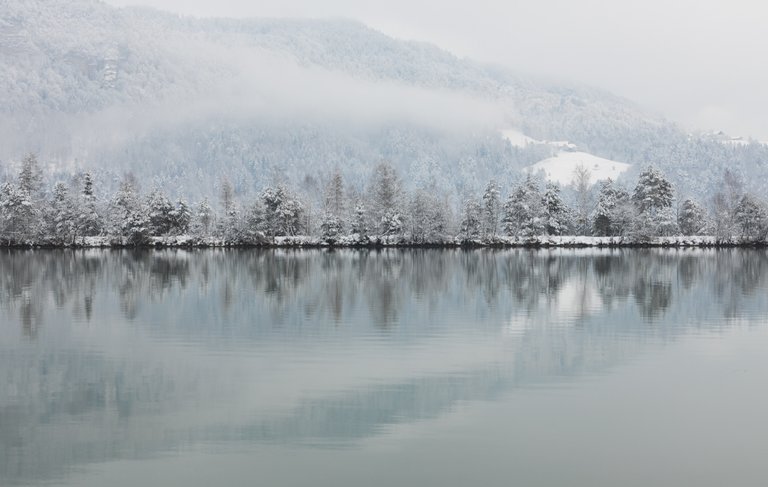 ❖ click the image for fullsize view ❖
The Snow
It sifts from leaden sieves,
It powders all the wood,
It fills with alabaster wool
The wrinkles of the road.

It makes an even face
Of mountain and of plain, —
Unbroken forehead from the east
Unto the east again.

It reaches to the fence,
It wraps it, rail by rail,
Till it is lost in fleeces;
It flings a crystal veil

On stump and stack and stem, —
The summer's empty room,
Acres of seams where harvests were,
Recordless, but for them.

The SnowIt ruffles wrists of posts,
As ankles of a queen, —
Then stills its artisans like ghosts,
Denying they have been.


by Emily Dickinson
The clouds made place for a blue morning sky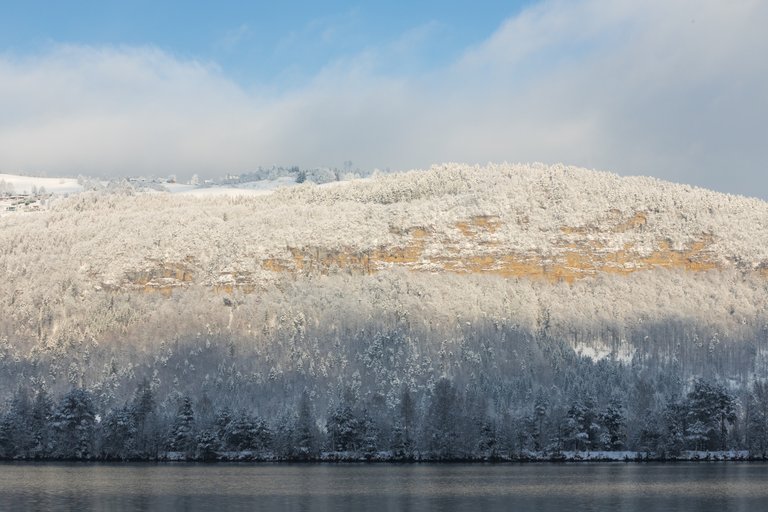 ❖ click the image for fullsize view ❖
After taking a nice walk at the reservoir on this beautiful and unfortunately until today only winter morning this winter and the snow on the trees and under my feet was conjuring up a smile on my face all the time, I thought I could once again participate in the

#WednesdayWalk by @tattoodjay
and
#MakeMeSmile by @elizacheng
😊

Nachdem ich an diesem wunderschönen und leider bisher einzigen Wintermorgen in diesem Winter einen Spaziergang am Stausee unternommen habe und der Schnee auf den Bäumen und unter meinen Füßen mir die ganze Zeit über ein Lächeln aufs Gesicht gezaubert hat, habe ich mir gedacht, ich könnte eigentlich wieder einmal bei

#WednesdayWalk von @tattoodjay
und
#MakeMeSmile von @elizacheng
mitmachen 😊
Crows flew between the clouds in the morning sun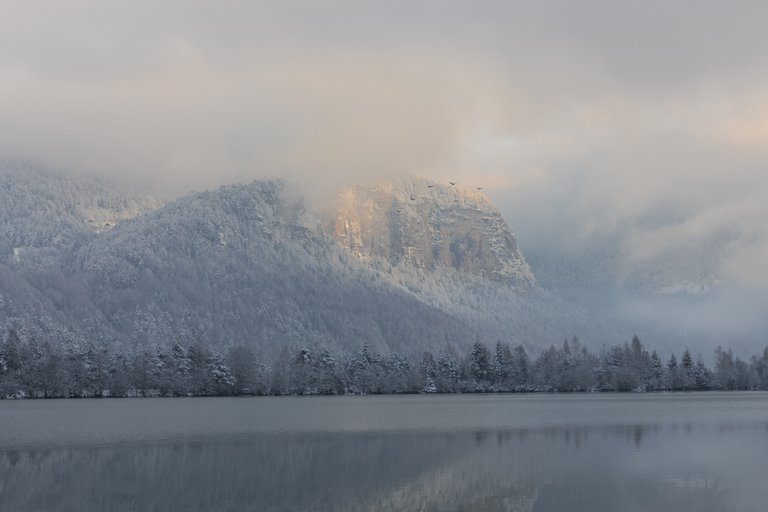 ❖ click the image for fullsize view ❖
Neuschnee
Flockenflaum zum ersten Mal zu prägen
mit des Schuhs geheimnisvoller Spur,
einen ersten schmalen Pfad zu schrägen
durch des Schneefelds jungfräuliche Flur

Kindisch ist und köstlich solch Beginnen
wenn der Wald dir um die Stirne rauscht
oder mit bestrahlten Gletscherzinnen
deine Seele leuchtende Grüße tauscht.


von Christian Morgenstern
Wörthersee north bank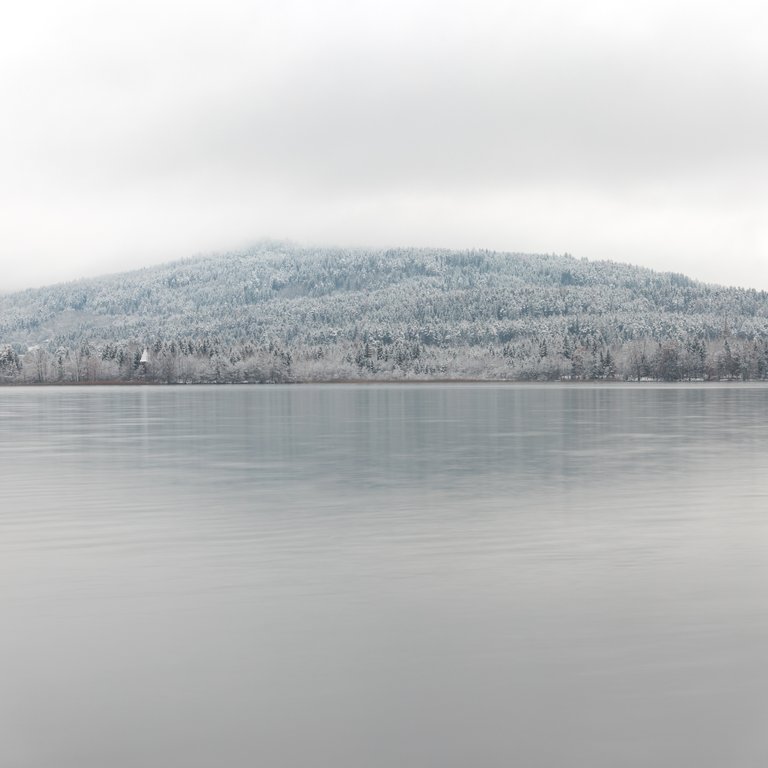 ❖ click the image for fullsize view ❖
The pictures are actually nothing special, but I took them when I last saw snow at home over a month ago, which is why I kind of like them.

The weather forecast still says no snow for the next few days, but consistently nice weather. At least I can look at these pictures and imagine how nice it could be if everything was white outside.

Die Bilder sind eigentlich nichts Besonderes, aber sie habe ich gemacht, als ich vor über einem Monat zum letzten Mal zu Hause Schnee gesehen habe, weshalb ich sie irgendwie mag.

Der Wetterbericht sagt für die nächsten Tage noch immer keinen Schnee, sondern durchwegs schönes Wetter voraus. Wenigstens kann ich mir diese Bilder anschauen und mir ausmalen, wie schön es sein könnte, wenn draußen alles weiß wäre.
Information
All photos were shot with the Canon EOS R and one of these lenses: Canon RF 24-105mm f/4 L IS USM, Canon EF 70-200mm f/4 L IS II USM, Canon EF 16-35mm 1:4L IS USM, SIGMA 105mm 1:2,8 DG MACRO HSM, SIGMA 150-600mm F5-6.3 DG OS HSM C
---
If you like my photos I would appreciate an upvote, nice comment or a resteem 😊 ... and maybe you would like to follow me, so you do not miss a post from me anymore.
Thank you for visiting my blog,
have a nice evening,



Photos and Text: Johann Piber | All rights reserved - do not use without my permission
#originalcontent #originalworks
2020-01-22