Several months ago I wrote a post about my intention to get a new camera and asked for a few suggestions from those on the blockchain in the know - Of course, the replies rolled in thick and fast were a little thin on the ground to be honest - Possibly due to the fact most people don't actually read blogs all the way through. Never fear though, I pushed on without the collective wisdom I could have gained from you steem-nutbags, and did my own research.
It must be said, at this early stage, that I am not a photographer. In fact, I'm so far away from being a photographer that I could be anything else but a photographer - I'm closer to being an astronaut than a photographer - And yet, I like to take photos and so I point whatever camera I happen to have at the time, including my phone, at things and hope for the best...Attaining far from the best mostly.
I've been pointing a Panasonic TZ110 at things for the last 18 months and have never really been happy with the results. I'm not sure why, just the clarity I guess, the colours. I'm pretty sure it's due to my lack of skill plus, to be honest, I dropped the camera at Dyrham Park in the UK last June which I assume has had some detrimental effects upon the output. [Note to self: Don't drop cameras, unless they are someone else's.]
Last Sunday I headed into the camera shop I [frequent] visit rarely when I need camera stuff, a place I've been going for 25 years, and told the guy about my needs and gave him a set of parameters to work around. To his credit he listened, a thing many people these days don't know how to do, and he gave me three options that matched my needs.
Among his suggested options was the Olympus OM-D E-M10 Mk III which is the camera I decided to buy.
It fitted my budget, first and foremost, and came with a three-lens package: 14-42mm, 40-150mm and 25mm. I'd like to pick up a macro-lens at some stage and there's two options there at $599 and $439 - That will come later though.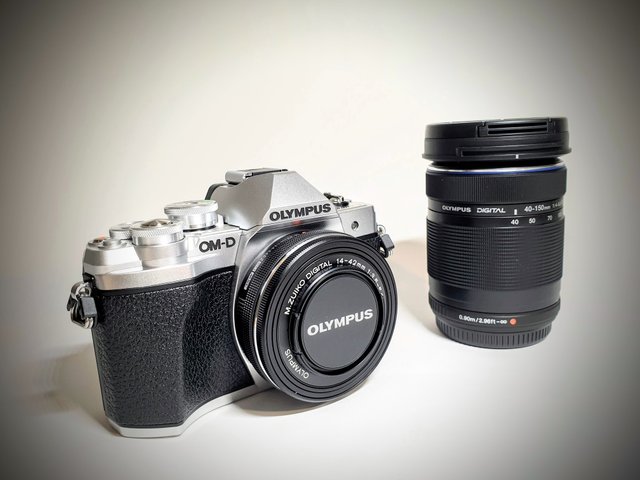 Besides the camera meeting my budget I liked the feel of it in the hand - Not quite as nice as the larger variants but still comfortable and chunky enough.
It has one of the largest image sensors in-class (way larger than my Panasonic) and 5-axis image-stabilisation. (Yaw, pitch, roll, vertical shift, horizontal shift). From what I've researched, this alone, will improve my images. The guy at the shop apparently had the shutter open for 8 seconds whilst taking a hand-held shot and it came out well...Sounded impressive. I think this will help a lot in macro-shooting.
I like the 3" tilt adjustable monitor which has very good image display and colour-quality, the tilt feature is one I've never had in a camera, and it takes 8.6 fps when sequential shooting - Not super quick, but fast enough. Video is 4K which wasn't such a selling-point for me however it may come in handy at some stage as I could take still images off the 4K video.
There's obviously a lot of other features but all those numbers give me a headache, and I don't really know what they mean anyway.
This will be the first mirrorless camera I've had and whilst I suppose there's many photographers screaming sacrilege right now, from what I've heard for recreational photographers scrubbers like me it's a good way to go. To be honest I don't think it will make any difference to my shots, either way, but it seems to be the way of the future for low-end cameras like this so I might as well give it a crack.
I paid $999 for the camera and lenses - The 25mm is via redemption so that will arrive in a few weeks I guess - The redemption process was smooth and seamless and all I had to do was provide proof of purchase.
My budget was $1100 so I had some left over to pick up a pretty cool quick-release strap by Peak Design. I really liked the next model up but at $1800 I couldn't have justified the cost. I am, after all, not a photographer and have no real need, or the skills required, for a higher-end camera. Oh, you'll note i chose the silver despite some concerns that the dials may be more difficult to see in brought sunlight. I checked with @tarazkp who I know also has a silver camera and he seemed to think it was fine. I liked the retro-old-school look of the silver and so I went with it.
This is the camera I'll be taking to Europe mid-next year and I think I've got a trip in between then and now so it'll get a work out there also. I'm not a huge fan of having to learn camera's however the camera shop I bought it from conduct Olympus-specific training which I can attend free of charge plus Olympus have a similar thing which I will also do - I want to get the best from my camera and that seems like a good way to do so.
I don't expect to suddenly become a pulitzer-prize-winning photographer with this camera but I am keen to get some better results and hope this camera helps me do so.
I have to ask you something though...Can you point me at a good image editor program? I don't have, or know how to use, Photoshop and figure its features would be far more than I require, but if you know of something a little more basic I'd be happy to hear about it. I'm even willing to pay you for it...With some sage advice...Something like, "be good to your mother," or "look both ways before you cross the road." Please reply if you know of something that is easy to use and would suit my needs.
---
Design and create your ideal life, don't live it by default
Discord: @galenkp#9209 🇦🇺