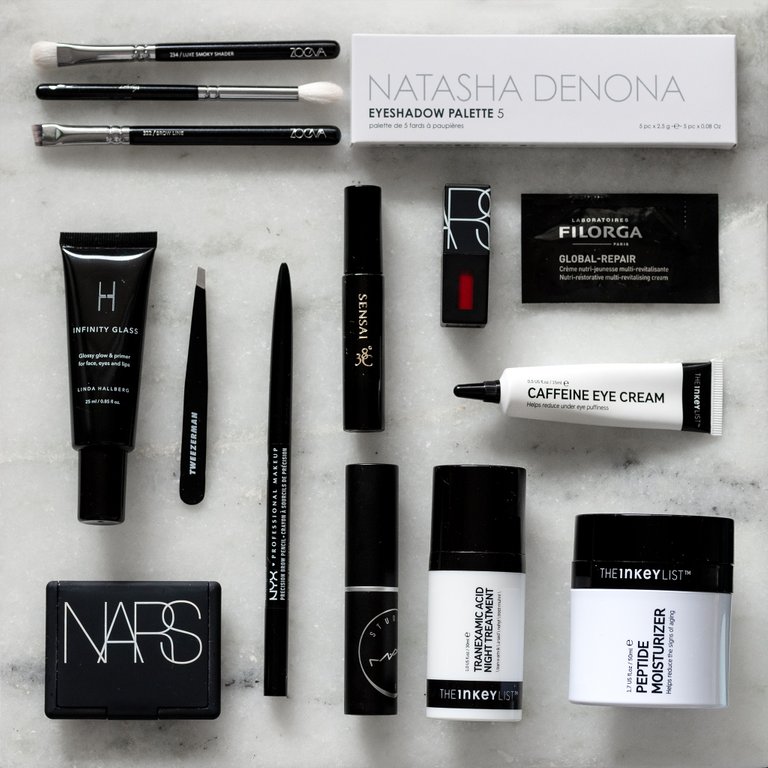 I do a lot of different kinds of photography, but one thing I hardly ever do is take product shots of any kind. I'm not trained in the art of influencing and taking aesthetically pleasing images of random items.
There has been this trend called flatlay for a few years already, mainly present on Instagram and lifestyle blogs, but also on fashion and lifestyle magazines, which I don't read much. Flat lays are most often seen done with cosmetics or stationary, but also with food and all sort of small items that can be arranged on a flat surface and shot straight from above. I find these kind of pictures extremely pleasing to the eye, and so do a lot of people. Pretty things make me happy.
I've been meaning to give it a go myself for a long time already, and finally did a trial run today. Let me tell you, this is wayyyyy harder than it looks. Picking items that go well together, arranging them, getting everything in focus without a tripod and only natural light. People who do it well make it look sooooo easy.
The only flat surface that I had to use for these, is a small marble tray, so it was a bit limiting in terms of what items I could fit in it. I would have liked to include more items, I think that would look better. I do need to get some black and white boards, which I will pick up from an art store once it's less windy outside. The other major problem is shooting with natural light and handheld, I had to push the ISO and use a wider aperture than what I would have liked. I was shooting with an 85mm lens in order to not get distortion, but that meant I needed a smaller aperture to get everything in focus. A tripod with that extension thingy that can be used so I can shoot straight from above is on the shopping list, quite high up there too. My current tripod is on its last leg, quite literally. I do need to pick up some Blu-Tack too, it was really fucking annoying trying to keep the round items in their place. Looking at these, I realised I should have tried to open up the shadows by using a reflector, or at least a white sheet on the side.
Next time, this was a trial run. I do have to say, this was quite fun.