Hello dear friends,
Hallo liebe Freunde,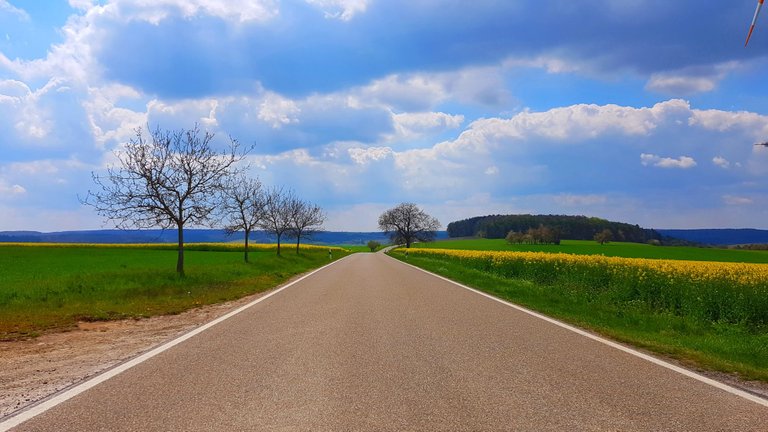 naturally I have the Überschreift of my article jokingly selected. I wanted to point out with it v.a. that I live here in Lower Franconia in a partly so isolated area, so that at actually busy day times such photos are possible.
🏰 🏰 🏰
selbstverständlich habe ich die Überschreift meines Artikels scherzhaft gewählt. Ich wollte damit v.a. darauf hinweisen, daß ich hier in Unterfranken in einer teilweise so abgeschiedenen Gegend lebe, so daß zu eigentlich belebten Tageszeiten derartige Fotos möglich sind.
---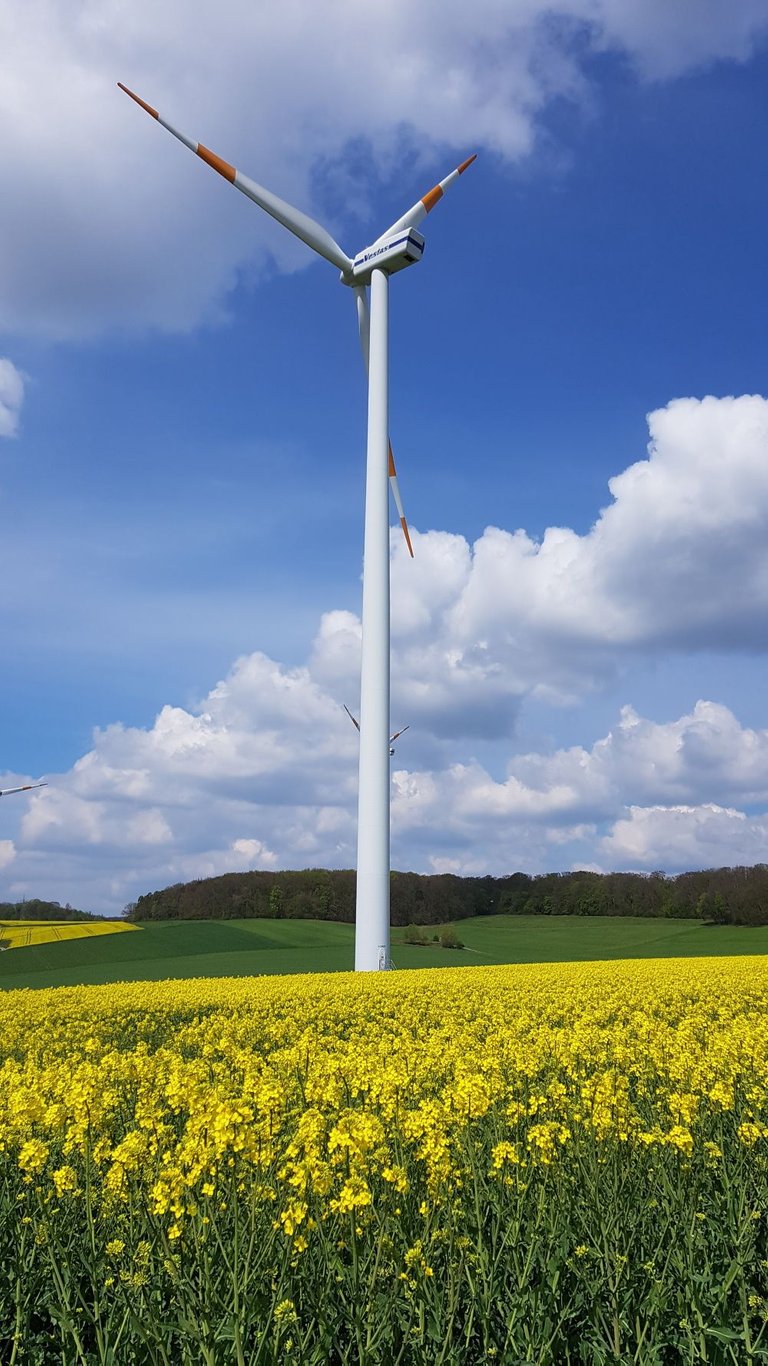 In conjunction with the beautifully blooming rapeseed fields, even the wind turbines are visually pleasing to some extent. But for my taste, they should not be more. Probably this hope will not be heard. However, in the long run, nature will win anyway. For this I only need a look at my garage driveway. There, nature impressively demonstrates to me how quickly it reclaims the structures built by humans.
🌄 🕊 🕊 🌄
In Verbindung mit den wunderschön blühenden Rapsfeldern wissen sogar die Windräder optisch einigermaßen zu gefallen. Mehr müssten es für meinen Geschmack aber nicht werden. Wahrscheinlich wird diese Hoffnung nicht erhört werden. Allerdings wird auf lange Sicht die Natur so oder so gewinnen. Dazu benötige ich nur einen Blick auf meine Garageneinfahrt. Dort demonstriert mir die Natur eindrucksvoll, wie schnell sie sich die von Menschen erbauten Gebilde zurückerobert.
---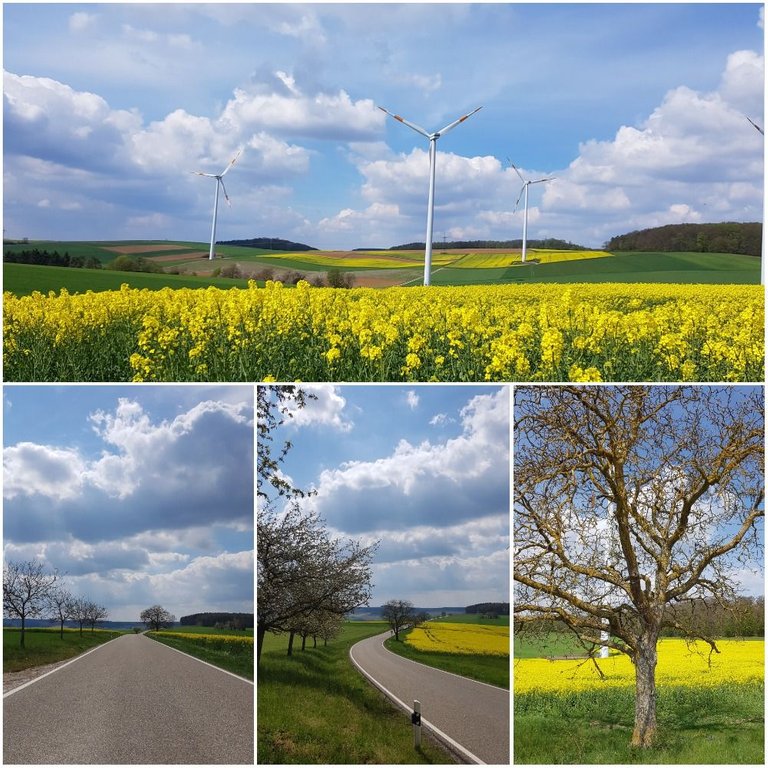 The pictures in this series were taken between Tauberbischofsheim and Kist near Würzburg. Großrinderfeld (= big cattle field) is also nearby. A funny town name, isn't it?
🌄 🕊 🕊 🌄
Die Bilder dieser Reihe habe ich in der zwischen Tauberbischofsheim umd Kist bei Würzburg geschossen. Auch Großrinderfeld ist in der Nähe. Ein lustiger Ortsname, oder?
---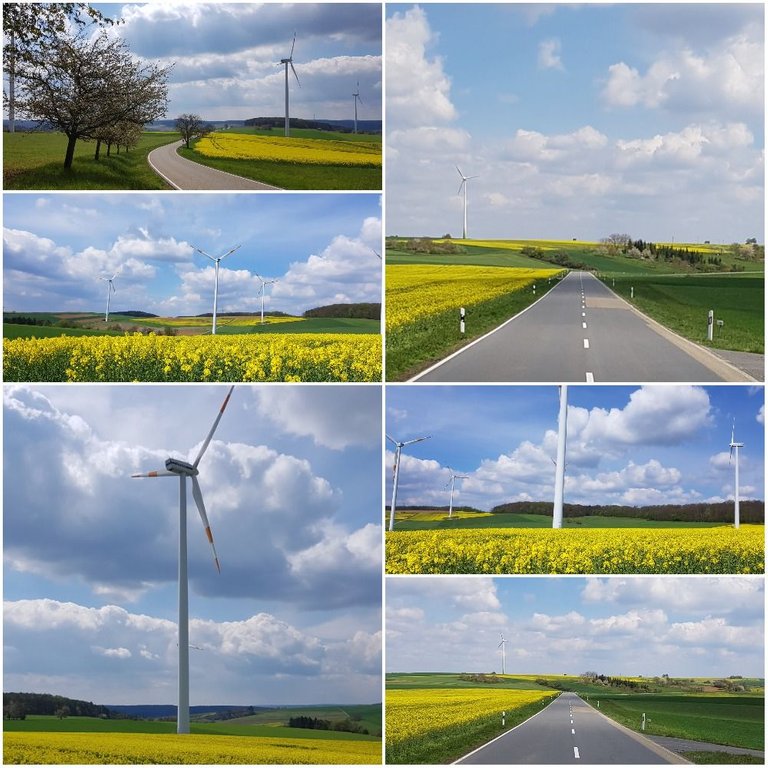 For once, I completed the tour by car. With my pedelec I would come, as far as the range of my battery, quite quickly to my limits. Of course, this has nothing to do with my physical condition and my abdominal girth! ;-)
🌄 🕊 🕊 🌄
Ausnahmsweise habe ich die Tour mal mit dem Auto absolviert. Mit meinem Pedelec käme ich, was die Reichweite meines Akkus angeht, recht schnell an meine Grenzen. Selbstverständlich hat das nichts mit meiner körperlichen Verfassung und meinem Bauchumfang zu tun! ;-)
---
Even though I was on the road by car this time, I rewarded myself in the evening with a cool Pilsener. I want the Bosch engine of my bike on the next tour finally not underload.
🌄 🕊 🕊 🌄
Auch wenn ich dieses mal mit dem Auto unterwegs war, habe ich mich Abends mit einem kühlen Pilsener belohnt. Ich will den Bosch Motor meines Bikes auf der nächsten Tour schließlich nicht unterfordern.
---
Ich hoffe, Euch gefällt mein neuer Beitrag für HIVE....
I hope you like my new contribution for HIVE.....
---
I only used original pictures, that I have shot with a Canon EOS 600D / Samsung Galaxy S7.