Tous confinés dans nos demeures, chaque initiative porteuse d'espoir s'avère la bienvenue.
Inspirée de paroles se voulant rassurantes de la part du Premier Ministre du Québec lors de son point de presse quotidien,une sympathique initiative a vu le jour un peu partout dans la province. Peu à peu, une multitudes d'arcs-en-ciel tous plus colorées les uns que les autres, sont apparus aux fenêtres de nos logis de réclusion.
Et soudainement, ralliant petits et grands, ces arcs-en-ciel de l'espoir nous rappelle que tous ensemble on va "passer à travers" !
Voici le cliché d'un ARC-EN-CIEL dessiné dans la vitrine d'une petite épicerie de mon quartier.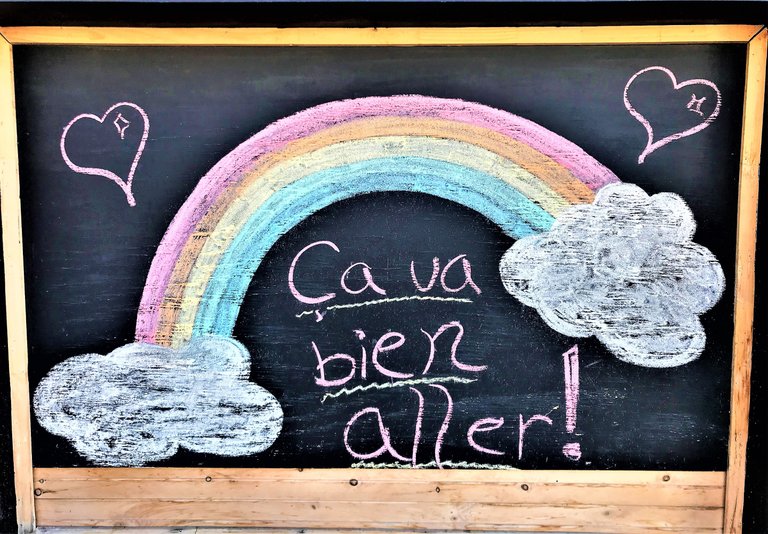 Here is the picture of a RAINBOW drawn in the window of a small grocery store in my neighborhood .
[EN]
All confined to our homes, every hopeful initiative is welcome .
Inspired by the words of the Prime Minister of Quebec to reassure us during his daily press briefing, a sympathetic initiative was born all over the province. Little by little, a multitude of rainbows, each more colorful than the other, appeared in the windows of our seclusion homes.
And suddenly, rallying young and old, these rainbows of hope reminds us that all together we are going to "get through"!
Tourlou !