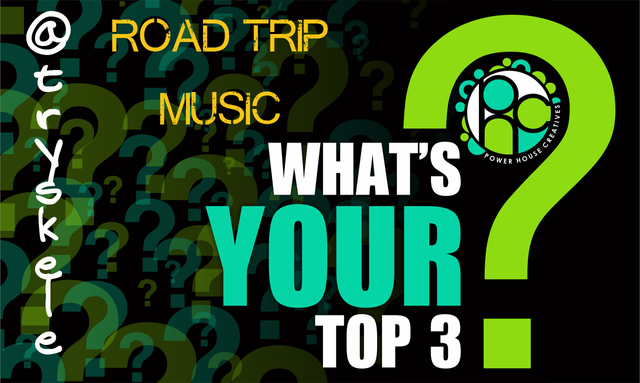 This is my entry into this month's PHC Top 3 contest.
This months topic is Road Trip Music
My Nominations are:
Talking Heads
My Reasons for the Nomination
One of my all time favorite songs is 'Road to Nowhere' It just sets the pace for where ever we are headed. Of course the husband thinks I'm nuts and that's fine with me. The beat in itself is great for a road trip. You can bounce or bob your head. I always feel like I am a road to nowhere.
Well we know where we're going
But we don't know where we've been
Talking Heads is a standard in my travel library.
Journey
My Reasons for the Nomination
There is just something to strong lyrics, beautiful vocals and belting out along with them at 3 am to stay awake. I have various albums by Journey but Time3 (time cubed) It is one of the best compilations out there which gives a complete a history of a band.
The girl can't help it, she needs more
He hasn't found what he's lookin' for
They're still standing in the rain
He can't help it, and she's just that way
Stone Temple Pilots
My Reasons for the Nomination
LOUD and easy to BELT out. Isn't that what you want for road trip music? Besides there is something about Scott Weiland's voice that has struck a chord within me. Regardless of the song, you can feel the bittersweetness that became his life.
Leavin' on a southern train
Only yesterday you lied
Promises of what I seemed to be
Only watched the time go by
I hope you enjoyed my choices. Yes, I usually pick a sound I want not always a particular song. I want what I know I can sing with, yet just chill and listen to without getting bored. When I drive distance, I love to sing. The hubby gets tired of it, but I don't care. The songs I chose from each one are among my favorite to sing. Mostly due to being in my range, but I love the composition overall.

Curation Trail
We have a curation trail for @phctop3, which you can follow here to continue to add to the prize pool and the growth of the competition. Don't forget to log into steemconnect.

---

Pay It Forward Contests
---

---


Brought to you by @quochuy (steem witness)
---


Steemitcentral
---

---
Thank you for your continued support!
Love,