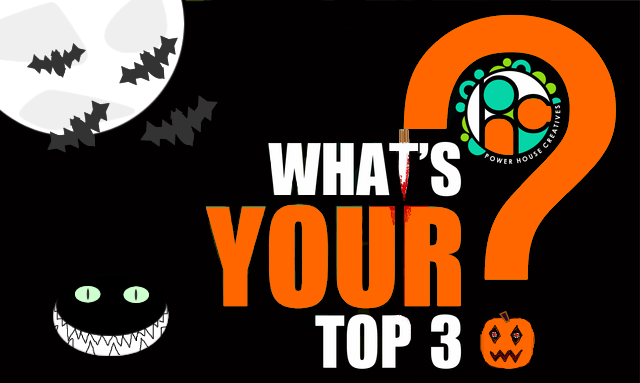 A Spooktacular Month!
Ooooooo what a scary month it's been here at Top 3 as we've well and truly embraced the Halloween season! With full moons shining bright, we've enjoyed reading all kinds of spooky stories about your most scary characters… well, most of us - you can find @cheese4ead and @nickyhavey hiding behind the sofa watching cat videos on YouTube! Yes, you guys and gals struck fear into our hearts and I'm sure those steemians who were brave enough to read your posts will thank you for the nightmares you gave them in the subsequent days!
So, let's have a look to see which hellish characters have struck a chord with you dark hearted Steemians as we reveal this month's winners!

Contest Results
Without further ado, it is time to present our winners for this round. Using dpoll, we let you, the audience, vote for your favorites thus giving us the ultimate results! We then assign points to those voting positions and add up the three nominations for each contestant to make a final league table.
Here is the final league table: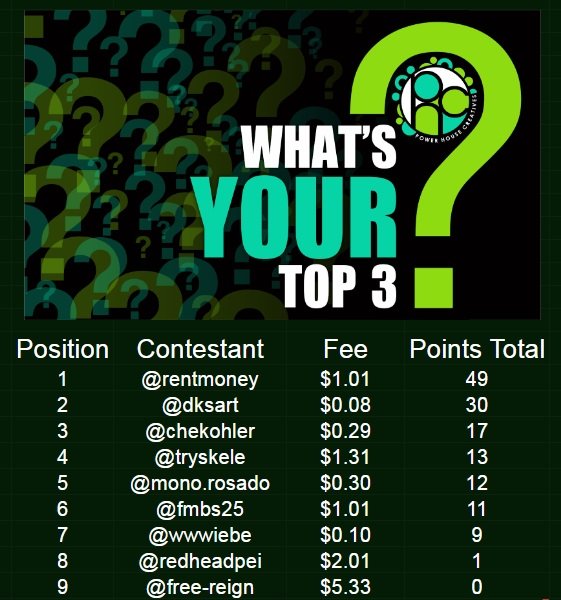 Link to post - Entry fee paid $1.01 Prize $12.28
Link to post - Entry fee paid $0.08 Prize $0.65
Link to post - Entry fee paid $0.29 Prize $1.16

Discord Engagement Reward
Congratulations to @fionasfavourites for making it to "minnow" rank in our Discord and being super engaged! We've also sent you one SBI share!
Congratulations to the winners for the excellent nominations and winning this month's contest round ! Be sure to check your wallets as the prize payouts will be with you shortly!

We Are On Discord!
Yay!! We now have our own DISCORD server!
With the smashing success of the contest, we thought it best to open up a server to make it easier for our amazing contestants to come ask questions, interact and drop their links to entry posts. This way you can make sure you never miss an announcement and easily be able to check out your monthly competition ;)
You can join our Discord server here, which is where all the FAQ and contest rules will be housed :)
Showing Gratitude
A huge thank you to @jaynie for her support and artwork, making our contest look mighty fine and classy. We'd also like to thank @bluemist and @appreciator for their amazing support this month by supporting the awesome contest entries and increasing our prize pool to one of the biggest ones yet!
Such thanks should also be given to our delegators, we appreciate this immense generosity!!
Why delegate to the PHC Top 3?
The more delegations we receive the better our upvote will be. The more support we can give our contestants the bigger the prize pool.
Also, all those that delegate to the PHC Top 3 account will receive delegator support. @phctop3 will upvote your posts up to 2 times a day, every day.
This will happen between the 9th of each month and the end of each month. This is in order to reward our delegators and to show our gratitude. Delegators will also get a mention on our official posts.
If you would like to delegate to the @phctop3, click one of the links below to delegate that amount of SP to our account.

Thanks for entering this month's contest. We hope you had fun. Don't forget to check for the Contest Start Post for next month's competition on the 1st!!
PHC Top 3 Panel