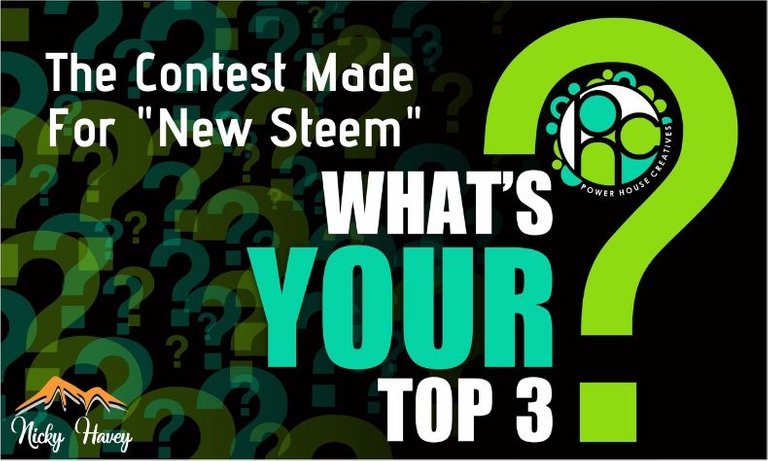 Made For "New Steem"? 🤔
Yes, made for "new steem"!
Since HF21 was introduced, we've all seen a big change in behaviour from the steem community. Bid bots have since turned to manual curation and people generally want to help to increase the quality of posts, which increases the appeal of steem for people to join the platform, which increases the amount of users, increasing a demand for buying steem and subsequently increasing it's price (one hopes, not financial advice 🙂 ).
What @plantstoplanks, @cheese4ead, @foxyspirit and myself have been working on since March 2019 is a contest that will help address the points above whilst creating a friendly, engaging pocket of the steem community for ALL to join that is not shy of banter either!
How have we done this? With the Top 3 Contest of course! Let me explain.
1 - Helping Those Struggling For Content 🖊
Each month, we come up with a light hearted topic, asking the steem community what their top 3 favourite things are about it. What this does is help those who are struggling to think of something to write - let's face it, everyone who creates content always reaches "writer's block". But as our topics each month range from road trip songs to scary characters with everything else in between, it will likely be different to what you normally write about and perhaps help get that creative spark going to write a beautiful post 👍
2 - Developing Reasoning Skills 💭
We don't just want a list of 3 things that people like, where's the fun in that? What we are looking for is a reason why each of those 3 things were chosen and we know people can do better than "because I like it". If we have seen entries like that with minimal effort, we don't accept them like that and always leave a comment with our @phctop3 account to encourage people to expand on their reasoning.
Not only does this improve writing skills but quite a few entry posts to the contest get picked up by curation guilds such as @curie, @ocd, @c-squared and @appreciator to name a few! So, depending on how far one goes with their reasoning and storytelling, it can lead to some pretty handsome rewards. Who doesn't like rewards?! 🤑
3 - Growing The Prize Pool Organically 💰
We want everyone who gets involved with the contest to get big upvotes on their posts as it contributes to the prize pool of the contest and grows their own account. SO much win!
Basically, to enter, you pay the liquid amount of the STEEM post payout and keep the SP to power up your account. All the payout information is in the "Author Rewards" section of your Steemit wallet but to help clarify what is needed for a valid entry to the contest, in the example below you would send the 0.014 SBD and 6.587 STEEM over to the @phctop3 account as your entry fee.

That liquid amount contributes to the prize pool of the contest which will be given out at the end of the month to those that finish up in the top 3 spots. So just by virtue of entering the contest, you are growing your SP, creating a cool post but also have a chance to win back more if you finish in the prize positions - win-win!
Not only that but the panelists will also chip in with their top 3 picks to help grow the prize pool with our post rewards but we are forbidden to enter the contest. You may agree or disagree with what we choose but it gives you an opportunity to write your own entry and I'll be sharing my nominations later on in the blog - leave a comment and get involved 😃
Quick Note On Purchased Votes...
HOWEVER, we don't want to see purchased votes to artificially inflate the prize pool, no matter what the size of your account is. We had a dispute last month for the first time since we started about purchased votes used on a contest entry post and although the issue was resolved amicably (thanks @acidyo for contributing to the contest prize pool) we do NOT advocate the use of purchasing upvotes and will be taking a stronger stance against it moving forward ☝️
If you are found to purchase upvotes for your entry post then you won't be eligible for the contest
4 - Engaging The Steem Community 👨‍👩‍👧‍👦
Once we have received and confirmed entries for eligibility, we then put them to a dpoll where the steem community decides their favourites (the panel is not allowed to vote on it either). As you can see, we don't want to have any influence over the results in any way shape or form and we have wizards who can detect any multiple/alt account voting so it's as fair as we can make it.
In terms of other community related activities, we recently just started our Discord server where previous entrants have joined, interacted with every post that gets entered (comments, upvotes and resteems) and there more opportunities to win some STEEM prizes. Everyone talks about the choices in the chat which can often lead to hilarious conversations about whatever the topic is and plenty of banter thrown around the place! Honestly, it's like hanging out with your friends. Oh and if you manage to get a friend to join the contest with an eligible entry then you get an SBI for your efforts 😉
This is not an exclusive contest - anyone on steem can enter!
5 - "Dishing Out The Dosh" 💸
Doing what with the who now?
Since we started this contest, we've given out over $100 in steem prizes and that doesn't include the 240 STEEM sponsorship we got from curie in the first 4 months. With amazing support from @appreciator and @bluemist in the last few months, the prize pool has continued to grow and we have got more prizes coming up in 2020 as we are finalising a few details before the end of the year... did someone say "Super League"? Oh jeez, spoiler alert 😬
So... not bad prizes up for grabs for just telling us what your top 3 favourite things are hey - why not get involved? 🙃
Anyway, enough of the sales pitch, I'm going to go through what my top 3 favourite things for this months topic - "Comfort Foods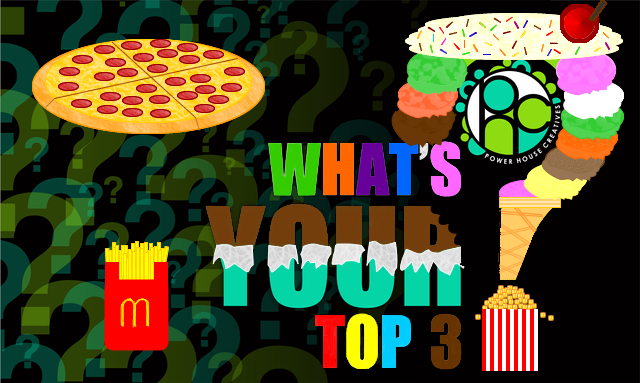 Top 3 Comfort Foods
We've all been there. Had a rough day at work, been in some argument or in dire need of a pick me up. Watching mindless TV to take the mind off it works but only to some extent. What we really need in times like these are comfort food as you can't really beat the healing powers of it - there's just something about filling your body with carbs and sugar when you're down to bring you back to the fray. Here's my picks:
Chocolate Ice Cream
Anyone who knows me in real life will 100% confirm that I'm both a chocoholic and an ice cream lover but putting the two together is an unquestionably flawless plan. When I was travelling in New Zealand with the adventure group earlier in the year, I did start feeling a little homesick and I knew what would calm me down... a quick trip to a Tip Top Ice Cream shop and a few scoops of chocolate ice cream ironically made me feel warm inside. I'd also get brain freeze because I'd be noshing on it too quickly but all part of the awesome experience!
Chocolate ice cream has also given me a lot of joy even when I've not been feeling down. Actually, it's made me feel even more up when I've been on UK holidays, particularly to Cornwall... you really can't beat Cornish ice cream. Especially in a cone...🤤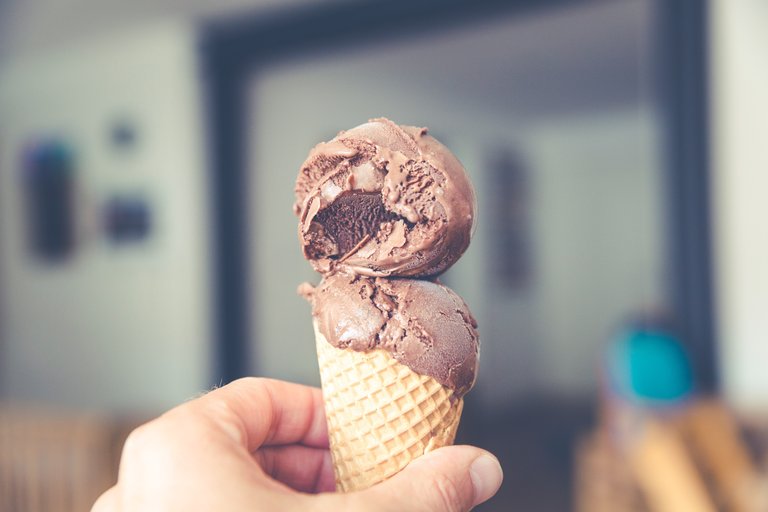 Image Source
Pepperoni (Americano) Pizza
Good God pepperoni pizzas have given me many a comforting moment! The smell of the cheese as it melts in to the dough, the crispy base providing a beautiful crunchy texture and then the flavour of the pepperoni on top just... just... ahhh! 🍕
I will always remember the "all-you-can-eat" pizza night I had in Franz Josef, New Zealand as we had a long day there, hiking up the glacier and being a part of nature, then coming back in the evening to a pizza fest, sitting at our table with a raging fire keeping us warm behind us and basically eating our body weight in pizza. I tried other combinations but nothing compared to the pepperoni slices we had... Oh boy... better wipe that saliva off the keyboard now...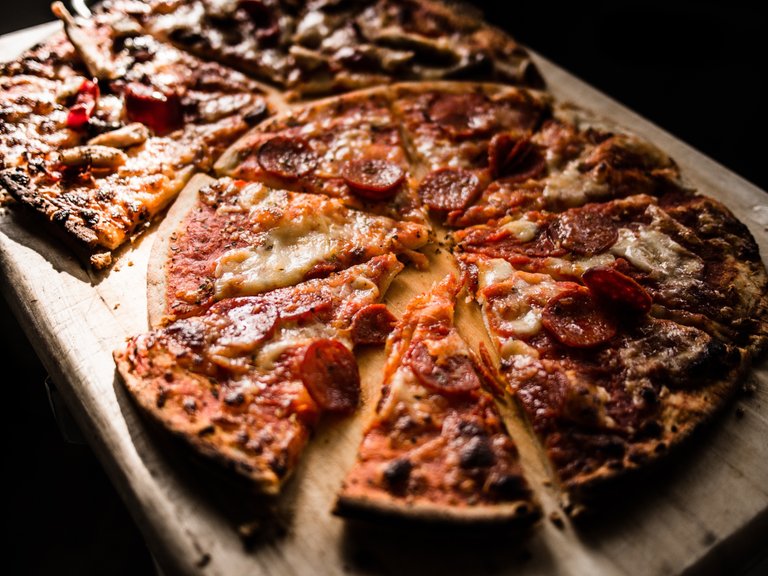 Image Source
Salt & Vinegar McCoys (Crisps)
Yes, in the UK we call them crisps. They are (incorrectly) called "chips" (BAHAHAHA) in other parts of the world but essentially, I have my favourite packet that I go to for a warm, salty hug... and it doesn't get much warmer or saltier than a packet of Salt & Vinegar McCoys crisps. The shear amount of salt on these fried potato, ridged and crunchy fiends is enough to firmly grip the heart and water the eyes whilst giving you a straining cough as the salt gives you a tickle on the way down.
"Why is this comfort food? None of that sounds REMOTELY comforting" I hear you ask. Well, it's because of those magic moments that cause you to fight for survival that all your troubles seem to go away, so it's VERY comforting 😂 But the flavour of the vinegar... beautiful. You only need a 25g packet and I've never felt better after it, 47.5g "grab bags" (what you get at service stations) are probably a little too excessive, you may want to break your "a-salt" on them up in to two halves (see what I did there?). Just make sure you have plenty of water afterwards, that's all I'll say!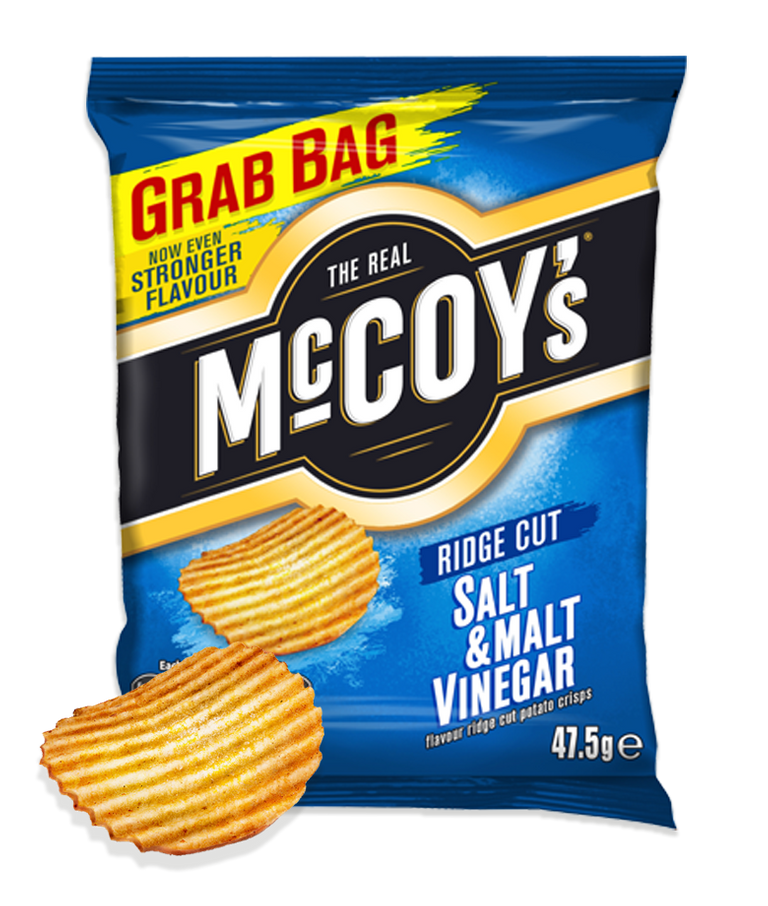 Image Source
Now It's Your Turn!
So those are my top 3 comfort foods, what about you? Here's a quick bit on how to enter the contest (taken from the entry post here):
How To Enter:
1 - Create a blog post with your top 3 nominations along with your reasoning behind them. The #phctop3 tag MUST be the first tag used
2 - Put a link to your blog in the comments section of the @phctop3 blog.
3 - Set your post payout to 50/50. You keep the SP and then transfer the STEEM and/or SBD (whichever is paid out at the time) to @phctop3 with a link to your blog post entry in the transfer memo. This is the minimum entry fee, but you can add as much as you like to it! The more you add, the more you can win.There is no maximum entry fee.
Let's have it! I look forward to reading all your entries and stories and wish you the best with the contest!
Nicky
P.S. Join the Discord server if you have any questions 😎
All the liquid amount from this post payout will be added to this month's prize pool 👍