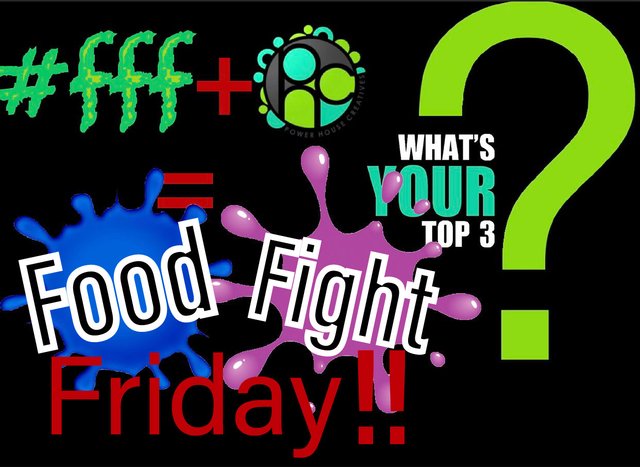 Under most circumstances, I could stop at the cover image and this contender will be first place in trending. However, the title says Keepin' it in The Spirit Of Things and just because I gave myself one thumb blister, ruined a screen protector, and spent more time on the cover image than I do any of my super short comments doesn't mean that cover image is gonna cut the cheese it. Have you seen the things @zord189 does on the regular? Dude does this stuff in his sleep—no blisters or anything! So, I better not stop at the cover image but I will stop patting myself on the back now (for now) and say "pull up a chair—welcome to @foodfightfriday!"
If you haven't heard of The Coolest Kitchen On The Blockchain yet, you're probably new to the blockchain, we'll let it slide this time. And, if you haven't heard of #powerhousecreatives yet, that would mean you don't know who @jaynie is and I call Bullshiiiiii poop on that one—oh, poop, speaking of poop! #funny story right quick (because I've never told a long story ever) that doesn't have anything to do with spelling poop sdrawkcab backwards, either, and then I'll get back to this contender.
2008—I'm factoring load calculations at City Center in Las Vegas, Nevada. I was there about a year that time. A buddy of mine and I peddled our bicycles to and from the job site every day and, every day, we'd pass the same house with the same for sale sign in the front yard—it had a Pool.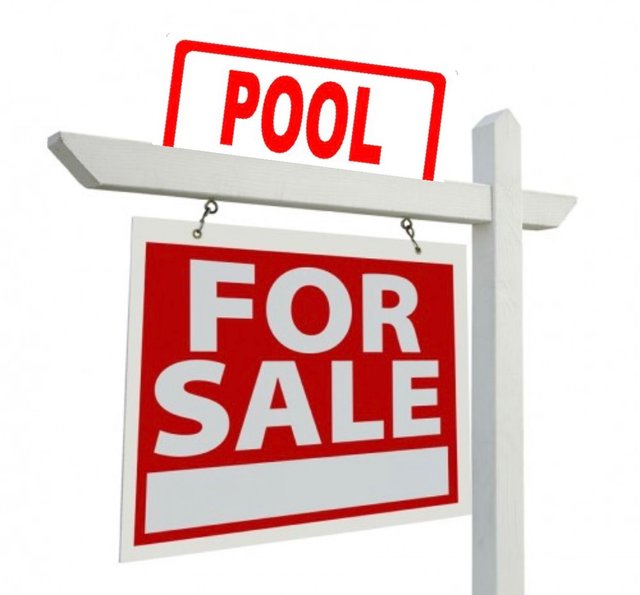 Make that two blisters!
The "L" in Pool was lower case and I kept saying "dude, one of these days I'm gonna change that L to a P." Well, one day between that for sale sign and the job site, we stopped by a Target department store and I bought a red paint pen. Long story short (because all of my stories are short, we just went over this), they didn't notice their #new sign for about a week: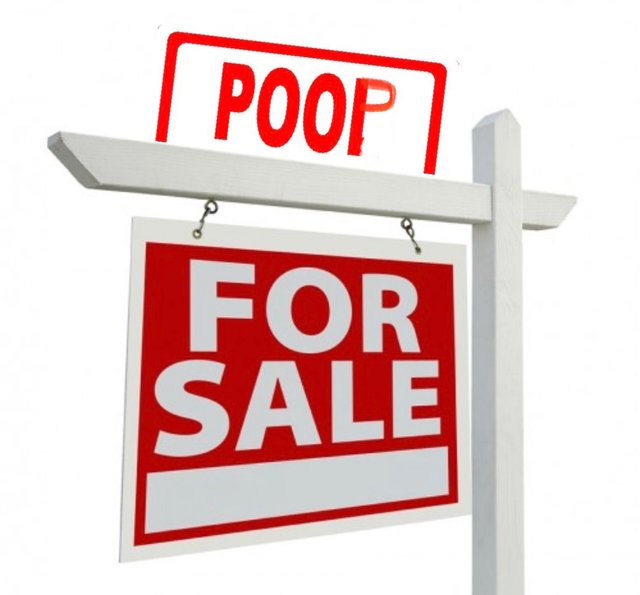 And one dead battery!
No, really, that's the worst thing I've ever done in my life, ever and, by all accounts, I'm actually an angel with an infinite wing span soaring over all things worldly including, but not limited to, trespassing and vandalism. 🙏🏻 😇 Ok, I swear promise there's a contender in here somewhere. 🤔
So, my second favorite plant and first favorite defuser devotes a lot of her time toward these top three things. The ones we all see resteemed in our feeds like top 3 movies, top 3 holidays, top 3 drinks, top 3 fingernail colors, top 3 pick-up lines, top 3 sports teams, top 3 phone accessories, top 3... you get this picture. There's quite a few of our favorite authors involved in it and, seeing how I've already name dropped a couple of them, what's a few more, right? @foxyspirit, @cheese4ead, @nickyhavey, yup, even you, Nicky—I'll get you to visit my page one way or the other. 👍🏿 Well, when I saw the opportunity to show some #steemitblogger support—disappointing wasn't an option.
Eh, you know how @plantstoplanks pictures the majority of her food, right? How she holds a blue bowl/plate with her left hand and gives us a sneak peak of that little Infiniti tattoo she has on her wrist, know what I'm talking about? Like this article here—scroll down to the last image. I don't have an Infiniti sign on my wrist, that would be extremely bizarre if I did, but I do have a cassette tape ribbon that runs across the bottom of my left wrist and that's close enough!
Keepin' it in The Spirit Of Things:
Mediterranean roasted vegetables and grilled sweet potatoes over farm fresh arugula.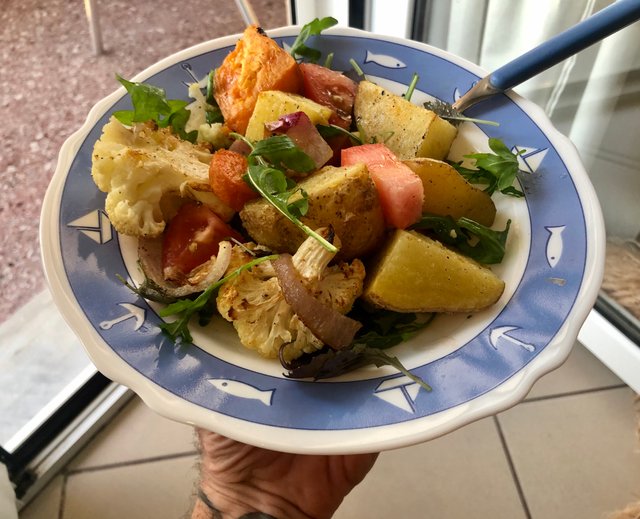 Keepin' it in The Spirit Of Things:
Fresh arugula mix with fresh tomatoes, roasted onions and potatoes over rainbow fusilli pasta, topped with real feta—not that scientific dairy stuff they sell in the supermarkets back home. Actual feta because when you're in Greece, do as the Greeks do.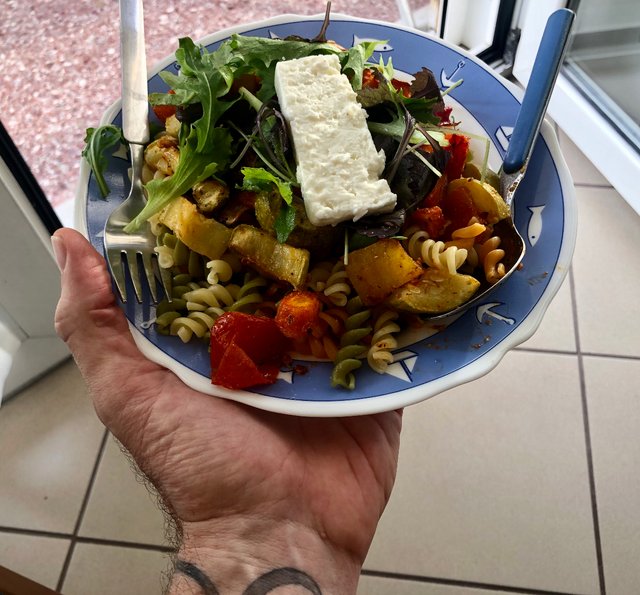 Like looking at your own phone or what, Plants? 😉
One more—dessert. Because this isn't "whats your top 2?" We've never seen anything top 2 resteemed in our feeds, it's always top 3. Top 3 comedians, top 3 drum n bass blockchain musicians, top 3 South African soccer fans, top 3 food fighters, top 3 virtual friends, top 3 PHC bloggers, top 3 #steem artists, top 3 chefs, top 3 travel feed, top 3 #steemian, top 3... you get the picture.
The beautiful @puravidaville and I just landed in Thessaloniki Greece on Monday—we'll be here 30 days. We couldn't wait to get here for several reasons such as the Island of Patmos, where John wrote Revelation, we'll be making our way over there in the next few weeks—I can't wait! There's a lot of history here, the weather is gorgeous, Greek people are kind hearted, the coffee is delicious and a bunch of other reasons but let's get real—dessert.
Keepin' it in The Spirit Of Things:
Kourabiethas and Melomakarona fresh out of a Greek oven from a Greek bakery in Greece.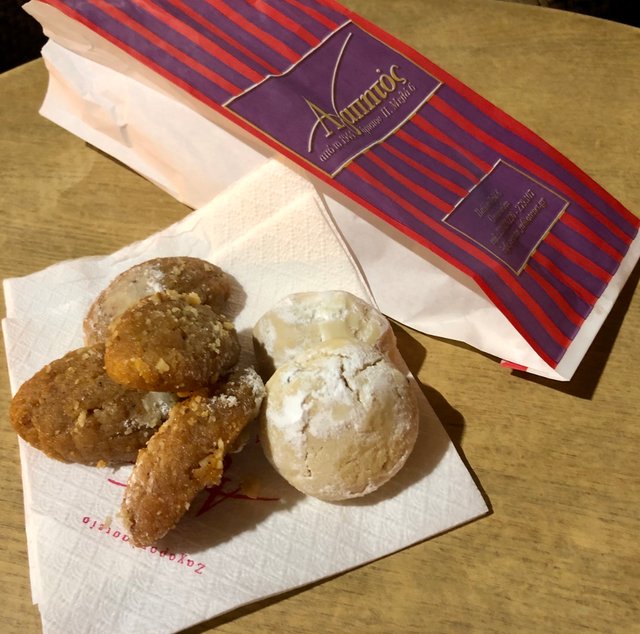 Same place next week, deal? A big shout-out to everyone for supporting @foodfightfriday and the #fff crew and another shout-out to all of the #powerhousecreatives for letting me get in on this one. No excuses now, miss @jaynie, nope—your turn! 😉 Have a great weekend #steemit!



Monday • Tuesday • Wednesday • Thursday