Spinterlands (aka Steem-Monsters and @steemmonsters on STEEM) is the best blockchain games that is currently on offer. Of course, there are newer flashier games like Gods Unchained but the asynchonous and short game length of the Splinterlands model combined with the fast and free transactions on the STEEM blockchain makes Splinterlands my go to time killer when travelling on public transport. According to their recent announcement, they are about to launch a mobile application which will really open up the game to a much wider audience.
However, despite the love that I have for Splinterlands, I have to say that the market and card management system is pretty rudimentary at best. It is functional, but it misses many UI, quality of use and automation features would make it a great single stop place for card management.
Enter Peakmonsters (@peakmonsters on STEEM), a third-party marketplace built by the creators of the impressive Steempeak for the Splinterlands game. This handy tool is just what is required for a dedicated (and just merely interested) Splinterlands player. You have excess cards that you wish to sell, cards that you want to buy or to delegate and rent? Is Peakmonsters really that different from the vanilla Market on Splinterlands?
Peakmonsters is one of the Marketplace based dApps on State of the Dapps (who can also be found on Steem as @stateofthedapps), currently standing at #136 in the listing of dApp rankings across multiple blockchains (Profile here).

PeakMonsters Marketplace

Logging into PeakMonsters is as easy as using SteemConnect to authorise the account with your posting key. Interestingly enough, I find that this is a better method than the one used by the actual Splinterlands game itself, where you are required to hand over your posting key into their database as a "password". By doing the transaction signing via SteemConnect, you aren't exposing your private key to PeakMonsters.
After logging in, you are presented with a pretty detailed and functional interface for the cards in your collection. The screen area of the tab for each card is quite large, I would much prefer that a detailed view would open up on clicking each card, or at least that the BCX information on the right of the card picture would be condensed significantly to allow more cards to be displayed on the screen.

Tabs at the top of the card management screen allow for easy filtering of your cards, with finer grained filtering available in a more common list form on the right. Filtering is especially useful given that the cards take up so much screen space... it can be quite annoying to scroll through your cards to find that one that you want to interact with!

Clicking on a particular card opens up a more detailed information box, with all the required information that you will need to interact with this particular card. This is a great feature, as it combines all the information in a single tab which the Splinterlands interface has spread over several different tabs. This makes for more information in a single glance, without needing to reload different pages.
This brings me to one of the best features of the PeakMonsters interface. Batching... you can select multiple cards and offer them on sale in a single batched order (in reality, I think it is queuing multiple single transactions, but to the user it is a single batched order). This makes selling multiple cards of a single type much easier.... I'm not a huge account by any means... but selling more than a single card on the regular Splinterlands interface is a pain in the arse! Unfortunately, for some reason the multiple card interaction button is a long way away (in the main top tab area) from the actual detailed selection screen... which is a little less than intuitive!
One little gripe that I have is that the opened out detailed tab is not a pop-out. So, hitting ESC doesn't close it, you have to hit the card image to minimise it again... I would prefer that it "pops" out and is dismissed easily with the ESC key... but that is a personal preference.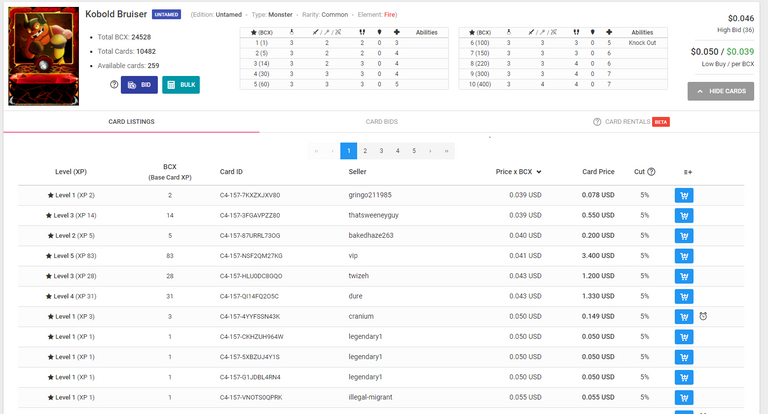 Again, in the marketplace... the detailed view of a card presents much more relevant information than the vanilla marketplace. You can easily see the card skills and levels, plus the ability to batch buying orders by putting them in the shopping cart! If you have ever tried to level up a card by buying lots of single BCX cards... you will know the pain of doing this via the Splinterlands marketplace... signing every individual transaction....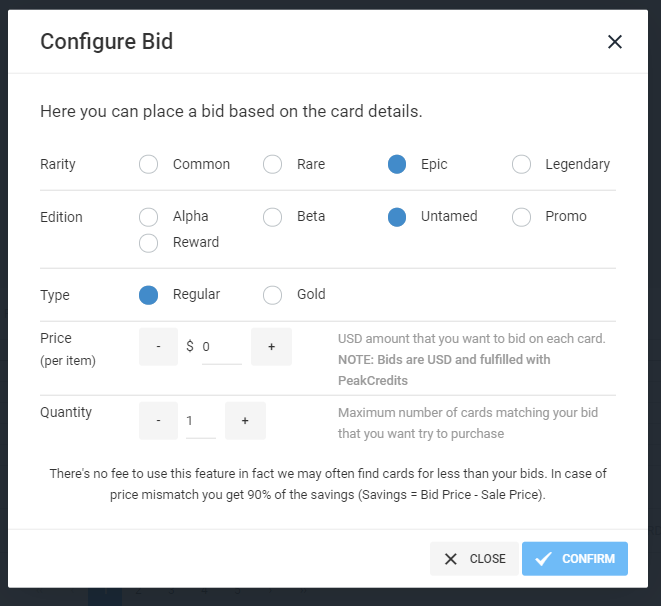 A handy feature for those who don't want to be continually monitoring the card market (and who does...) is the ability to place open bids (interest) on specific cards or a wider range of cards based on rarity. This acts in a similar way to a open limit buy order on a fungible market, with the ability to set the bid price and also the amount of cards (volume) that you want to be filled.
It is definitely the best way to pick up cards at a reasonable price, if you have time on your side and don't need a particular card instantly!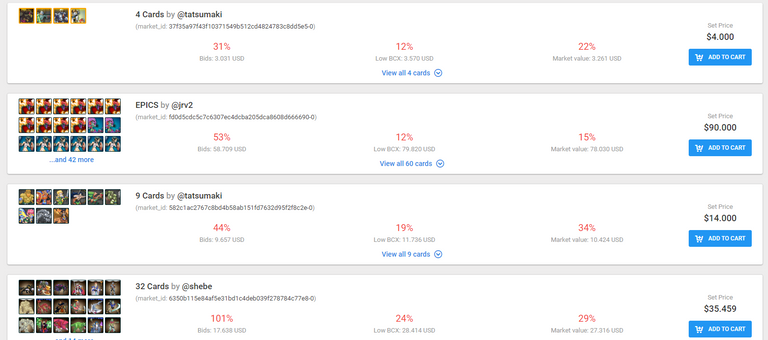 Another interesting feature for sellers is the ability to batch cards as a set to send to the market. Although, it is really quite a good feature.. it does appear to be a bit broken in practice, as the price for a set is actually higher than the price of buying individually! I would have thought that the price for a set should be lower, as it is a similar idea as selling a job lot of items. You want to move inventory and are willing to offer a discount for that... but who said that the world of cryptocurrency markets was logical....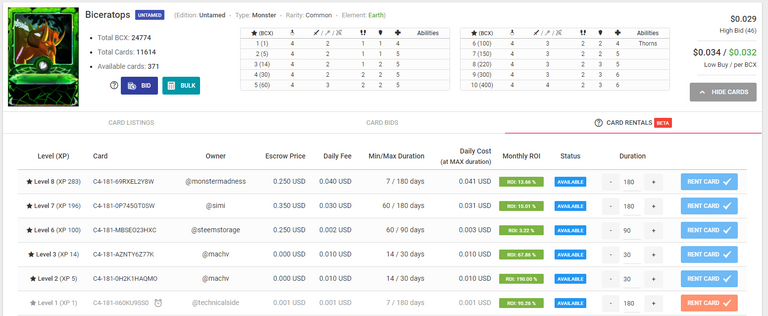 A feature of the PeakMonsters marketplace is a feature that is not offered in the vanilla version of the Splinterlands marketplace. This is the ability to rent cards to another player... however, this requires PeakMonsters to act as a third party escrow as the exchange of delegation in return for crypto (STEEM/SBD/DEC) doesn't appear to be well supporting in the STEEM ecosystem.

Strengths and Weaknesses
Strengths
Batch selling and buying!
Bid automation
Delegation and rental markets with escrows.
... did I mention card batching?
Weaknesses
Dark Theme?
Closing a card's detailed box is not what I would expect....
Selected Cards actions button (selling for instance) is not quite as intuitive as I would hope.
I find that the cards take up too much screen space, I would prefer to have smaller card areas and more denser array of cards on the full screen.
My Eyes! Where is the dark theme? (or did I miss the toggle?).

Conclusion
If PeakMonsters only brought batch selling and buying as the only improvements over the vanilla marketplace, then it would have already been a huge quantum leap better! However, PeakMonsters brings many other improvements to the table, and as such, it is far and away a much better marketplace than the regular Splinterlands marketplace.
However, not everything is perfect (for me...). I find the UI design to be highly functional but not that nice to look at, most of this is due to the fact that there is no (or I couldn't find it...) dark theme. I am a dark theme everywhere sort of person, and I would love the ability to have it on the PeakMonsters marketplace. The vast expanses of white glariness is just too much for me... but that is only an aesthetic quibble.
There are some slightly less than intuitive choices for the UI. The detailed selections of cards (and how they close) and the batch card selection button are two things that I would point out. They might make sense to someone else, but for me they were quite counter-intuitive... however, I'm only a single point of view!
So, all in all, despite some small UI interface issues (which are subjective and personal taste), PeakMonsters is a gigantic upgrade upon the regular Spinterlands interface. If you play Splinterlands, you WILL DEFINITELY want to be using PeakMonsters for all your Monster card management requirements!

Useful Links
PeakMonsters Website
State of the dApps
PeakMonsters STEEM blog
PeakMonsters (SteemPeak) Discord
PeakMonsters (SteemPeak) Twitter
PeakMonsters (SteemPeak) FaceBook
PeakMonsters (SteemPeak) Reddit

Looking for a quick and easy way to keep track of your cryptocurrencies? Coin Tracking offers a free service that includes manual tracking or automatic tracking via APIs to exchanges, allowing you to easily track and declare your cryptocurrencies for taxation reports. Coin Tracking can easily prepare tax information sheets that are catered to each countries individual taxation requirements (capital gains, asset taxation, FIFO). Best to declare legally and not be caught out when your crypto moons and you are faced with an unexpected taxation bill (unless you are hyper secure and never attach any crypto with traceable personal information, good luck with that!).

Keep Your Crypto Holdings Safe with Ledger
Ledger is one of the leading providers of hardware wallets with the Ledger Nano S being one of the most popular choices for protecting your crypto currencies. Leaving your holdings on a crypto exchange means that you don't actually own the digital assets, instead you are given an IOU that may or may not be honoured when you call upon it. Software and web based wallets have their weakness in your own personal online security, with your private keys being vulnerable in transit or whilst being stored upon your computer. Paper wallets are incredibly tiresome and still vulnerable to digital attacks (in transit) and are also open to real world attacks (such as theft/photography).
Supporting a wide range of top tokens and coins, the Ledger hardware wallet ensures that your private keys are secure and not exposed to either real world or digital actors. Finding a happy medium of security and usability, Ledger is the leading company in providing safe and secure access to your tokenised future!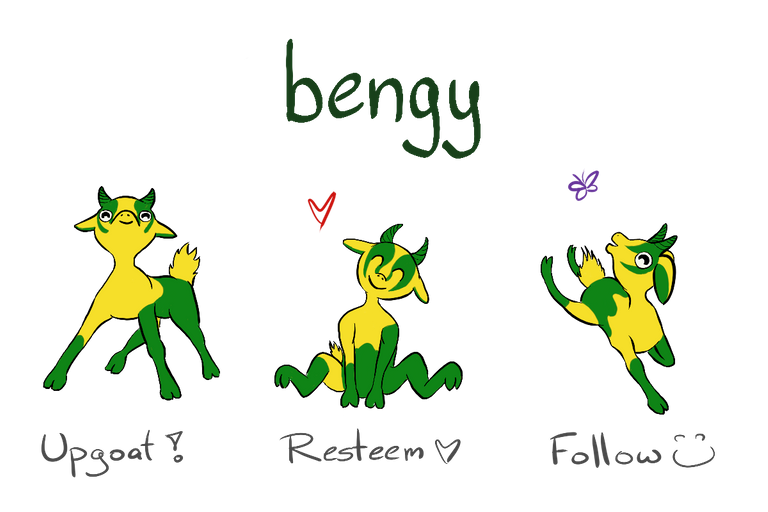 Upgoats by ryivhnn
Account banner by jimramones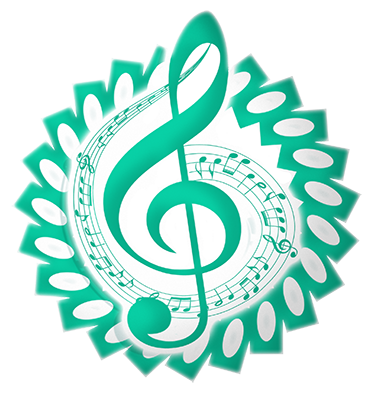 The classical music community at #classical-music and Discord. Follow our community accounts @classical-music and @classical-radio. Community Logo by ivan.atman