What's Really Inside a Zangbeto?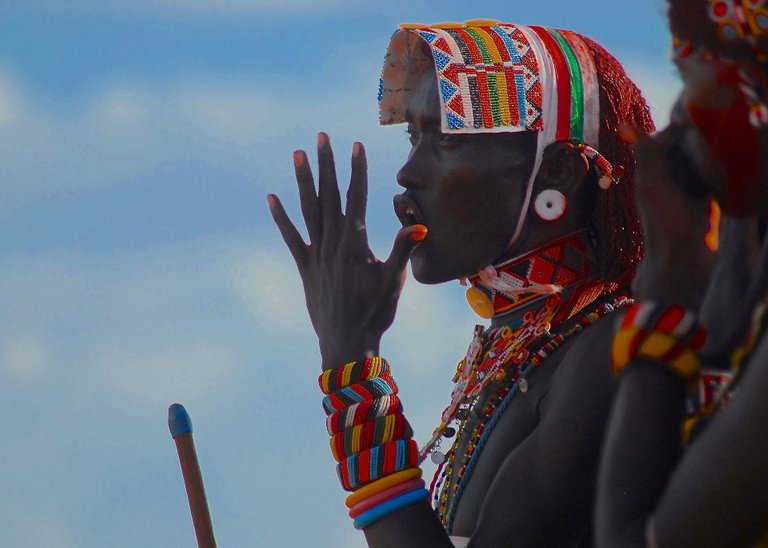 Very few things have the power to give me sleepless nights.
About six years ago.
I flew through Cotonou Cadjehoun Airport in Benin. Within the next hour. I was running in the opposite direction to where my tour guide had been beckoning.
We were now in Porto Novo. As a person who just loves other people, I rushed through an alley towards a group of people who were cheering on some kind of gathering. Was it a festival? Who was that? Or rather, what was I seeing?
Transfixed at the sight of what I thought was a person dancing inside a hut thatched with long strings of different colours, I took my money out.
More like my money took itself out of my pocket and I found myself holding it out. As if to say to the dancers, you are so good, you can have my money.
"Who is inside the thing?" I blurted out that question. Another reveller answered. "There is no-one inside."
My mind raced, did that mean I had just offered my money to a dancing ghost? It was too late to put the money back in my pocket. For fear of offending whatever or whomever had seen my outstreched hand.
So I stretched my hand even further, hoping some magical criminal would have the balls to grab it from me and run. That in my mind was a better fate for the money in my hand than ending up in the unseen hands of an unseen spirit.
Not a single soul moved towards the money in my out-streched hand. Did God mean to tell me that amidst all the poor people in this whole wide world, not even one was willing to steal from me when I desperately needed to be saved by a crime?
Why is it that, that one time I was finally begging to be mugged, no one showed up?
Finally a guy came towards me and I happily gave him the money. As long as I gave the money into a human's hand, I was gonna be fine.
My connecting flight was in a few hours so I spent the remainder of my time there running behind my tour guide.
There are many beautiful things I saw while I was there but the memory of the dancing thing with no one in it has stuck with me.
I googled and youtubed trying to find out about the secret behind that cone shaped phenomenon with no satisfactory answer. So, I gave up digging. In fact, I had forgotten all about it. Untill a video was recently recommended to me by youtube's own unseen algorithm.
"That's what Ive been looking for!" A video titled something like,
"Who is inside a Zangbeto?"
Obviously, I wasn't about to miss the chance to finally put a long held curiosity to bed.
Not knowing which part of the video the myth was gonna be busted,I forced myself to watch all of it. Somewhere towards the end, the narator followed what I can only call a Zangbeto master. "So, whats the secret inside a Zangbeto?" "Nothing, there is nothing inside. Nobody is dancing. It's the spirit that controls itself. You can even set it on fire and collect the ashes or throw them away. It will always come back." So said the Zangbeto master.
Dissapointed as I was, I felt cheated. Why can't they just tell us whats really inside? Is it dark matter?
There are two questions in my life that I have spent the longest time asking without a satisfactory answer.
First question;
What, is inside a Zangbeto?
Second question;
What happened to Ning Li?
Keywords;
Zangbeto. Meaning; A cone shaped dancing costume with supposedly no one inside.
Ning Li.
A Chinese-American physicist whose work on anti-gravity excited me and many others accross the world. She hasn't been seen in a very long time.
Are you or someone you know from Africa? Particularly West Africa? What is really inside the thing?
---
---