Where are we going as the Informationwar community?
I put up a post on Weku asking this question with a set of discussion points.
There is a reason I put that question up over there; you'll have to go over there to read it.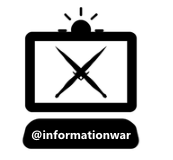 There is a 5 SBI bonus up for grabs, as well as a string of 100% Weku posts.
If you do not have a Weku account, you may post here on Steemit, and send your link as a comment to any of @stevescoins posts.
---
---