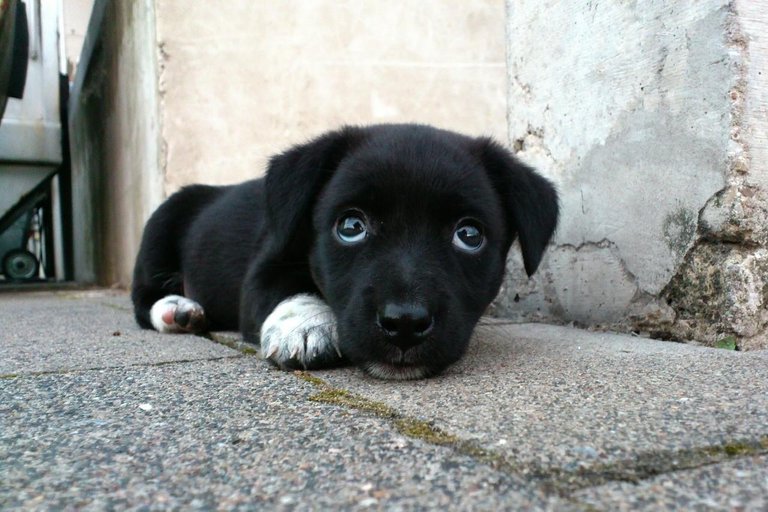 The banging at the door was so insistent that the old woman climbed from her warm bed before dawn and stumbled to find her tattered robe. Pulling her arms through the sleeves she hastened to tie the threadbare belt around her generous waist. In her haste she thumped her toe on the edge of the bed and uttered a string of curses worthy of a drill sargent while hopping on the uninjured foot.
The drumming on the door became more insistent and she hollered, "I'm comin'!!"
Flipping a hall light on, she shuffled forward noticing a spot of blood on her toe. "Blasted intruders!" The broken toenail throbbed as she limped on down creaky stairs.
Arriving at the door she pulled the sticky deadbolt and peered out. No one was there. "Ye got me out of a warm bed just to leave?"
Pulling the door open she peered down the empty stairs. The sunrise peeked over the horizon a brilliant orange red.
Turning back to the stairs she glimpsed movement at the base. A tattered box sat forlorn and a noise emitted from it. The box rocked and a corner lifted. The old woman jumped, yelping as the toe sent fresh prongs of pain up her leg. Stooping, she scooped up the box and pried it open. Inside the tiniest black puppy cried up at her. "Oh my goodness gracious me!"
Under the puppy peeked a long envelope. She pulled the wrinkled envelope out as the puppy escalated his cries and scratched the box with it's sharp nails.
Setting the box down on the step and temporarily closing the lid to keep the puppy safe inside, she tore the end of the envelope to withdraw the contents.
"Please accept a gift and raise this homeless puppy." Included with the letter was a check as the sun was creeping up she squinted to read the amount. "Merry Christmas".
.....$2,000?
The woman staggered a moment and grabbed the railing of the stairs. Holding the check, she lifted the box and in tears looked back inside the box. Ruffling it's ears she proclaimed "Your name is Fortune," and carried her cargo indoors.
This is my five minute freewrite using prompt broken toenail.
Check out @mariannewest daily prompts and join in with @freewritehouse for opportunities to win Steem Basic Income weekly!